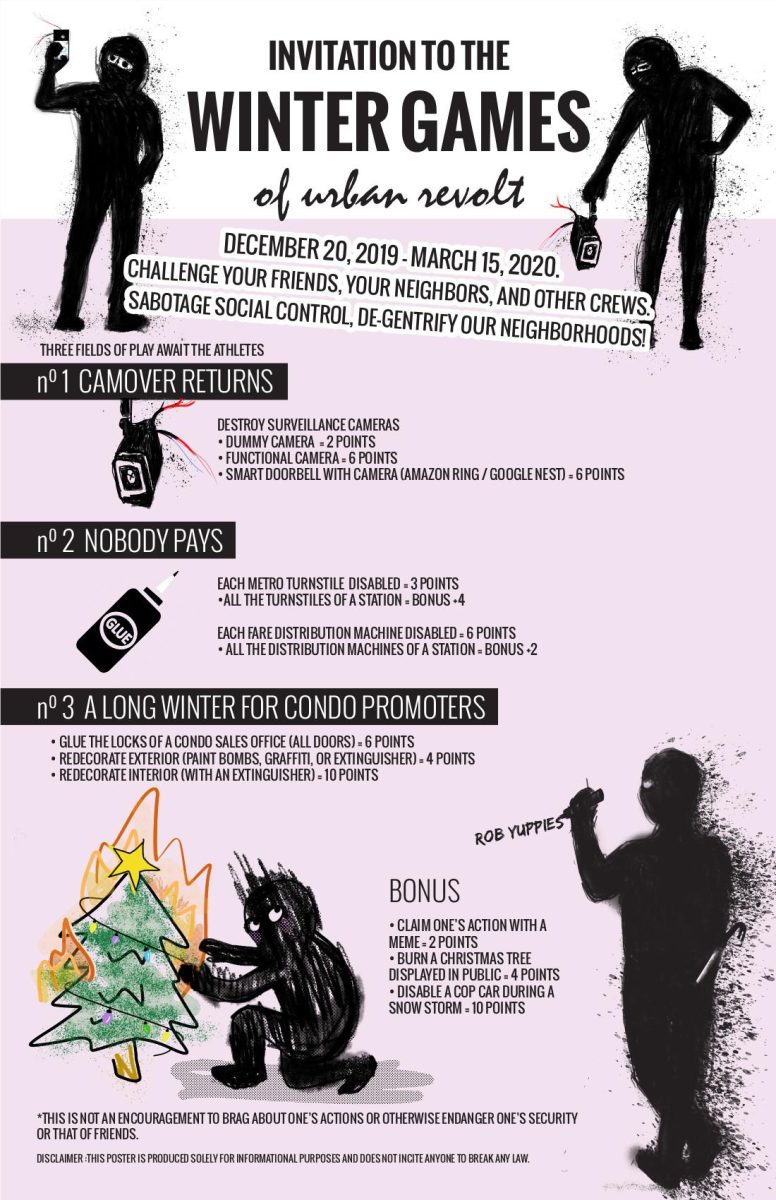 Anonymous submission to MTL Counter-info
Poster text:
INVITATION TO THE WINTER GAMES OF URBAN REVOLT
December 20, 2019 – March 15, 2020
Challenge your friends, your neighbors, and other crews.
Sabotage social control, de-gentrify our neighborhoods!
Three fields of play await the athletes.
no 1 Camover Returns
Destroy surveillance cameras
dummy camera = 2 points
functional camera = 6 points
smart doorbell with camera (Amazon Ring / Google Nest) = 6 points
no 2 Nobody Pays
each metro turnstile disabled = 3 points

all the turnstiles of a station = bonus +4

each fare distribution machine disabled = 6 points

all the distribution machines of a station = bonus +2
no 3 A Long Winter for Condo Promoters
glue the locks of a condo sales office (all doors) = 6 points
redecorate exterior (paint bombs, graffiti, or extinguisher) = 4 points
redecorate interior (with an extinguisher) = 10 points
Bonus
claim one's action with a meme = 2 points
burn a christmas tree displayed in public = 4 points
disable a cop car during a snow storm = 10 points
*This is not an encouragement to brag about one's actions or otherwise endanger one's security or that of friends.
Disclaimer: this poster is produced solely for informational purposes and does not incite anyone to break any law.