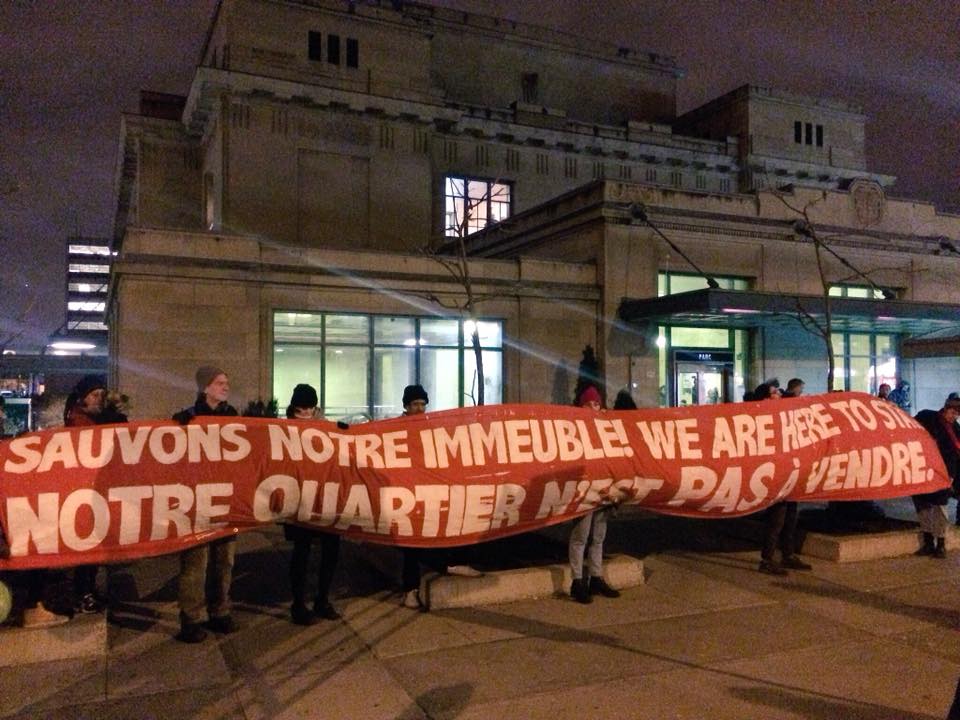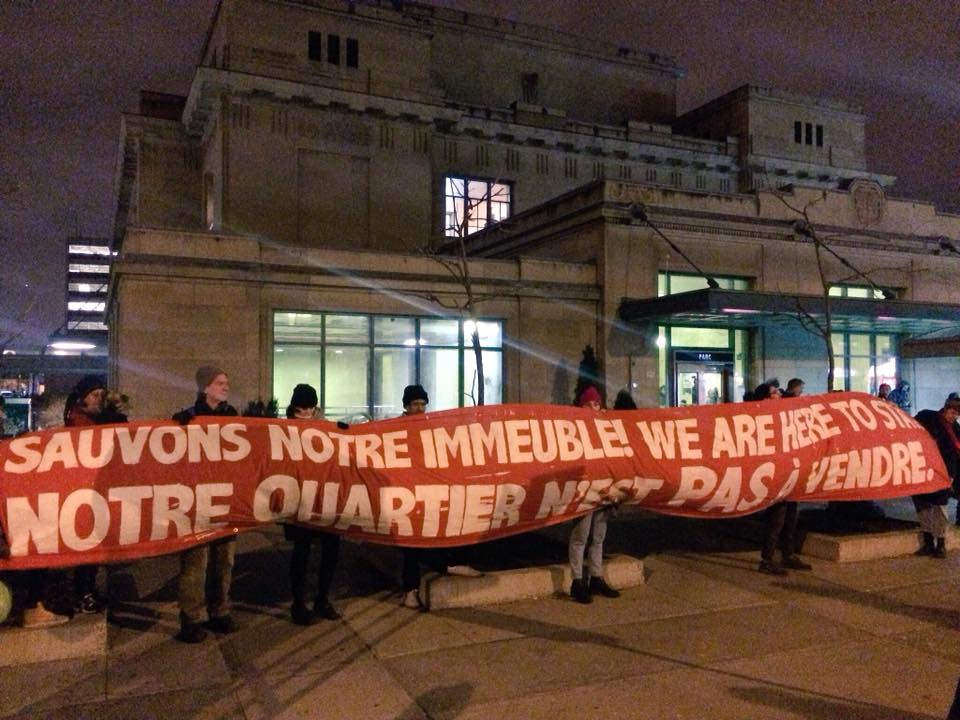 From Parc-Ex Contre la Gentrification (Facebook page)
Over 60 people gathered in front of Parc metro station yesterday afternoon to protest property speculation and gentrification. The action aimed to bring together members of Parc-Ex Against Gentrification, POPIR, Comité B.A.I.L.S, the Parc Extension Action Committee, the Comité Logement de Rosemont, and the Comité Logement du Plateau Mont-Royal to maintain pressure on property developers and send a clear message that condo and luxury apartment developments are not welcome in our neighborhoods.
We then went to the offices of the BSR Group- the property development company carrying out the evictions of Plaza Hutchison tenants- to deliver a letter and disrupt their day-to-day operations. For the past half century, the Plaza Hutchison has served as a meeting place for Parc-Extension, housing community groups, cultural associations, language schools, religious spaces and small local businesses. Since the BSR Group purchased the building, they have relentlessly intimidated, threatened and evicted those tenants without notice, one by one. We went today to the Place Décarie to make Ron Basal and his colleagues aware of our demands- namely that tenants should be allowed to return and the building be given back to the community.
Upon entering the office, we were repeatedly kicked and punched in the face by Ron Basal himself, and by BSR Group employees. Some of us were choked, while several others had their glasses ripped off their faces and broken. Employees uttered death threats, and numerous people were subjected to sexual harassment when one high ranking BSR Group member threatened to expose himself in front of them. When community members quickly decided to leave the building, BSR Group employees physically stopped the elevators, blocked the stairwells, forcibly confined people, and attempted to throw one person down the emergency exit stairwell. It was fucking intense. Many of us, neighbors and activists alike, have visited property development offices before in order to bring forward housing rights demands and to protest gentrification. No one could recall having been met with such violence in recent memory.
We also want to address some claims that have surfaced in media coverage of the action, notably TVA's reprinting of the BSR Group's staged photos of « grabuges » and Radio Canada's assertion that we "forced the door" . It is worth mentioning that Radio Canada journalist Benoît Chapdelaine entered the office with us through its' unlocked door, tried to dodge the punches, and witnessed the extreme violence of the BSR Group, but made no mention of it. Also, while three people were briefly detained, they were released on-site and there were no arrests.
Although we are disgusted by the actions of these gentrifiers, we remain unwavering in our resolve to disrupt business as usual, to put our bodies on the line and to fight the destruction of Parc Ex. We refuse to remain silent and allow the displacement of working class people of colour from our neighbourhood for the benefit of a new wave of richer and whiter inhabitants.
Expect to hear from us, we won't back down.