Since late August 2015, Sm'yooget Yahaan, (the Gitwilgyoots hereditary chief of Lax U'u'la and surrounding waters) and his supporters have set up an occupation camp on his traditional hunting and fishing territory on Lax U'u'la (Lelu Island). This camp has been set up to assert title to his traditional territory, as Petronas and Pacific North West LNG are planning on building an $11 billion dollar liquified natural gas (LNG) plant on this traditional Gitwilgyoots territory, at the mouth of the Skeena river near Prince Rupert, BC. This plant will be fed by 3 LNG pipelines, including the recently provincially-approved PRGT, which crosses through Gitxsan territory, which is currently being met with resistance from the Gitxsan people through their Madii Lii encampment.
Who is involved?
The Petronas/Pacific Northwest LNG consortium which have proposed the Lelu Island LNG processing plant have subcontracted their environmental and engineering assessments to Stantec, Inc.
Natural Resources Canada has recently stated that the environmental assessments performed by Stantec on the island "likely underestimated" the environmental impact of the LNG plant on the Flora Bank. Stantec is currently attempting to continue environmental and engineering assessments, despite clear opposition from the Gitwilgyoots hereditary chief and the village of Lax Kw'alaams.
Stantec is also involved in several resource extraction projects targeted by Le Nord Pour Tous/Plan Nord. These include the Deception Bay Port Facility servicing Xstrata's Raglan Mine and rail development for the Kamistiatusset Iron Ore Mine.
Fuck 'em
Montreal Offices :
300-1080 Beaver Hall Hill
Montreal, Quebec H2Z 1S8
isabelle.jodoin@stantec.com
T: (514) 281-1010
600-1060 Robert-Bourassa Boulevard
Montreal, Quebec H3B 4V3
300-1200 Saint-Martin Boulevard West
Laval, Quebec H7S 2E4
martin.thibault@stantec.com
T: (514) 281-1010
For more information & updates :
www.laxuula.com
https://www.facebook.com/Stop-Pacific-NorthWest-LNGPetronas-on-Lelu-Island-949045868451061/
www.flora-lelu.tumblr.com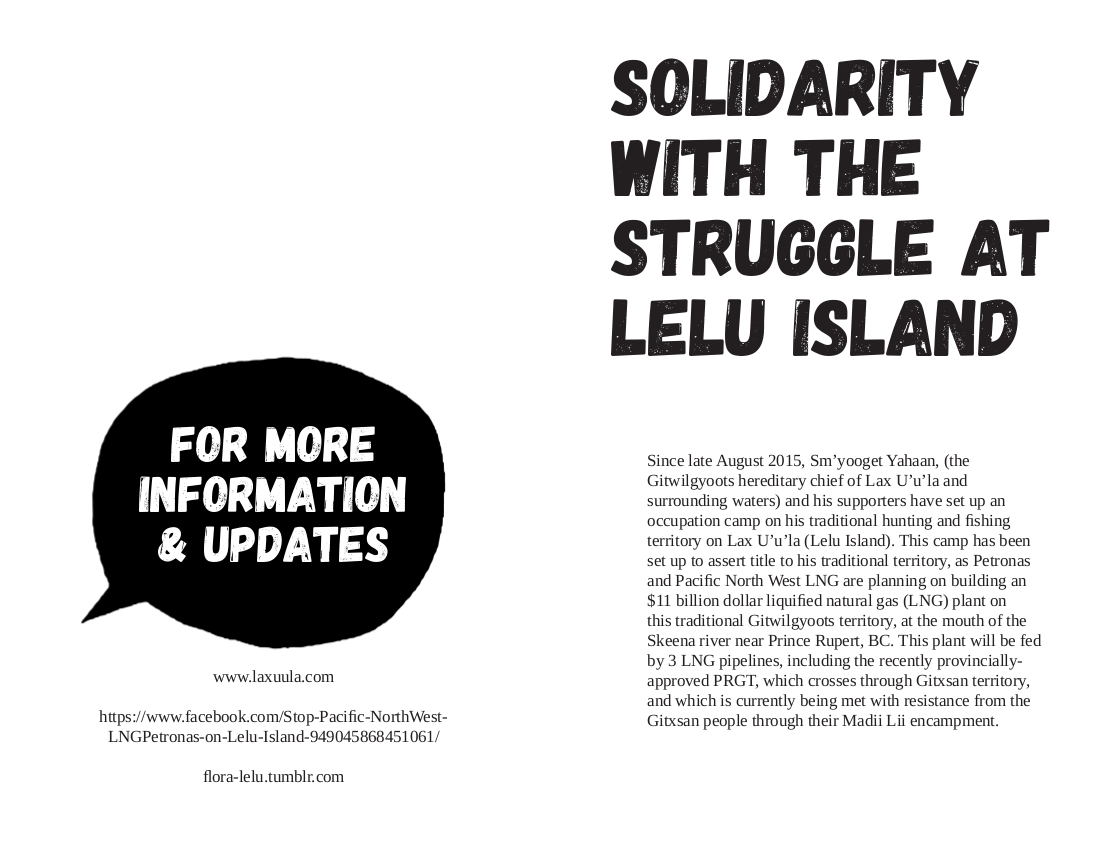 8.5″ x 11″ | PDF