Three campaign offices of electoral candidates were attacked in Montreal and Trois-Rivières just prior to the elections. To our knowledge, no claim for these actions has surfaced, so we've posted several Media excerpts below.
A window of one of the two offices of the conservative campaign candidate Dominic Therrien was broken over the Sunday night (19/10/2015), several hours before the opening of the voting offices.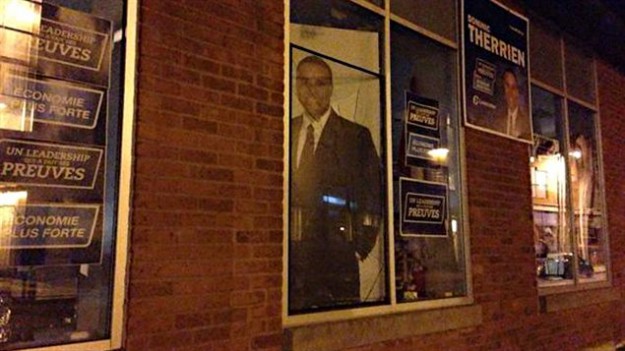 The campaign office in Outremont, Montreal of the leader of the NDP, Thomas Mulcair, was vandalized over Tuesday night (14/10/2015).
The front windows of the office, situated on ave. du Parc, were sprayed with orange paint. The contents of a fire extinguisher was also emptied into the interior of the office through the crack of a window.
"There was powder everywhere. It will have to be all cleaned. We lost time to do it", lamented the director of the campaign of Mulcair in Outremont, Graham Carpenter.
The campaign office of conservative candidate Wiliam Moughrabi in Ahuntsic-Cartierville, Montreal, was vandalized over Monday night (13/10/2015).
"They threw at least two gallons of red paint on the window of the office", said M. Moughrabi. "We spent the day of Tuesday cleaning it, and we will still clean it today".