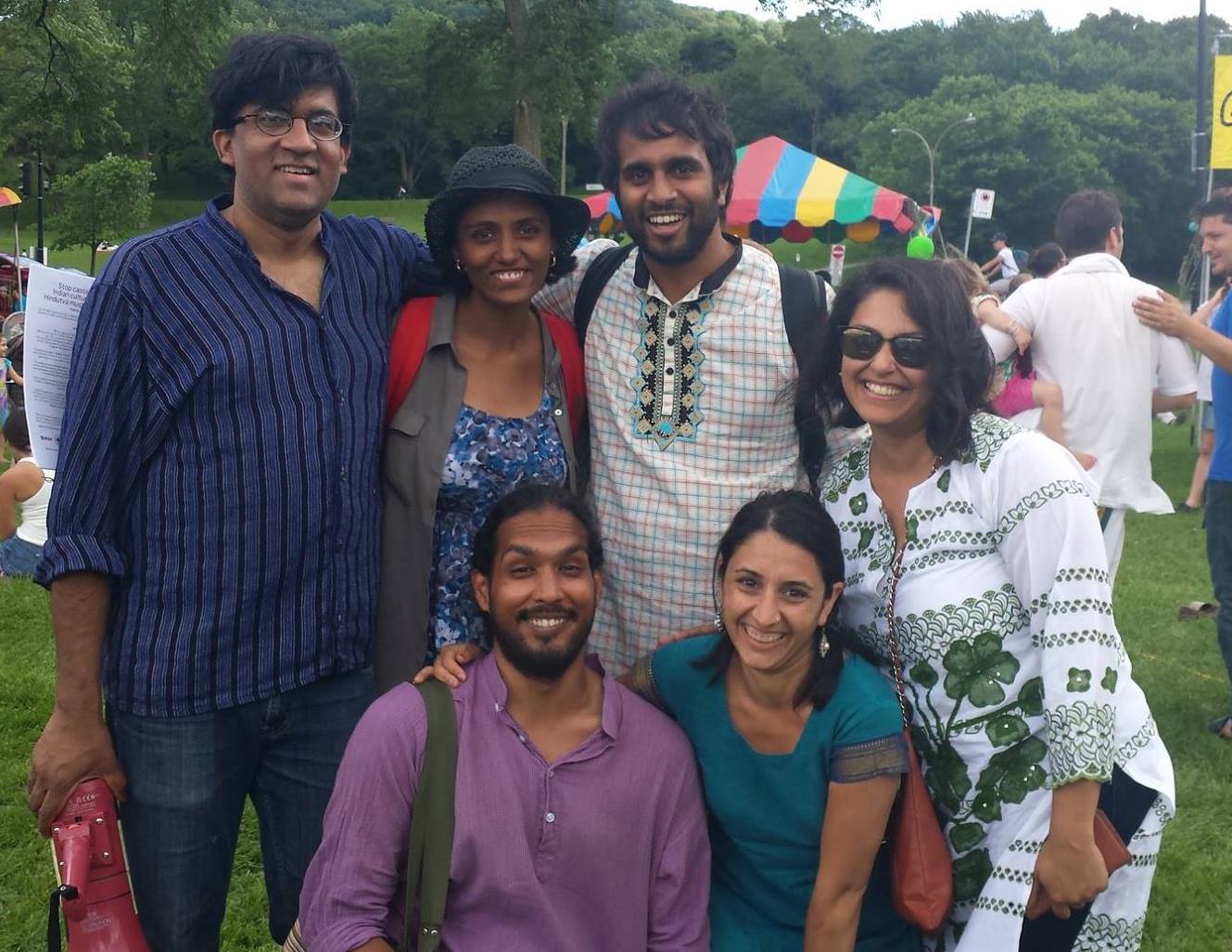 GARAM MASAMA (Groupe d'Action Révolutionnaire sud-Asiatique de Montréal / Montreal Alliance of South Asian Leftists and Allies) had a successful intervention at this weekend's misnamed and offensive "Festival of India". We exposed it as a Hare Krishna and caste-Hindu sect event that does not represent India in any way. We passed out almost two-thousand flyers, had dozens of conversations with supportive and curious folks, but also had to deal with hostile and violent Hare Krishnas and their right-wing caste-Hindu accomplices (as these videos from the Saturday intervention attest). Nonetheless, our anti-caste message of "Hindutva must fall, an India for all" was heard loud and clear all weekend, raising awareness about grassroots and pluralistic movements in opposition to chauvinism and bigotry in South Asia and here.
In addition to physical and verbal assault, the right-wing caste Hindus at the falsely named "Festival of India" bizarrely placed filled garbage bags and cans around our GARAM MASALA crew on Sunday. We were taking up space in the middle of the event, so the garbage inconvenienced everyone. It might seem bizarre, but in the skewed outlook of caste/varna Hinduism, and specific caste-based insults ("dogs" … "dirty" … "sudra") aimed at us all weekend by people wearing overt caste signs, it was a specific dismissal of us as no better than garbage. We didn't take it as an insult (since we reject caste and caste-based bigotry) but it was a reminder of the vile caste-based discrimination, bigotry and violence faced by India's low-caste and out-caste populations (and practiced in the diaspora). It reminded me personally of my visit to a group of garbage pickers in Chennai (Madras), and their courageous struggle for better conditions and resistance to discrimination based on caste. Those workers represent the grassroots struggles against caste and Hindutva (high-caste Hindu hegemony) in India.
Text of flyer passed out at the "Festival of India" in Montreal:
Stop caste-based violence!
Indian culture is not just Hindu!
Hindutva must fall: An India for us all!
THIS IS NOT AN INDIAN FESTIVAL
The so-called "Festival of India" is directly complicit in the marginalization of India's multiple religions and cultures. It is also a festival that promotes practices directly linked to the violent subjugation of India's religious minorities.
WHAT'S THE PROBLEM?
We are a group of South Asians who oppose the Festival's decision to:
– Advertise this event as "Indian", though they themselves state it only celebrates the Vedic (or Hindu) tradition. This is part of an oppressive history that equates Indian identity with Hinduism.
– Promote Hindu/Vedic practices and beliefs that are directly linked to the violent subjugation of India's minorities. This includes the abhorrent caste system which segments society into rigid, hierarchical, groups.
– Organize this Festival in conjunction with the colonial MTL 375 festivities.
The pretext for today's "Festival of India" is offensive and completely erases the history of resistance by Indigenous peoples in North America and on the Indian subcontinent. It makes invisible the destruction caused by colonialism and imperialism. Here's an insulting excerpt from the official Festival of India website:
"For centuries, the interest of European explorers to discover cultural wealth of India has driven them to amazing findings, such as the discovery of the North American continent itself. We may remember that there is a good historical reason why we call the native population of this continent 'indians'. Today the cultural wealth of India continues to inspire and attract the world, and we are presenting you an unforgettable opportunity to taste the flavours of this ancient tradition – so different, but so welcoming!"
India's minorities are currently experiencing a wave of Hindu-nationalist violence. The failure of the "Festival of India" to acknowledge India's plurality makes the organizers complicit in this violence. This is especially important given the current state of Indian politics.
In India the government is ruled by a Hindu-nationalist party whose leader, complicit in the 2002 genocide of Muslims in the state of Gujarat, promotes the idea that India is synonymous with Hinduism (or should be forcibly made so). Empowered by the government, mobs of Hindu extremists have been lynching non-Hindus in the name of "cow-protection". We are horrified to see the same beliefs and practices being insidiously disguised as an apolitical cultural exchange with food, yoga and dance.
WHO ARE WE?
We are a Montreal-based group called "GARAM MASALA" (an acronym for "Groupe d'Action Révolutionnaire sud-Asiatique de Montréal / Montreal Alliance of South Asian Leftists and Allies") who share progressive politics: anti-caste, anti-colonial, feminist, in support of Indigenous and adivasi self-determination, against all forms of oppression including sexism, homophobia ableism, and racism, including Islamophobia and anti-Semitism; support for progressive secular social justice movements on the subcontinent, and here in North America. We also confront and challenge all forms of oppression that exist within South Asian diasporic communities.
Info: GaramMasalaMontreal@gmail.com