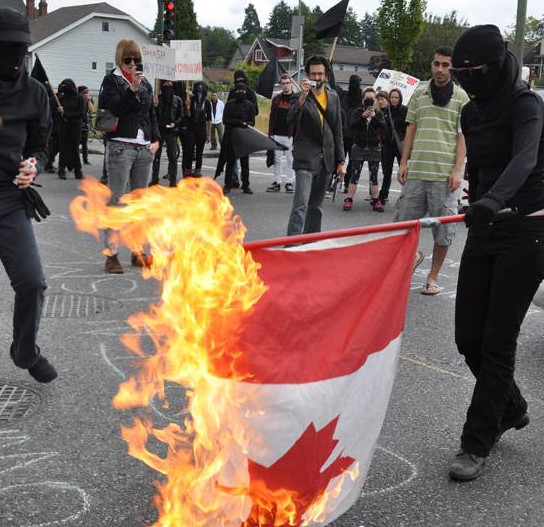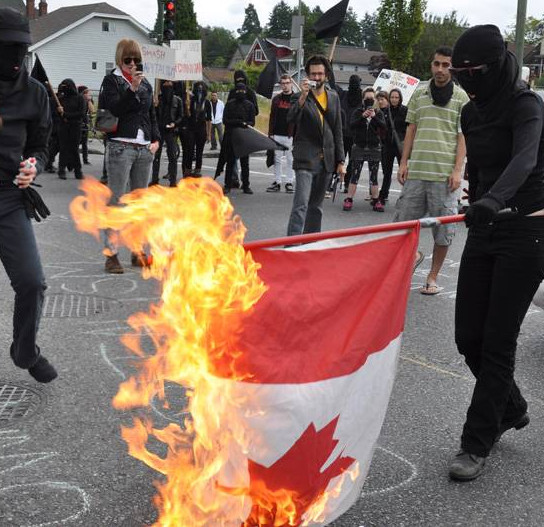 Celebrations of the canadian state's 150th anniversary are well underway and are looking to heat up as we approach July 1st. Over the past couple of months a few of us have been putting together a website/multimedia project against the canada 150 project as well as to put forward ideas that are against the state, colonization, capitalism, and all the misery that "canada" has meant for so many people.
We're looking for your help to pull it off!
The Idea
NoCanada is a collaborative project between anarchists and radicals across turtle island to counter celebrations of the 150th anniversary of the canadian state taking place in 2017. Through a bilingual website, zine, mixtape, and country-wide print and social media promotional campaign, the project aims to disrupt the papering-over of canada's history and current practices.
Beyond critical articles, the website will direct users to things actually worth celebrating and taking part in: indigenous-led land defence, resistance to canadian mining corporations, as well as current struggles against borders, war, and prisons. The website will go live a week before "canada day," July 1st.
Here's what we could use from you, if you're down:
• Send us original content!
We're looking for articles, essays, videos, comics, artwork, songs and music.
Here is some particular writing that we'd like to see:
essays on canada's history and current practices of colonization, war and imperialism, pipelines, borders and migration, prisons and police, and global environmental destruction
it would be great to have at least a few solid, bilingual articles for the website's launch on just before July 1st
histories of rebellion against the canadian state-building project, and other anticapitalist and anticolonial resistance to be celebrated
all content should be grounded in non-reformist, non-compromising anticapitalist, anticolonial, antistate analysis, but also accessible and not trying to guilt trip people who may at some point have identified with canada
• Send us stuff that has already been published!
If there are pieces that have already been created that fit the bill, let us know about them!
• Help us promote the site!
Once the site launches, it'd be great if people could share the site around (stay tuned), but beforehand we're looking for people who would be able to do on-the-ground promotion in their towns (minimal responsibility).
We're especially looking for people in the following towns:
London, ON
Windsor, ON
Ottawa, ON
Oshawa, ON
Orillia, ON
Sudbury, ON
Sault St Marie, ON
Brandon, MB
Winnipeg, MB
Saskatoon, SK
Regina, SK
Edmonton, AB
Calgary, AB
Red Deer, AB
Lethbridge, AB
Medicine Hat, AB
Victoria, BC
Kelowna, BC
Kamloops, BC
Prince George, BC
Abbotsford, BC
Quebec City, QC
Sherbrooke, QC
Saguenay, QC
Trois-Rivières, QC
Iqaluit, NU
Yellowknife, NWT
Whitehorse, YT
Charlottetown, PEI
St John's, NL
Moncton, NB
Saint John, NB
Fredericton, NB