Anonymous submission to MTL Counter-info
Over the past year, Montreal antifascists have identified individuals, and finally a small and pathetic scene, of men in their 20s and 30s, active online but trying to establish an "in real life" presence for neo-Nazism in our city. Occasionally operating as "Alt-Right Montreal" or ARM, or Arm and Hammer, these individuals are also linked to Generation Identity (rebranded as ID Canada), the phantom Northern Order, and other "groups" in the city.
This is the first of a series of reports on this milieu. It includes screenshots from the neo-nazis' private chatroom, including many that we ourselves find traumatic.
This is a trigger warning for extreme racism, anti-Semitism and misogyny.
 You can read the full logs of the "Montreal Storm" Discord channel at montrealnazileaks.net
You can also download the complete logs here for offline viewing
A callout to Help Doxx Your Local Nazi, and a Canada-Wide Callout to Track Down the Alt-Right Nazi Scumbags Next Door have also just been published.
---
In the fall of 2016, several Montreal racists began meeting in an online chatroom, and then in real life, in the hopes of consolidating a neo-Nazi presence in this city. That chatroom was a channel on the Discord app, called "Montreal Storm", and a recent leak of the full logs reveal, not only the absolutely vile, anti-Semitic, racist, misogynistic, homophobic and transphobic nature of these scumbags, but also, in some cases, many direct clues as to the real identities of some of the key figures in this scene, including prominent neo-Nazi ideologue Gabriel Sohier-Chaput, known only as Zeiger until now.
Nazi Pool Parties, Book Clubs and Circle Jerks
The Daily Stormer (DS) and The Right Stuff (TRS) are two of the leading websites associated with the current resurgence of neo-Nazism within the North American far right. DS founder Andrew Anglin is actually proud of the hard-core rhetoric that made his hateful platform "the most censored website in the world". Both projects have a forum component, where all manner of far right trolls converged (often from other forums found on sites like 4Chan, 8Chan and Reddit) to freely post racist and anti-Semitic memes, comment on current events, trade misogynist tips as to how to treat their girlfriends, and spew hate-filled commentary, all from the comfort of their parents' basement.
At some point in 2016, on both forums, de facto or self-appointed leaders started promoting the idea of organizing IRL meetings on a local basis to build a network of neo-Nazi cells around the world (though primarily in the United States). The TRS meetings were called "Standard Pool Parties", whereas DS's were called "Stormer Book Clubs". From DS and TRS, the most motivated forum users migrated to distinct channels on the Discord server app. (Discord was originally meant as a real-time voice-chat tool for gaming enthusiasts, but its features quickly became attractive to White Supremacist organizers looking to network worldwide.)

From monitoring the Daily Stormer forums and other online discussions, it has become clear that a number of Stormer Book Clubs have been established across Canada over the past year (Note: the Book Clubs section of the DS forums was recently shut down, due to security concerns). The "Montreal Storm" channel was one of the first to be established. Reviewing the channel's logs, it becomes clear that a key figure behind the endeavor is a character going by the handle Zeiger.
But who the fuck is this Zeiger schmuck?
By his own account, Zeiger was first turned on to the far right around 2012, via the ideas of William Pierce, who had led the neo-Nazi National Alliance in the United States from 1974 until his death in 2002.  Zeiger would go on to set up or support a number of neo-Nazi media projects, helping to reconsolidate an openly revolutionary and neo-Nazi presence on the far right, more along the cultural wavelength of 4chan and the "Gamergate" trolls than that of boneheads or klansmen of previous generations. As such, he was part of the milieu which would form the neo-Nazi element of what became known as the Alt-Right.
Zeiger has been an extremely active and prolific propagandist for the Daily Stormer over the last few years, writing hundreds of articles and short essays for the website. He also appears to be one of the upper-echelon administrators of the site, and an important ideologue, close behind Anglin and techie general Andrew "Weev" Auernheimer in this closed hierarchy.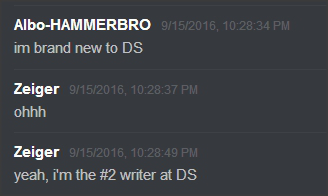 Zeiger was also one of the main administrators of the IronMarch.org website and forum, alongside Russian fascist Alexander Slavros. IronMarch attracted neo-Nazis from around the world, but especially the United States, under its masthead slogan "Gas the Kikes! Race War Now! 1488! Boots on the Ground!" IronMarch staked out a revolutionary position within the far right, largely inspired by the tendency identified with James Mason's newsletter Siege from the 1980s.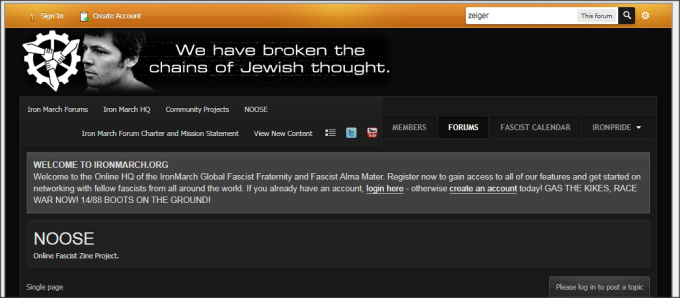 Several IronMarch participants went on to set up the Atomwaffen Division, a neo-Nazi network a number of whose members have been implicated in murders and a possible dirty bomb plot. (A recent ProPublica report noted that internal documents they had received showed that Atomwaffen has "members scattered across 23 states and Canada.") According to the Southern Poverty Law Centre, an anti-rightist group which works closely with law enforcement, "Ironmarch was the incubator for U.S.-based hate groups like American Vanguard, formed in 2015, which eventually birthed Vanguard America in 2017. James Fields, before he allegedly killed Heather Heyer and injured many others, held one of Vanguard America's shields in Charlottesville, Virginia."
Zeiger's profile avatar on various forums and social media platforms is a bright red Totenkopf, the universally recognized emblem of the Waffen SS, also adopted by Atomwaffen members.

Zeiger was also connected to an online magazine called Noose, hosted on RopeCulture.org, and described as "part of the IRONPRIDE Network of IRONMARCH online projects." As stated in its own description, "Ours hearts demand adventure and our blood demands retribution. Day of the Rope can't come soon enough, but until then #tiethenoose and have fun. Take part in promoting the fascist lifestyle with #ropeculture." (The "day of the rope" refers to a section of William Pierce's novel The Turner Diaries, in which "race traitors" – especially white women who have had sex with Jews or people of color – are hanged by the fascist insurgents.)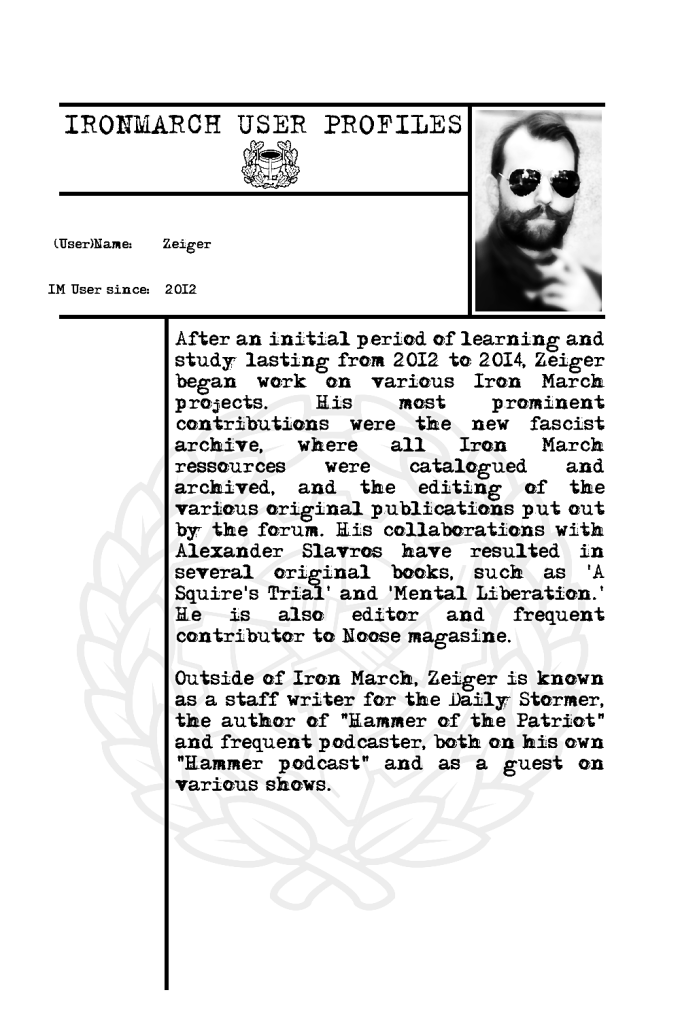 Under the nom de plume Charles Chapel, Zeiger co-authored a book with Slavros, titled A Squire's Trial, which is a sort of shitty fascist take on the Don Quixote/Sancho dynamic. Zeiger also wrote another book, Hammer of the Patriots, whose purpose is to train fascists to win arguments against leftists and liberals by eschewing rational arguments:
"It is important not just to defeat our enemies, as they must be humiliated as well in order to prevent them from using the same rhetoric elsewhere. The winner is not the one with the best arguments, because we are enemies anyway, the winner is the one who dominates. The point is to convince the public that you are their champion and that the Marxist is weak and stupid. The Hammer strategy was built around that and relies upon simplifying things down until you get to a point where the audience has to agree with you."
Indeed, outside of online networking, Zeiger has largely focused his energies on thinking about how to use propaganda.

Zeiger's media strategy involves provoking an exaggerated response from the left, in order to eventually desensitize broader society to the dangers of the far right. He was quoted to this effect in a recent Rolling Stone article:
"If we cause a media storm every time we put up a few stickers, we'll own the news media," he wrote. "[And] if they stop covering our propaganda, we also win; it means the system is now desensitized to hardcore nazism."
As the leaked "Montreal Storm" logs show, Zeiger attempted to use this strategy at one point by floating the idea that The Daily Stormer would be using Pokemon to recruit children, relishing the outrage as the story was taken up by mainstream media outlets.
Zeiger has not only been prolific in the written form. He has his own YouTube channel and podcast, which he calls Hammercast, and has appeared on numerous other neo-Nazi podcasts, such as This Hour Has 88 Minutes, Late Night Alt-Right, and Mysterium Fasces, as well as on notoriously unhinged Daily Stormer associate Robert Warren Ray (pseudonym Azzmador)'s show, "Krypto Report". Zeiger has also been interviewed by other far right online media projects, for instance the French fascist website Blanche Europe (September 2016) and the Radio Aryan podcast (June 2016). He also has a Twitter feed, which went silent around the same time Medium ran an online article about him, in early December 2017.
Setting up the "Montreal Storm" channel was one first step towards creating an "in real life" presence. Then, in 2017, Zeiger was one of the main organizers of a pan-Canadian Alt-Right meetup known as "Leafensraum" (a play on the Hitlerian concept of "Lebensraum"). He put this together along with two other individuals from the Alt-Right Montreal scene, known by the handles "Passport" and "Date"/"Late of Dies".
Leafensraum attracted neo-Nazis from across Canada, including a certain unnamed "professor" who lectured attendees and "had an extensive Q&A about the future of Canada and our movement, as well as his experience in academia." (Antifascist researchers believe this professor was most likely Ricardo Duchesne, the man behind the white supremacist Council of European Canadians, who teaches sociology and world history at University of New Brunswick-St-John, and who in recent years has become Canada's most influential fascist academic. Members of the Alt-Right Montreal scene also arranged for Duchesne to give a lecture at an undisclosed location in Montreal in June 2017.)
From his many podcast appearances, it was clear that Zeiger is a French-Canadian who lives in Montreal. So, obviously, we thought it would be interesting to flush out this asshole from whatever rock he hides under in our city.
Then came Charlottesville.
A face to the fake name…
We know that over twenty far rightists from Canada made the trip to the "Unite the Right" Nazifest in Charlottesville, in August 2017. This was meant to be a two-day show of force in this Virginia college town. By the time it was over, dozens of people had been injured and one had been killed, as white supremacist James Fields plowed his car  into a crowd of  counterprotesters. Within hours of Heather Heyer's brutal murder, the brave local warriors who had not made the trip to Virginia started posting some memes to the "Montreal Storm" channel.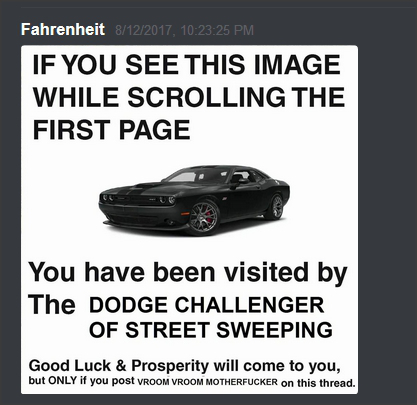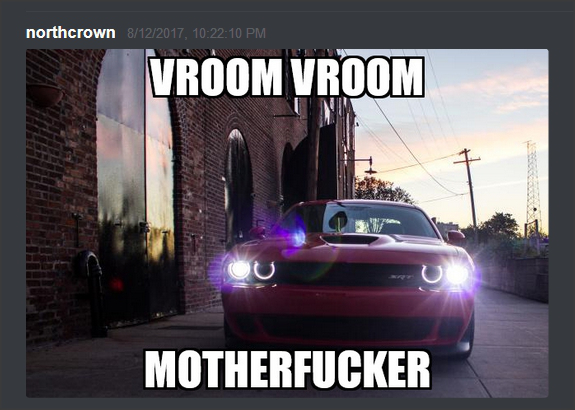 Zeiger had been involved in promoting the Charlottesville event, and his co-admin of the "Montreal Storm" Discord channel, "Late of Dies" (real name Athan Zafirov; more on this asshole soon), had organized transportation from Canada. The now notorious Vice report featuring Chris Cantwell (the soon-to-be-famous Crying Nazi, later to become the Crying Nazi Who Works with Cops) triggered an immediate anti-fascist response on social media, as comrades tried to identify the Montrealers who were spotted in the report. Shawn Beauvais-MacDonald and Vincent Bélanger-Mercure (also active members of the Montreal Storm channel) were quickly identified on local anti-fascist Facebook page Anti-Pegida Québec.
The one character who engages with Cantwell on camera though, would only be identified as Zeiger later on, when Azzmador put his full coverage of the Charlottesville boondoggle online on his own YouTube channel. At one point in the livecast, Azzmador introduces Zeiger by name, after which the latter pronounces a speech on the "strength and unity" of the far-right, which was so pathetic that Azzmador eventually cut him off to resume his own antics.
Learning who our local neo-Nazi hotshot was suddenly became a lot more interesting. Not that Zeiger was exactly hiding. Despite his high-profile participation in some of the vilest neo-Nazi online propaganda projects of the past several years, he had put a video of himself online, and maintained a number of social media accounts. And surprisingly, his list of Facebook friends was (and remains) public.
When antifascists got a hold of the "Montreal Storm" Discord logs, things became clear pretty quickly. From there it was just a matter of time before we put a name to the face.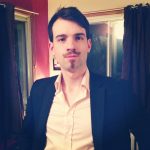 With the address that Zeiger had himself posted on the forum, inviting his pals over to watch the Trump/Clinton debate in September 2016, we found that the man living at that address to this day is a 30-year-old guitar teacher named Laurent Chaput. On Chaput's Instagram account, we found a couple pictures of another young man we surmised had to be a sibling or close acquaintance. Further research into Chaput revealed that his full surname was in fact Sohier-Chaput. From Zeiger's archived IronMarch user profile, we knew that his Skype account was "gabriel_zeiger". A quick Google search for Gabriel Sohier-Chaput brought up a Soundcloud and Google+ account to his name, with a clear profile picture. That picture had the same exact background as the one we can see in the interview Zeiger gave to Blanche Europe in 2016.

Another Google result was the video of a "performance" Sohier-Chaput gave at an oratory contest in 2011. By comparing the voices and physicality of the two (from Zeiger's speech in Charlottesville) it was apparent that Zeiger and Gabriel Sohier-Chaput are one and the same. By going back and comparing Sohier-Chaput's profile picture to the stranger in Laurent Chaput's Instagram, it was also evident that Gabriel and Laurent are in all likelihood brothers.
What are they up to?
Reading the logs, it became clear that members of this tiny scene were behind the racist posters put up around McGill in late 2016, had worked with Soldiers of Odin in their (failed) attempt to disrupt an anti-racist teach-in in 2017, and were present at the infamous March 4, 2017, demonstration in front of Montreal city hall organized by Georges Hallak and attended by a range of far right groups.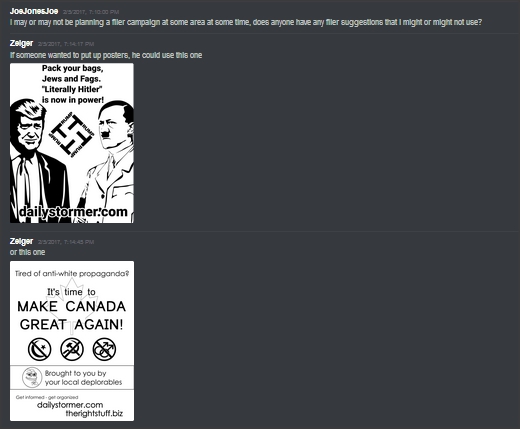 Despite the fact that La Meute's former anglo administrator Shawn Beauvais-Macdonald was active under the name "FriendlyFash" (formerly "Bubonic"), it also became clear that these neo-Nazis really had nothing but disdain for groups like La Meute and Storm Alliance, who they view as dupes who want to reform a system that needs to be torn down. Just as on our own side of the ideological divide, tensions arise when those who wish for revolution must contend with the larger numbers who are seen as reformists in denial about the depth of the problem. Here Macdonald is, for instance, discussing the cancellation of the anti-immigrant demo called last year outside the Olympic Stadium, and La Meute's withdrawal of support for it:


Similarly, here are two other members of the discord channel, discussing Storm Alliance: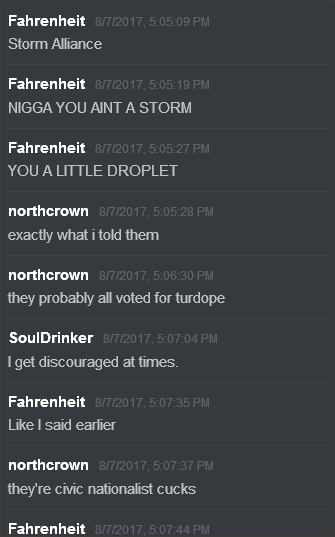 La Meute and Storm Alliance have been described by anti-fascists as "national-populist" far rightists; racist but denying it, claiming to be for democracy but tolerating the presence of fascists. What we have seen over the past year is the increased popularity of actual fascist tendencies within this national-populist milieu. Several members of the Alt-Right Montreal scene, for instance, have been identified attending La Meute and Storm Alliance demonstrations, the aforementioned complaints notwithstanding.
But the fascists are not only doing outreach within this broader scene, they are also organizing within their own groups. Since his presence in Charlottesville was publicly disclosed, Beauvais-Macdonald left La Meute, and publicly rallied to Atalante, the neofascist group based in Quebec City. Other members of the Montreal Storm discord group were clearly involved in setting up Generation Identity (now ID Canada).

The local Stormer neo-Nazis are all men, all in their 20s or 30s, and all seem obsessed with the kind of blatant racism and misogyny that national populist groups claim to eschew. They discuss setting up rape camps and implementing "white sharia" to enslave women.
(Warning: highly racist and misogynist discussion here (or in bigger separate files here: 1, 2, 3, 4, 5); further misogynist discussion here (larger screenshots in order 1, 2, 3, 4, 5, 6, 7, 8);  and this call to rape feminists as well as this call for "white sharia" — note that the alt right term "thot" stands for "that ho over there")
They laugh about genocide and the murder of Muslims, Jews, and people of color – after Alexandre Bissonette's massacre in Quebec City one poster talked about how the city had now become "culturally enriched".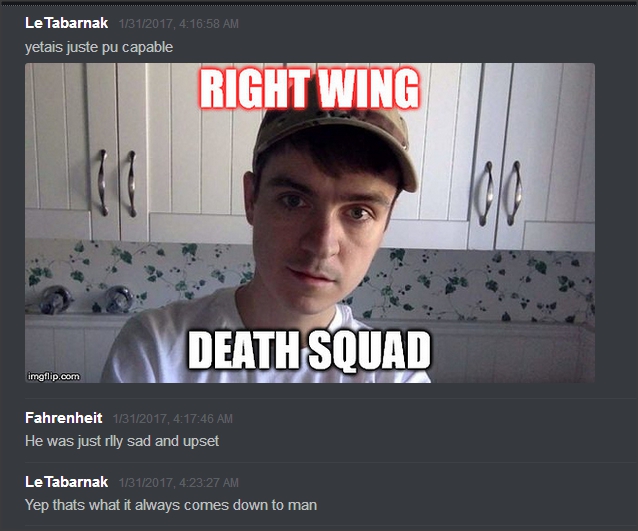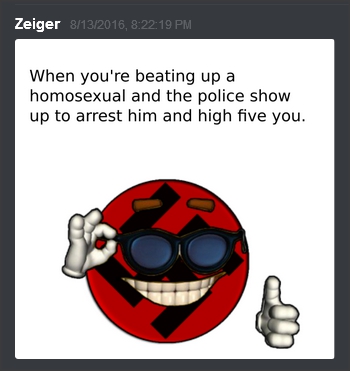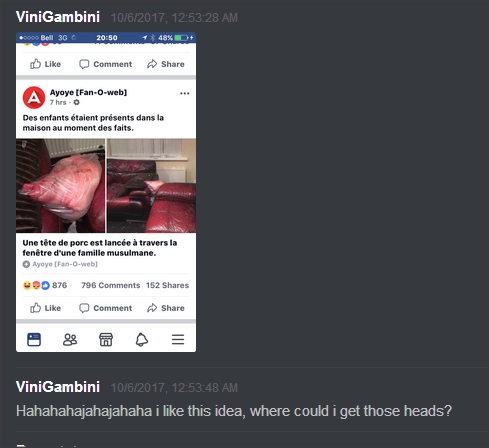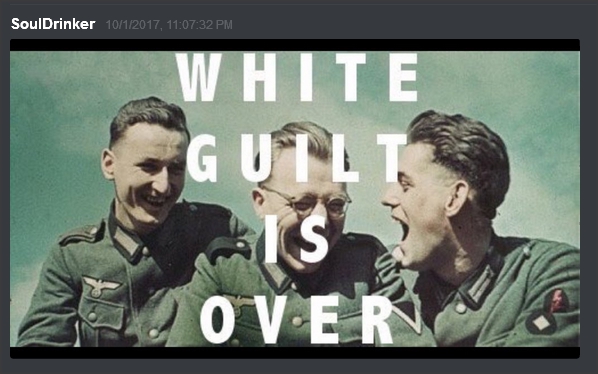 It doesn't take a genius to see that they're likely involved with the Northern Order Charles Manson Nazi posters that have been turning up across Canada.

What the "Montreal Storm" Discord chatroom we have had access to reveals, though, is how small and disorganized this group remains. Their meekest plans seem well beyond their capacities, at the moment. At the same time, though, most of these men are relatively new to politics; we can expect them to become more capable if we allow them the chance to learn and grow.
Given the violent fantasies many of the members of Montreal's Alt-Right scene indulge in, and their avowed desire to rape and kill those they condemn as traitors and enemies, the risk they pose is not necessarily limited to any organizational success. Young white men with violent fantasies have a track record of being behind almost all acts of mass violence in North America. As the recent mass killing in Toronto by Alek Minassian – who seems to have been associated with the incel subculture, itself a misogynist milieu connected to the alt right – shows, the risks connected to men like these are many. (On this note, it is not a random choice that Shawn Beauvais-Macdonald, on his current "Hans Grosse" Facebook profile (now offline) , puts Columbine as the high school he went to, or that he thought it would be a hilarious joke to paste Hitler's face over the face of his date…)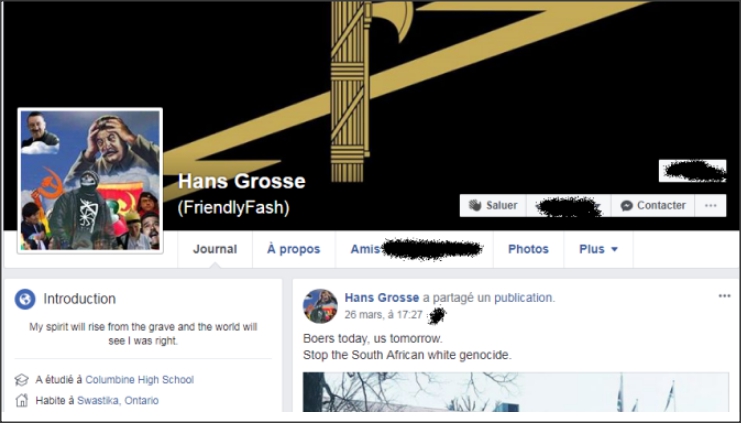 The Montreal Stormer book club is just one cell, in what remains an amorphous and largely unmapped network of relatively recent neo-Nazi converts across North America. This network is mainly located in the United States, and there are indications that Montreal may be the largest Canadian chapter. At the same time, it is disturbing to learn that one of the major players who helped to construct this new international neo-Nazi network, and to pioneer its effective online approach, is in fact a Montreal hipster who has been living in peace in this city for his entire life.
Time for that to change.
You can read the full logs of the "Montreal Storm" Discord channel at montrealnazileaks.net
If you have any tips that could help us flush out any members of this Nazi outfit, or any other individual you believe to be associated with them, please write to doxxlesnazis@riseup.net.