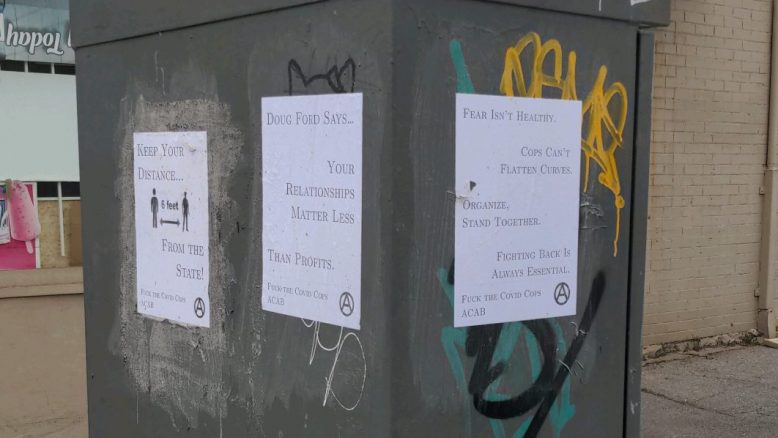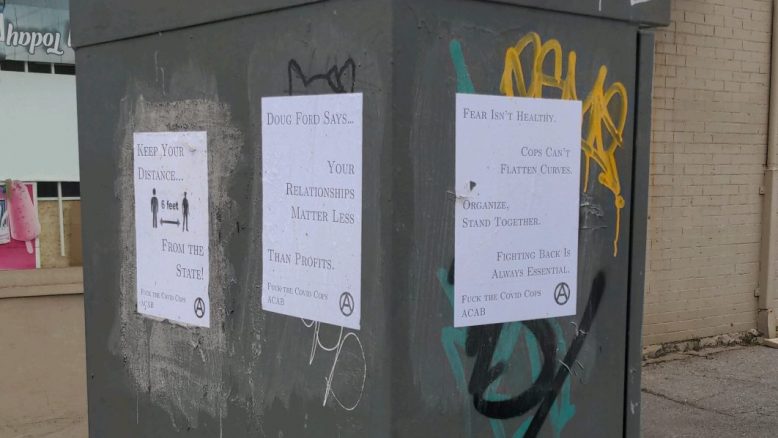 Anonymous submission to North Shore Counter-Info
PDF of posters.

Like millions of other people in Ontario, I woke up this morning in a world where the police had been given the authority to stop you at any time, question you, demand information without any reason, and make orders which have to be followed. In practice, a lot of this stuff already happens, but formalizing what is usually an abuse of power is a huge blow.
The government claims this is to try to stop the spread of covid. They are banning us all from sitting outside in the park with friends at a distance while factories and prisons are still operating full steam, prioritizing profits over relationships. Giving the police enhanced power to enforce these kinds of rules is just unbelievably fucked.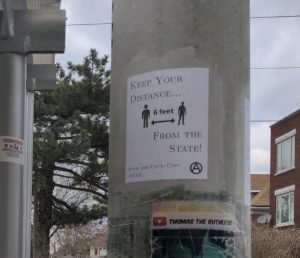 I was pretty upset so I made a bunch of posters and put them up around my neighbourhood in East Hamilton. Would they have been better if I'd taken more time? For sure. Should I have put "Covid is real" or something on them so it's more clear I'm not an anti-masker or denialist? Probably. But I would say it's more important to act, to make visible some opposition to these authoritarian measures, so that we don't all feel scared and alone.
As an anarchist, I believe in informing myself, discussing with people close to me, and coming up with our own set of practices for dealing with covid that reflect our own values and priorities. Just like with any other law, even when the things we decide are appropriate are illegal, it just means we have to put a bit more effort into finding the means to do them. I oppose the ability of the state to dictate practices and priorities onto us, and especially their ability to enforce them with repression, even if I might choose to adopt practices that a similar to the ones they suggest.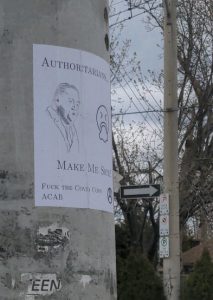 Some anarchists have been circulating texts that mimic the discourse of the far-right, worrying about the free speech of dissident conservative politicians, or about the right of religious reactionaries to gather, or minimizing covid. Others have become indistinguishable from liberals and try to shut down criticism from their comrades by claiming we are trying to kill their grandparents or something. We can do better.
Things are scary right now, it's true. The social pressure to just go along with whatever authoritarian crap is super heavy, but putting these posters up alone in the middle of the day on the weekend was a good experiment in talking with my neighbours about it. We are never as alone as we think we are.
(I'm including a pdf of my posters in case you suck at graphic design more than I do. But it's easy to make your own with free software like Gimp and LibreOffice Draw. Wheat paste is three or four parts warm water to one part flour; add the water to the flour slowly, stirring lots, then dump in a whole bunch of sugar.)
Solidarity to the people in Montreal who have been fighting against the curfew there!
Keep your collectives and affinity groups tight, and always maintain a good social distance from the state!