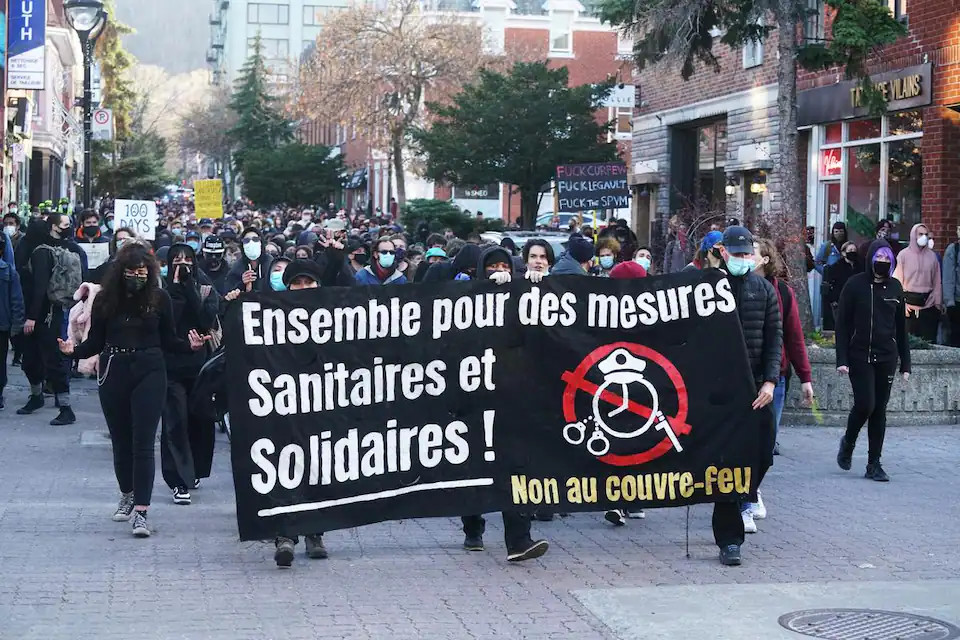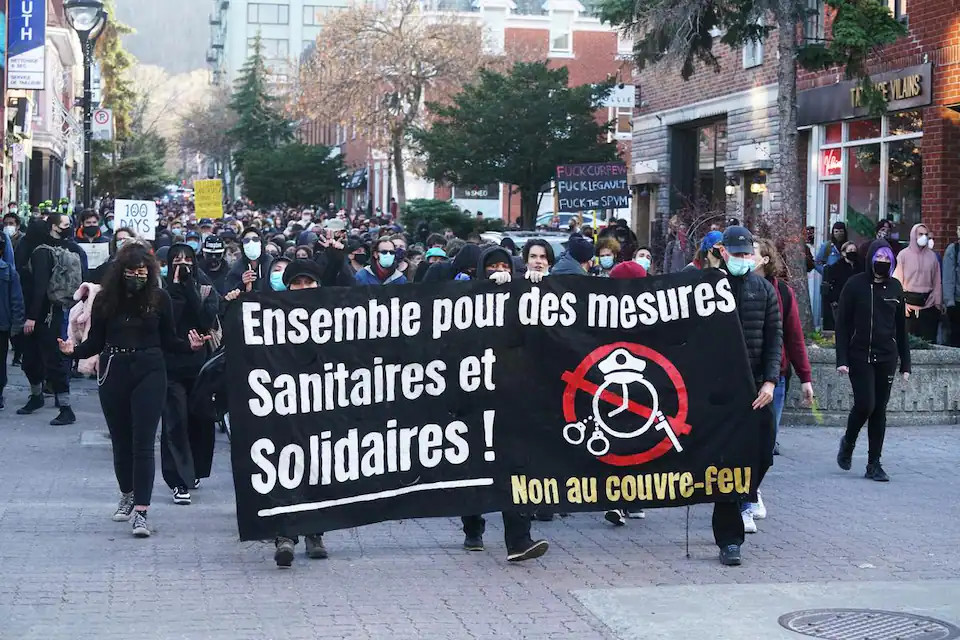 From Pas de solution policière à la crise sanitaire (facebook)
Thank you all for attending last night's protest! Many hundreds of us took to the streets to denounce the imposition of a curfew, a measure that is an attack on our freedom and on our relations and aspirations of solidarity.
Together, we were able to put forward a clear message that rejects the false solutions of Legault's government and the City of Montreal. We denounced the curfew and any use of police to deal with the health crisis, highlighting its cruel impacts on homeless people, sex workers, drug users, undocumented workers and so many others.
The struggle against the curfew and false, authoritarian solutions to the pandemic continues and is gaining steam. We stand firm in the will to refuse the dichotomy between blind obedience to the government and the silly manipulations of conspiracy theorists, which are exploited by the far right.
Just as we marched against the police state, the SPVM devoted themselves to providing a clear demonstration of it. Despite the deployment of hundreds of cops, we took the streets, chanting and shooting fireworks, for more than an hour! Things heated up when riot police forced their way into the crowd to grab a comrade. Despite the crowd's efforts to help the comrades targeted by the police, we didn't succeed in freeing them. It is the responsibility of all of us to develop practices so that such situations cannot happen again.
Many of you have expressed your willingness to continue the struggle. Please know that we do not intend to give up. Our main goal is to help mobilize. Feel free to self-organize, plan actions; we will not hesitate to use our platform to support you to the best of our abilities. In particular, we encourage our comrades to join the more spontaneous gatherings organized by the young Montrealers who have been acting on their legitimate anger over recent days; we will circulate relevant calls on our platforms. Stay tuned!
A special thanks to the AQPSUD with whom we have been fortunate to struggle since the very beginning of mobilizations against the curfew. Thank you for your presence and for all the work you do on a daily basis.
If you have received a ticket for breaking curfew, write to wewontpay@riseup.net to participate in a mutual aid effort for contesting the fine.
Let's stand together in the face of police repression, let's learn to leave no one behind.
And above all, let's never stop fighting.