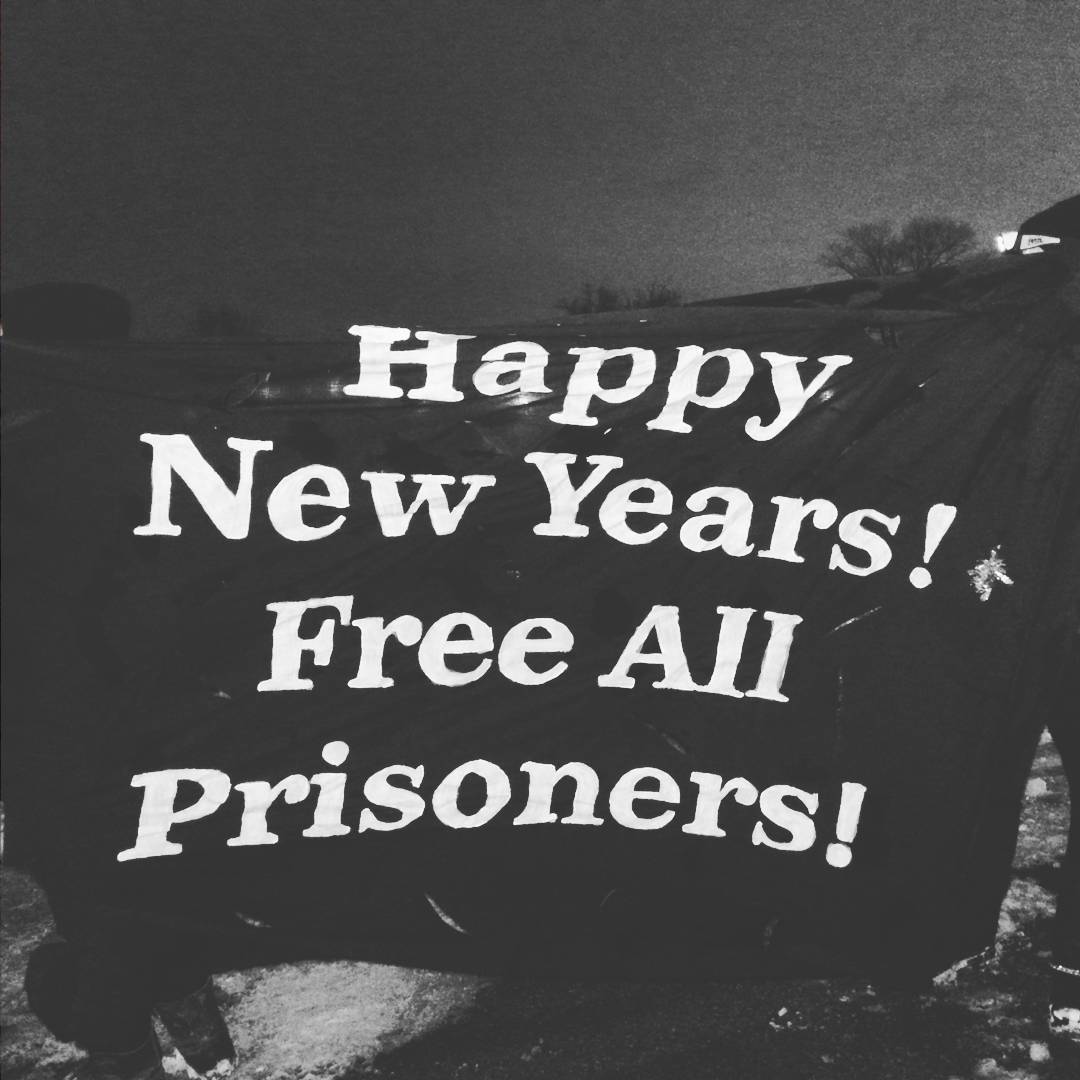 On New Years Eve, over 100 people gathered for a noise demonstration at the prisons outside of Montreal in Laval; the Immigration Detention Center, the Federal Training Center minimum facility, and Leclerc prison. Banners read : Happy New Year, Free All Prisoners and Our passion for freedom is stronger than prison.
At the Immigration Detention Center, we were not able to make visual contact with people inside but know from previous years that fireworks and chants can be heard across the walls. Police following the demonstration on foot had their video camera obscured by banners, and demonstrators walked in their path to disrupt their line. At Leclerc and the Federal Training Center, prisoners could be seen flashing their lights on and off, waving and shouting through the windows. An abundance of fireworks were shot off at each prison, and statements were read over a sound-system against prisons and their relation to systems of colonialism, white supremacy and capitalism. Words of support and solidarity with prisoners were communicated in French, Spanish, and English.
We're stoked that three noise demonstrations took place in Quebec this New Year's Eve. We hope that this tradition can serve as a moment to welcome a year of continual and multiform struggle against the prison system, and the people, institutions, and infrastructures that maintain it.
Excerpt from the callout:
"…We want to celebrate resistance inside prisons. In April 2015, more than 70 mothers in the Karnes County Detention Center in Texas went on strike. The migrant women launched a hunger strike demanding their own release while they pursue asylum claims in the u.s. In August, prisoners in long-term solitary confinement in California won a federal class action lawsuit effectively ending indefinite long-term solitary confinement. In October, Amazon, an anarchist transwoman who is currently imprisoned in California, went on hunger strike demanding that she be transferred to a prison for women. In Lindsay, Ontario, detainees held by CBSA in the Central East Correctional Centre have been on strike for two years demanding an end to immigration detention. These are just a few examples of prisoner resistance that happened in the last year. We stand in solidarity with those struggling against prison walls from the inside.
Prisons were created to isolate people from their communities. Noise demonstrations at prisons are a material way to fight against repression and isolation. We want to extend a message of solidarity to folks inside, and wish them a happy new year. Although, a truly happy new year would be one without prisons and the world that needs them…"