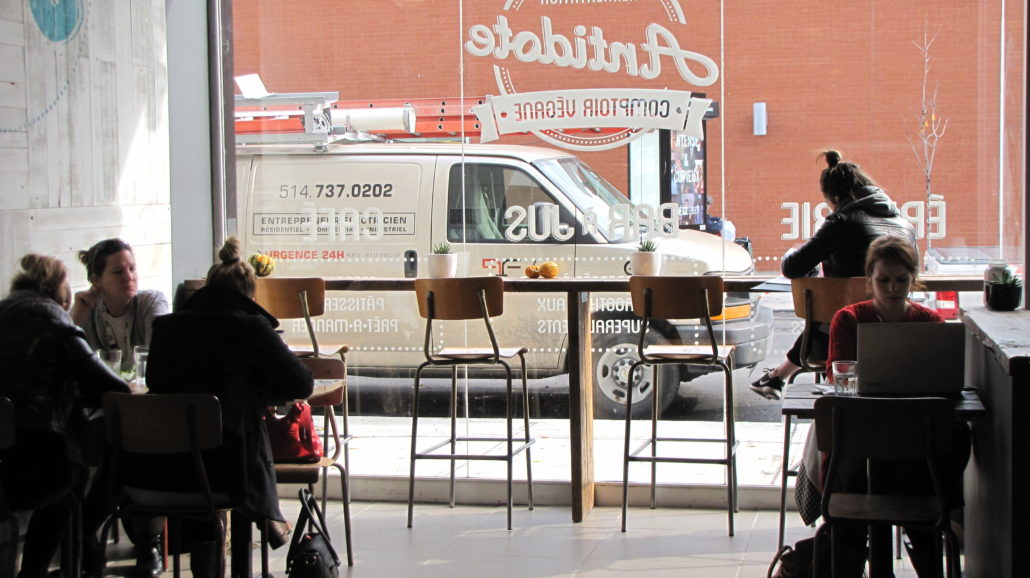 From SITT-IWW
In my two years with the communications committee of the IWW, I have never seen anything like this. The little story of Sarah, who was fired from the vegan restaurant Antidote a few days before Christmas, after experiencing intimidation and abuse of power, has gone viral.
Within less than 24 hours, the words of hope and acts of solidarity have been flowing from everywhere. Tens of thousands of views on our blog, I almost had the impression that I worked for Vice or Ton Petit Look, the only difference was that in the comment section it was a breathtaking expression of love that Sarah received, instead of the traditional hate mail.
We are witnessing a modern version of Scrooge's Christmas Carol. In 2017, a few days before Christmas Eve, a young entrepreneur dynamic enough to make herself the owner of a trendy restaurant in a gentrifying neighborhood, fires her employee.
Before going any further, let's be clear that to fire a restaurant worker in the middle of December, in addition to wishing her a Christmas without gifts to offer or food to bring to Christmas eve, is to wish her a happy three or four months' unemployment, with no unemployment (EI), until industry hiring reopens with the arrival of spring.
Through a friend, Sarah came into contact with the ghost of Combative Syndicalism which agreed to share her story. You know what followed, the story went viral and social media blew up. If we were in a Christmas story, at the end of the third act the boss would repent, but the reality of the boss-worker relationship being what it is, she instead published a tearful text to explain that from the depths of her professional success, she was in fact the real victim.
It had a bit of everything: she's young and has so much to learn, she didn't know that one couldn't ethically fire someone over text message, because giving her two weeks' notice and some time to prepare herself (like bosses ask of us) just didn't fit among her priorities. Almost like a caricature taken straight out of the management reactions module of the IWW's Organizing 101 training.
In parallel with the crocodile tears of the boss which, judging from what we can see on Facebook did not affect anyone except two or three owners in similar situations or close friends, it was former employees who contacted us to inform us of similar experiences: the story came up of a small producer in Gaspésie who had difficulty being paid, and numerous other workers in the restaurant industry who explained that they found themselves in this kind of situation all too frequently. But maybe even more importantly, people all around Montreal wrote to us to share their sympathy and offer their solidarity with Sarah.
Between the words of encouragement, one who wrote had an open room, another a couch available if necessary, yet another had food for the dog, another had heard of a job available and others had temporary contracts or even permanent job contracts to offer. Class consciousness, fed up with the terrible working conditions of the restaurant industry, or simply Christmas spirit? It doesn't matter for the moment, the solidarity has surpassed all our expectations and for that, on Sarah's behalf, but also from all of the members of the IWW, we want to offer our most sincere thanks and wish you all an excellent holiday season.