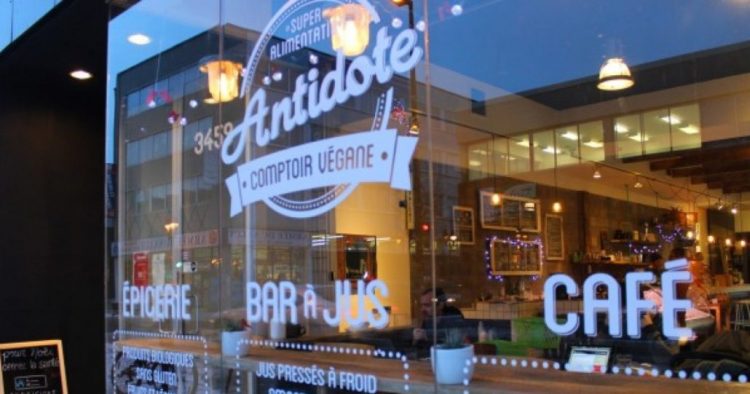 From SITT-IWW
Christmas may be quickly approaching, but that doesn't mean that our bosses will stop treating us like shit. Sarah sent us the following text following her firing, and it is with our full solidarity that we publish it, because, as she says: "We have to stick together."
Hello, my name is Sarah and I am a student. It is one week before Christmas and instead of letting me enjoy the holidays, I'm worried about ending up on the street for the winter.
Up until last Wednesday, December 13th 2017, I worked as a dishwasher at "Antidote Bouffe Végane" and I loved it. I did my job well and I got along well with all of my coworkers. When I was hired on September 18th, 2017, I was so happy about the fact that I would no longer have to live in my car with my dog and to be able finally to pay rent, even if i was being paid minimum wage. My former boss, Élise Bellerose, manages the restaurant with the help of her right hand, Arielle La Jardinière. About a month before being fired, this same Arielle was put in charge of the restaurant by Élise when the latter was absent or at the spa. I believe that she saw this as a way to gain power and a good reputation in the eyes of the boss.
Quietly, Arielle began to institute a climate of intimidation in the restaurant, essentially all the employees started to receive threats of being fired for reasons that were not valid or even true. Everything we did or said could be used against us. When Élise came to talk to us, it was to scold us for things that she had no knowledge of aside from hearsay from Arielle. We were walking on eggshells. Some of us were going so far as to make it seem that we agreed with Arielle, for fear of losing our jobs, even if on multiple occasions, my coworkers and myself (once) were called "sluts" by her, under the pretext that it was a joke. Another dishwasher who everyone loved quit because he refused to be spoken to like he was less than nothing. We tried to talk about it with Élise, but she didn't want to know anything.
About a week before I was fired, I left the kitchen to see if there were dirty dishes at the front as well as to go put toilet paper in the bathroom, because that was my job. That day, Élise was absent, but Arielle was there. While I was heading towards the bathroom, she said to me, "Come here Sarah." Already, I knew that this was a bad sign. She then said the following in an arrogant tone: "Go wash your little corner in the back! You have no business in the front!"
I was really insulted and I responded to her that I was not okay with the way that she spoke to me; especially that she had no idea which tasks I had to do. Around two hours later the same night, three friends of mine came to eat at the restaurant and while returning to the front to look for dirty glasses, I passed in front of them and they asked me what was good on the menu. I stopped for a moment to offer my advice and a server came to see me right away to tell me not to do that, and that I should be careful because Arielle had told her that she had an eye on me and was going to tell Élise that I was wasting my time.
I returned to the kitchen, I was angry and exasperated at the climate of fear in the restaurant. I decided to text my boss. A cook advised me against it so that I didn't lose my job. But I knew that Arielle was going to tell my boss that I was a bad worker, so I needed to defend myself. I sent her a message saying that I did not understand why Arielle had this attitude toward me and that if they hated my work so much, I would like to be aware. She never responded, but the next morning she posted a note in the employee room that said that Arielle had just as many rights as her regarding what happened in the restaurant during her absence and that it was necessary that we, the employees, "deal" with that. So I had my response… Élise, who was the boss, never asked to speak with me or anything. When we crossed paths, it was as if I had never even texted her. I said to myself that it was just going to stay like that.
But last Wednesday, December 13th 2017, at 1:14pm just before my 5:00pm shift, I received a text message from Élise saying the following:
"Hello Sarah, sorry to tell you this by text but Antidote will no longer need your services. I thank you for your understanding, if you have any questions, text me. Good luck in the future. Élise."
I never thought I was going to come to lose my job like this, at the tap of fingers. I obviously texted in response to try to understand the reasons, but she never responded. I contacted the Normes du travail, to know if I had the right to at least 2 weeks notice or remuneration. They said I did not, because it had not been three months…I was only 5 days short of three months. The employees at Antidote are now watching their every move and fear losing their jobs like me. Arielle is still there. I'm also scared that she will fire other employees.
I made a request for employment insurance but I already know that I don't have enough hours. I sold my car as scrap, this will allow me to have at least the month of January where I know I will have a roof over my head for me and my little dog. For what follows, I don't know and I admit that I am scared. I hope I will quickly find another job. Thank you for reading this and please share widely, in solidarity with those who experience intimidation at work.
We have to stick together. Goodbye.