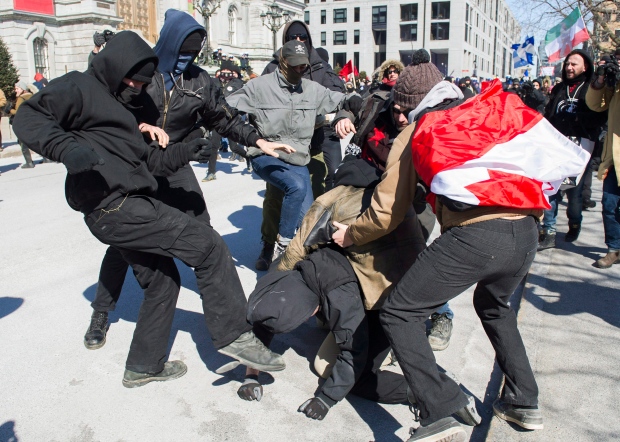 THIS SUNDAY, March 19th, far-right group Canadian Coalition of Concerned Citizens (the same people who organized the anti-M103 demo on March 4th) is attempting to mobilize nationwide for a second demo against M103. These demos are set to begin around noon in front of City Halls across so-called Canada and Québec, and while the interest for Montreal is unclear (looks pretty low-scale judging by Facebook, but it's hard to tell), Montreal is on their list of locations.
The Resist Trump and the Far-Right action/demo subcommittee is currently trying to organize a response to this potential far-right action on very short notice, and we need your help to get the word out. Regardless of how many far-right folks and groups turn out, we feel it is of utmost importance, especially given the events of March 4th, to have an antifascist presence on the ground and to disrupt their speeches and demo as much as possible. NO PLATFORM for the Islamophobic and racist far-right, whether there are 100 or 6 of them at this demo!
Our goal is to meet up at City Hall for 10:30am. We realize this may sound early, but many of the far-right groups actually showed up much earlier than the scheduled time on March 4th.
We strongly encourage everyone to forward this to friends, comrades, and networks, and to come to City Hall on Sunday morning.
Thanks and in solidarity,
Resist Trump and the Far-Right Action/Demo Committee