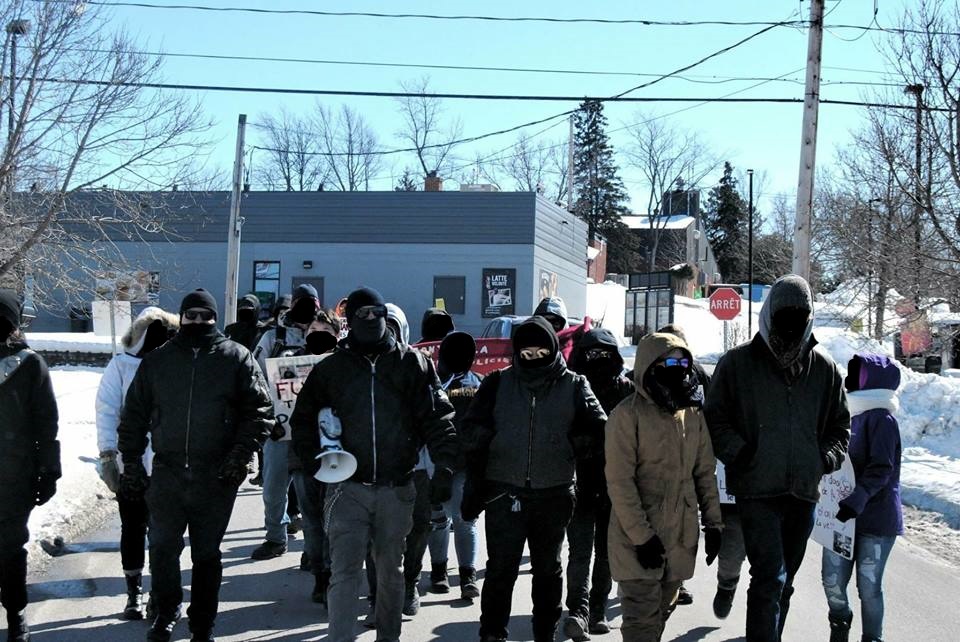 Anonymous submission to MTL Counter-info
As part of the week against police brutality, the Outaouais region mobilized like every year to create a series of events denouncing the violence of the Gatineau police and the SQ. This year, community organizations from the region and activists also decided to rent a bus to go to Maniwaki in support of two families that have faced the violence of SQ officers. In 2015, Brandon Maurice was killed, shot by an SQ cop, and in 2018, a friend of the Maurice family, Steven Bertrand, was shot in the dead by a courthouse guard who refused to let him leave to smoke a cigarette.
We chose to say loud and clear that the police is nothing but an instrument of the state that abuses its power, all while protecting the rich and fascists.
In Maniwaki, as in many regions patrolled by SQ pigs, it's young men just out of police school that end up in these postings they don't want. These assholes show up in these regions, knowing nothing of their reality, which doesn't interest them. As a result, in Maniwaki as elsewhere, the cops are cloaked in impunity when they murder, bully, and systematically profile the most oppressed. We refuse the colonial attitude of these cops just as we refuse silence on the disappearances and assaults on indigenous women.
All we have left is to defend ourselves against the police. We have no confidence in them, nor the justice system, nor their fraternalist deontology.
Fuck the police state that represses poor and marginalized people and political activists. Fuck these armed pigs that enforce a climate of social insecurity. Fuck the guard dogs of the state, the bourgeoisie and the capitalist system. Antifascist as long as necessary, and until they have disappeared absolutely: NO JUSTICE NO PEACE, FUCK THE POLICE!