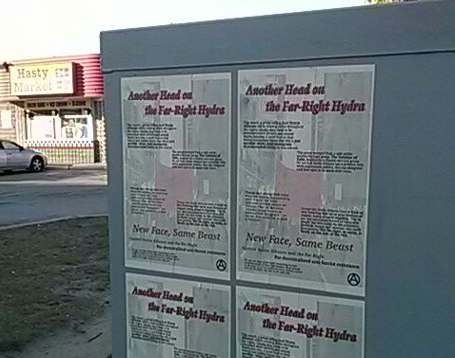 This antifascist poster has been turning up in the streets of Hamilton the past few days. It offers some analysis of the group Storm Alliance that will be holding rallies in various cities and at the border on September 30th. A local group of far-right losers decided to call themselves Storm Alliance and to try to hold a rally in town that day as well, but they quickly took down their event page and it's unclear if the local event will even happen. Still, it's concerning that they are trying to hide their racist, anti-immigrant rhetoric behind language about poverty and mental health, a sensitive subject in this city like in many others. It includes a link to a page where you can leave tips about far-right activity in your neighbourhood. Full text of the poster below.
Another Head on the Far-Right Hydra
This month, a group calling itself Storm Alliance will be holding rallies throughout the region. Locally, they claim to be concerned about poverty and mental health, but even a quick look at their history and politics shows that this is just another racist, anti-immigrant demonstration hiding its true colours.
This group emerged from a split within another far-right group, The Soliders of Odin, inspired by a Finnish neo-nazi group. It's not that Storm Alliance has a problem with white supremacist politics, they just disagreed with how open to be about their views.
Though they change their name every few months, the underlying views of those who today participate in Storm Alliance are the same. They say that white Canadian society needs to be protected from immigrants — we say that their racism has no place in Hamilton.
Groups like Storm Alliance want to trick us into believing that we're poor because of support being given to migrants. This lie not only encourages hatred of vulnerable people, but also covers for the politicians, landlords, bosses, and investors who profit from poverty. The far-right, as usual, is firmly on the side of the rich.
New Face, Same Beast
Against Storm Alliance and the Far-Right
For Decentralized Antifascist resistance
Do you see signs of far-right organizing in your neighbourhood or have information about groups in the city? Go to thehamiltoninstitute.noblogs.org and click the Far-Right Tips link on the right side.