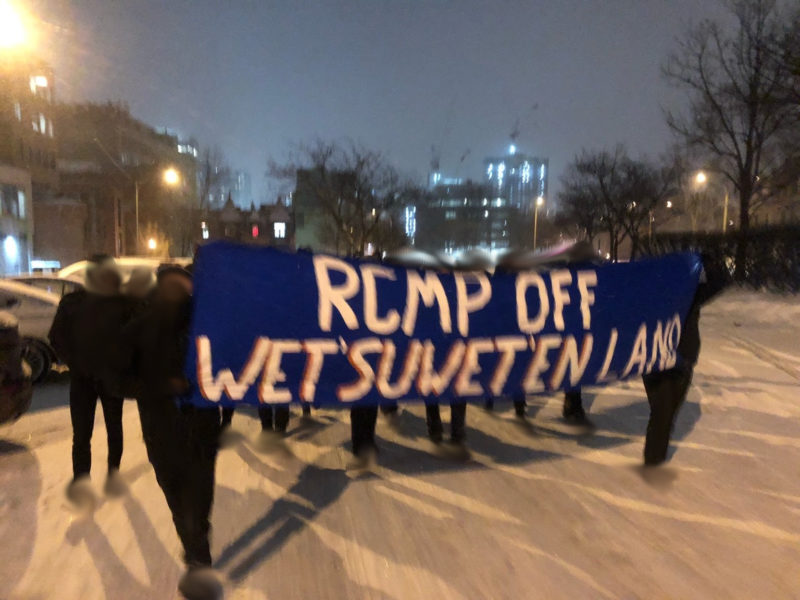 Anonymous submission to MTL Counter-info

A bit over a hundred people marched through downtown Montreal Thursday night, to show their solidarity with the inhabitants of Wet'suwet'en territory currently facing violence and harrassment from the colonial Canadian state and its police force, the RCMP. Demonstrators marched in the streets of Montreal toward the RCMP offices behind a banner reading "RCMP OFF WET'SUWET'EN LAND".
The RCMP headquarters was targeted in response to violence against indigenous people and especially the Wet'suwet'en. The car parked in the driveway had its windows broken and tires slashed, and paint bombs and graffiti hit the building. The demonstration occured in the context of a wave of actions currently shutting down so-called Canada. The message is clear: violence committed against indigenous peoples, land defenders and water protectors, on Wet'suwet'en land or elsewhere, will always meet with a response. This response will come from everywhere and it will only get louder.
The oil industry, the Canadian state and its police force can try to force through their pipeline, we can in turn halt the circulation of their commodities. The targets are everywhere. It's now or never.
Solidarity with the Wet'suwet'en and all those stepping up right now against the colonial Canadian state.
#shutdowncanada