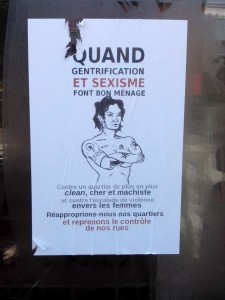 Vandalised because of their business name
Our enemies – 11/6/2015
A restaurant named "La Mâle Bouffe" was the target of radical feminists who broke one of its windows and covered the neighborhood of Hochelaga in posters denouncing gentrification. 
It was on June 2, ten days before the opening of his restaurant on rue Ontario, that the owner noticed that a large rock had been thrown through a window of his business.
The vandals also plastered dozens of posters throughout the neighborhood in which the logo of the restaurant, a mustached man with tattoos, is modified into an anarchist woman.
Around the design, it reads: "When gentrification and sexism get on well together. Against a neighbourhood that is 'clean,' expensive, and chauvinist. Against the escalation of violence against women. Reclaim our neighbourhoods and resume control of our streets."
If the phenomenon continues, new business owners will be afraid to set up shop in Hochelaga, believes the owner.
Vandalism in Hochelaga has become a true plague while several businesses on rue Ontario are regularly targeted by vandals opposed to gentrification.
"This year, they stole flower pots from our terrace, but it's only the beginning of the season. Last year, vandals threw bricks through the window and another time, they painted an anarchy symbol on the facade" denounced the owner of restaurant Le Valois, who prefered to not say his name.
For the last two years, more than a dozen acts of vandalism against businesses were reported in Hochelaga.
For example, the windows of Bagatelle bistro and In Vivo as well as Le Chasseur were smashed with bricks.
A bit more than two years ago, the exterieur of William J. Walter was even covered in yellow paint after an anti-capitalist demonstration.
"Someone put paint in a fire extinguisher and sprayed the entirety of the store, it was truly exasperating. They also smashed a window." recounted the manager of Benjamin Fallourd.