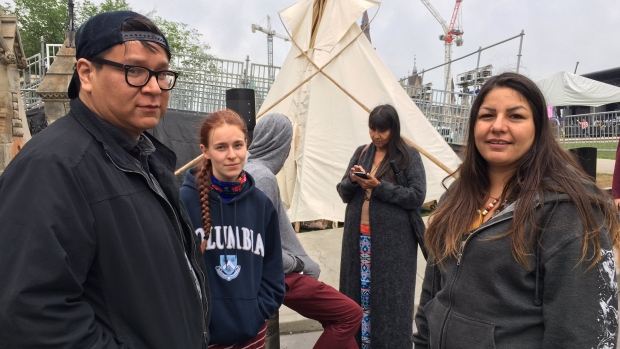 Legal defense funds are urgently needed for Freddy Stoneypoint, an Anishinaabe man who was arrested Monday night in a police raid of the anti-fracking blockade on Mi'gmaq territory in so-called "Québec".
People had erected barricades and blockaded the site for over a week before a Sûreté Québec (SQ) tactical unit assaulted the camp. Protectors of the land and water are always confronted by the machinery of the police, in service of the oil companies. Solidarity and support for the defenders will be necessary for the struggle to be able to stop the destruction of territories.
Freddy currently faces charges of breaking and entering, mischief over $5000, and theft over $5000, and is being detained at least until a Thursday hearing on his release. He is being held at the New Carlisle provincial prison.
Freddy has consistently demonstrated an inspiring fortitude, determination, and strength of conviction in standing for Indigenous sovereignty and defending the land, air and water on which all people, animal species, and future generations, depend.
It's now time for all of us who see ourselves in this struggle to help defend Freddy against the onslaught of the colonial "Canadian" justice system. We refuse any separation between "good" and "bad" water and land protectors. Rather, the fault line is between those who are safeguarding the land, and the partisans of the ravages of the extractivist economy.
Join us Thursday, August 17, at 1:00pm in front of the Palais de "Justice" of Percé for a demonstration in support of Freddy Stoneypoint in his legitimate struggle. Facebook here.
If you're in Montreal, join a solidarity demonstration meeting on the north side of Parc des Faubourgs (close to metro Papineau) at 1 pm! Facebook here.
Funds are urgently needed to pay Freddy's legal fees and his legal team's travel costs. Please contribute according to your means. Youcaring link here.