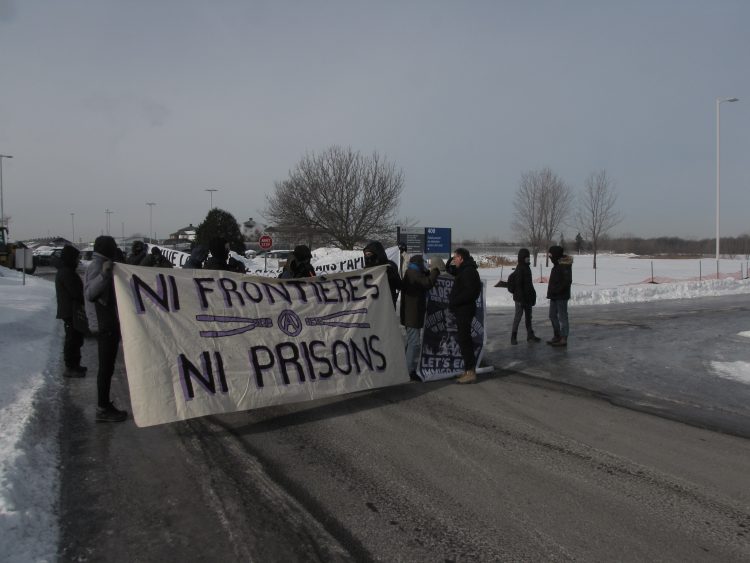 From Stoppons la Prison
The government has announced that they are extending the bidding period until April 1, 2019. We hope this means that the companies have received many calls and are refusing to bid on the contract! Regardless, even a small delay of the construction calendar is welcome. We encourage people to keep calling until April 1st to make our message clear! See revised details below, including contact information for one additional company.
Call in, email, and fax campaign background
The Canadian government is attempting to construct a new migrant prison in Laval, QC. The building, set to be built by 2021, would hold 158 people, including children, increasing the government's capacity to control and deport migrants in a context of rising xenophobia and racism across Canada and in Quebec specifically. Though the prison is being billed as "more humane" than the current detention centre, it's clear that aesthetic improvements will not stop this from being a prison: it will still rip people from their families and communities and be an integral part of the deportation machine.
The land at the site of the proposed new migrant prison has been readied for construction, and the bidding process for the General Contractor has begun. On February 20th, a group of people shut down a planned visit to the construction site for interested companies. They talked to company representatives about the nature of the project and why they should not participate in building this prison. Many companies are unfortunately still bidding for the contract.
Let's show these companies that there is widespread disapproval for this project, and that there will be resistance if construction begins! WE HAVE UNTIL APRIL 1st, the deadline for bids, to get these companies to pull out of the process.
WHAT YOU CAN DO
Join the campaign to let these companies know that what they're doing is reprehensible! Get together with friends and family, send some emails, make some calls, or send some faxes between now and APRIL 1st.
Free faxes can be sent using any of the following websites:
https://www.gotfreefax.com
https://faxzero.com
When you get in touch with these companies, here's a sample script you can draw on if you want:
Hello,
I'm [calling/e-mailing] you today to tell you that you should drop your bid for the Laval immigrant detention centre. It's a morally reprehensible project, and it faces widespread opposition – being involved with it will reflect badly on your company. It's designed to imprison and deport people who are trying to immigrate here, and it will rip apart families and violently take people out of their communities. That's part of a racist approach to migration on the part of Canada that we need to challenge rather than support. It's not something I stand for, and I'm far from alone in that position. Make the right choice and drop your bid for this project.
Groups
If you're a community organization or activist group, we encourage you to ask your members to call/e-mail/fax. Invite people to your space to make calls & send e-mails and faxes together!
THE COMPANIES
These companies want to build a new migrant prison in Laval. Contact them to tell them to drop out of the bidding process!
1. COMPANY: Corporation de construction Germano
REPRESENTATIVE NAME: Richard A. Germano
TITLE: Président
EMAIL: info@germanoconstruction.com
PHONE: 450 668-7807
FAX: 450 668-5002
2. COMPANY: Construction SOCAM ltée
REPRESENTATIVE NAME: Richard Paradis
TITLE: Estimateur Senior
EMAIL: r.paradis@socam.ca
PHONE: 450 662-9000 #223 or 450 662-9000
FAX: 450 662-9838
3. COMPANY: Groupe Geyser
REPRESENTATIVE NAME: Lina Tremblay
TITLE: Estimateur
EMAIL: ltremblay@groupegeyser.com
PHONE: 450 625-2003
FAX: 450 625-2883
4. COMPANY: Tisseur Inc.
REPRESENTATIVE NAME: Jacques Hosson
TITLE: Estimateur
EMAIL: estimation@tisseur.com
PHONE: 819 322-1523 #258
FAX: 819 322-6766
5. COMPANY: Construction CYBCO
EMAIL: info@cybco.ca
PHONE: 514 284-2228
6. COMPANY: VCI Contrôles inc.
REPRESENTATIVE NAME: Joseph Jacob
TITLE: Chargé de projet
EMAIL: jjacob@vcicontrols.ca, pcraig@vcicontrols
PHONE: 450 442-3555 poste 101
FAX: 450 442-3337
7. COMPANY: Bruneau électrique Inc.
EMAIL: info@bruneauelectrique.com
PHONE: 514 353-4343, 450 759-6606
Fax: 450 759-2653
8. COMPANY: Standard Building Contractors
REPRESENTATIVE NAME: Shane Ross
TITLE: President
EMAIL: shane@standard.builders
PHONE: 613 847-7258
9. COMPANY: Securassure
REPRESENTATIVE NAME: Matthew Poplaw
TITLE: Sales
EMAIL: matthew@securassure.ca
PHONE: 514 373-3131
FAX: 1 855 439-9500
10. COMPANY: ALTEL inc. a Convergint Company
REPRESENTATIVE NAME: Jean-Hugues Thibault
TITLE: Sales Director
EMAIL: jean-hugues.thibault@altel.ca
PHONE: 4389907791
GOOGLE+: http://www.altel.ca/en/home/