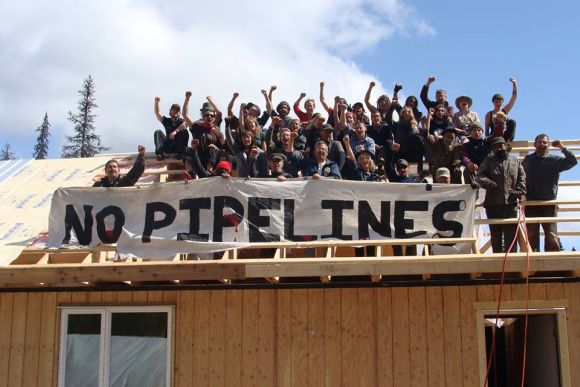 From the Unist'ot'en Camp
UPDATES FROM THE FRONTLINES
HEAL THE PEOPLE – DEFEND THE LAND
6TH ANNUAL SPRING CONSTRUCTION CAMP
Volunteers Needed for Cabin Building Projects in May!
Spring camp runs from May 6 to 31
With spring coming early to the north, plans are underway for new projects across WET'SUWET'EN TERRITORY, including cabin construction for WET'SUWET'EN PEOPLE. Following the invasion of our territories by RCMP and industry, we are continuing to reoccupy our lands – helping our people reconnect with, reclaim, and protect our homelands
We need people with CARPENTRY, COOKING, AND CAMPING SKILLS, or a good attitude and a willingness to learn. "Many hands make quick work!"
The UNIST'OT'EN CAMP is not a blockade, a protest, or a demonstration – it is a permanent, non-violent occupation of UNIST'OT'EN TERRITORY, established to protect our homelands from illegal industrial encroachments and to preserve a space for our community to heal from the violence of colonization. This year, UNIST'OT'EN volunteers will be working with other WET'SUWET'EN clans to support WET'SUWET'EN sovereignty.
We prefer volunteers who are able to spend two weeks or more supporting us, but welcome any contribution of time and effort.
Please be prepared to work under the leadership and protocols of the Indigenous stewards of the YINTAH. Supporters are asked to register here in advance: http://unistoten.camp/come-to-camp/camp-registration/
Our spring camp will run from MAY 6 TO MAY 31. Supporters are needed prior to and following the work camp as well, so if your schedule conflicts with our work camp dates, please apply regardless.
If you are not able to make it in person, consider sending a financial contribution to help cover our operational costs.
To maintain safety and security we prefer volunteers to either have previous experience at the Unist'ot'en Camp or be able to provide references from one or more persons who have been to the Camp or are known within the movement.
If you meet that criteria and are physically fit for the hard work of supporting the camp and checkpoints, prepared to commit at least one week or more and are prepared to work under the leadership and protocols of the Indigenous stewards of the Yintah then register HERE.
… AND ONE MORE SPECIAL REQUEST TO SUPPORTERS IN THE LOWER MAINLAND AREA OF BC:
Please reply to this email if you can possibly billet volunteers passing through the Vancouver area and needing a place to stay – usually for just one night – in order to connect with their ride to Camp.
The Bunkhouse was built in the summer of 2014 followed by the Healing Centre constructed in stages over the next 3 years.
THE PROTECTION OF INDIGENOUS SOVEREIGNTY AND MOTHER EARTH MUST BE FOUGHT BOTH ON THE LAND AND IN THE COLONIAL COURTS. WE NEED YOUR FINANCIAL SUPPORT TO SUCCEED IN BOTH. PLEASE CONTRIBUTE GENEROUSLY, WHATEVER YOU CAN AFFORD.
DONATE TO UNIST'OT'EN LEGAL FUND
DONATE TO GIDIMT'EN ACCESS POINT
STAY UP-TO-DATE WITH LATEST DEVELOPMENTS AS THEY HAPPEN
It began with the UNIST'OT'EN CAMP in 2010. Then as the RCMP prepared to assault the Healing Centre checkpoint at the Wedzin Kwah bridge the GIDUMT'EN CLAN stepped up with their own Access Point at KM 44 of the Morice River Forest Service Road. Now other WET'SUWET'EN clans have joined the effort to protect the entire territory of the Nation. Things are moving quickly on both sides of this pivotal confrontation between present-day colonialism and still vibrant Indigenous sovereignty so we urge you to bookmark these links to stay informed and be prepared to respond on a "real-time basis":
Unist'ot'en Camp
Wet'suwet'en Access point on Gidimt'en territory
Sovereign Likhts'amisyu and Namoks
Tsayu Land Defenders
Unist'ot'en Website
Gidimt'en Website
ADDITIONAL IMPORTANT UPDATES FOR SUPPORTERS
If you are planning a fundraising event or campaign make sure to read
the newly released fundraising protocols.:
SIGN THE PLEDGE
Join hundreds of organizations and 13,843 individuals in signing the pledge to support UNIST'OT'EN and the WET'SUWET'EN:
https://goo.gl/forms/GE5bfm5ITDTyNPy12
#UNISTOTEN #WETSUWETENSTRONG #WEDZINKWA #NOPIPELINES #NOTRESPASS