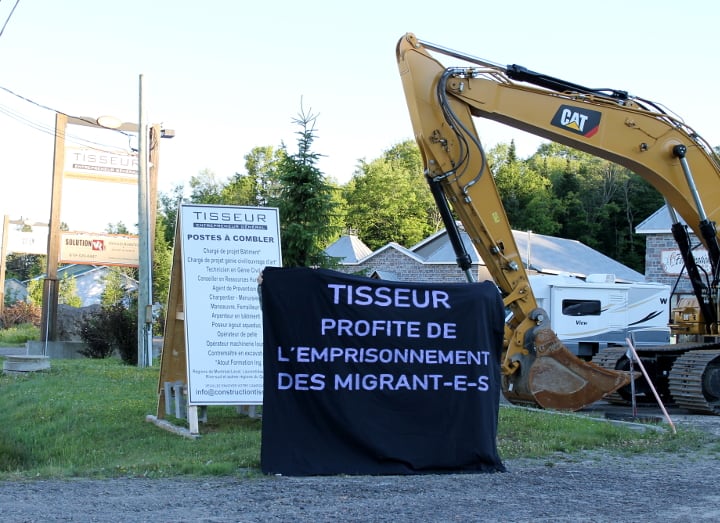 Anonymous submission to MTL Counter-info
Three years ago, the Canadian state invested $138 million to expand its migrant detention system, including plans for a new migrant prison in Laval. Since then, a multiform struggle has arisen to stop the construction of this prison. Companies such as Lemay, Loiselle, and Englobe have been continuosly reminded that anyone who chooses to implicate themselves in this project can expect major delays at every stage of the project.
Two years ago, the architecture and engineering firms Lemay and Groupe A were awarded the first contracts to design the new prison. In January of this year, a contract for the General Contractor (GC) was opened for bidding. Just like the architects and engineers, the GC will be intimately involved in every stage of construction. Along with a number of yet-to-be-exposed subcontractors, the GC will be directly undertaking the construction of facilities intended to cage migrants.
Just over a week ago, the CBSA quietly awarded the GC contract to a company based in Val David called Tisseur Inc. Tisseur is a construction company with a history of building schools and bridges, and at $50 million, this is by far the biggest contract they have received to date. They have already posted over a dozen job listings online since signing this contract.
Just like Lemay, Tisseur wants to market themselves as a "socially responsible" enterprise. Their website boasts about their green construction projects and prominently features their code of ethics. But just like Lemay and others, Tisseur is eager to profit from the misery and violence that the Canadian state inflicts on migrants. They shouldn't expect to do this quietly.
Tisseur may think that scoring such a major government project is their big break, but the recent history of companies such as Lemay, Loiselle, and Englobe suggests that this could instead be the beginning of costly tribulations.
Fuck Borders. Fuck prisons. Fuck everyone who profits from and maintains them.
See you soon.