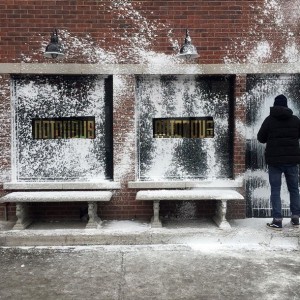 From the mass media
Business owners of Saint-Henri are tired of being victims of vandalism on the part of those who blame their luxurious shops for the gentrification of the neighborhood. They are now considering hiring a night guard.
"If you sell anything other than hot dogs at 25 cents in Saint-Henri, you are not always welcome," says business owner Corey Shapiro. Every day, people spit on the windows of his hair salon and its luxury eyewear, both located on rue Notre Dame.
In December, two businesses in this sector, including Mr. Shapiro's hair salon, were sprayed with white paint. An anarchist blog then claimed that stunt. Despite the intervention of the authorities, storekeepers who own more upscale boutiques in this popular area continue to be the target of vandalism and intimidation.
Scourge
The Journal spoke yesterday with four storekeepers of Notre Dame struggling with this problem.
Tony Campanelli is one of them. The businessman, who owns a café and a men's clothing store, has become in spite of himself "a face of gentrification" in Saint-Henri, in transformation for two or three years.
Sprayed with oil
"They want to blame the gentrification of the neighborhood on me. It's still not my fault that the condos are increasing and rents are rising, "says Campanelli.
Two weeks ago, oil was sprayed the front of his two businesses, which stained the stone facade.
"I'll have to call a cleaning company to remove it all," said the entrepreneur.
The contractor has installed cameras to pin these vandals he describes as "anti-capitalist". Him and his neighbors are now considering to come together to pay a night guard.
"More than 50% of the local population lives below the low income threshold, said the mayor of the Sud-Ouest, Benoit Dorais. So yes, there are people who find the arrival of wealthier people difficult. "
The Mayor strongly condemns these acts of vandalism, but believes that this phenomenon only affects a small number of storekeepers. "Overall, new businesses are welcomed," he said.
Other acts of vandalism targeting the high-end businesses in Saint-Henri
Broken windows
Graffiti saying "No to the gentrification"
Spit on the windows
Excrement left by the door
Anticapitalist posters pasted on windows
A mixture of berries to replicate the entrails of an animal that had been left at the door