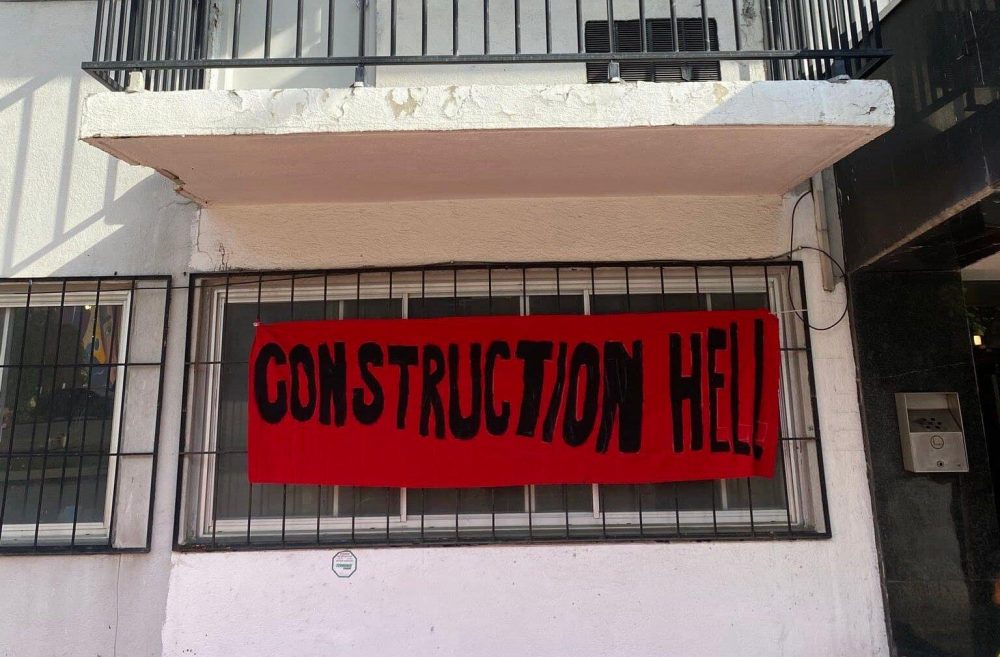 Anonymous submission to MTL Counter-info
The views expressed within this text are not those of the Montreal Autonomous Tenants' Union (SLAM). The following is an account and analysis by one union member. SLAM is built on anarcho-syndicalist principles but is not an explicitly anarchist organization and contains many (if not mostly) non-anarchist militants. Working together has not been a question of compromising our principles, but of growing our strength based on tactical agreement.
A short documentary, based on a community tour of 3605 st-urbain discussed further into this text, explores the conditions of Cromwell tenants.
The residents of 3605 St. Urbain are fighting back against a renoviction by Cromwell Management. Their corporate owner, one of Quebec's richest men, is George Gantcheff. Gantcheff and Cromwell's relentless, unpredictable, and initially unlawful renovation project has reached a boiling point. Since January, more than 100 tenants have been renovicted from a 130 unit highrise. This construction has required turning off the building's heating. Tenants are bracing for a freezing cold winter. Their only heat will come from space heaters provided by Cromwell. 
All but 14 tenants in the 130 unit building have left. Many tenants accepted the landlord's offer to end their lease early and abandon their homes rather than live out intrusive renovations. Many elderly tenants had been living in the building for years. Cromwell has a history of performing renovictions and hiking rent in both Montreal and Toronto units. 
Renovictions provide an excuse for a landlord to drastically increase rent. This contributes significantly to gentrification and the acceleration of rent increases. The consequence is the enrichment of landlords at the expense of the continued impoverishment of working class people.
3605's landlord initially justified construction work as needed to fix the building's heating system. Cromwell then took the opportunity to carry out massive renovations. Construction was further delayed and expanded. Tenants' have since faced a lack of hot water, rusty water, dust and dirt everywhere, unbearable constant noise, and power outages. Cromwell turned the building into an unbearable construction zone– and used these conditions to pressure tenants to leave their units. One by one tenants moved out. Once a unit was cleared, the apartment would be gutted, allowing for construction to continually expand.
The majority of remaining tenants at 3605 have formed a tenants council that has been meeting regularly over the past two months. A member of the Montreal Autonomous Tenants' Union, who has been active in organizing tenant councils in nearby buildings, assists at their meetings and coordinates between their council and the broader union. Hundreds of flyers and posters have since been distributed through the Plateau neighborhood, alerting the tenants' neighbours to the situation and calling for solidarity.
The current tenants of 3605 refuse to be displaced for the sake of corporate profit.
​​​​​​​Revolutionary Tenant Unionism: Organizing on the Ground
The Montreal Autonomous Tenants' Union, which is organizing with the building's tenants is a union based on internal non-hierarchy, solidarity, the use of direct action, and tenant leadership. The broader goal is of a mass movement that can dramatically remove the power relations between people, not just for tenants, but everyone. SLAM (its French acronym) is devoted to the construction of tenant councils in tenants' buildings and blocks. Members from SLAM attend these autonomous council meetings. Their role is to encourage and educate on direct action, provide advice when asked, and to help coordinate actions or support with the broader union apparatus without dominating discussion.
At the moment of writing, SLAM, which is less than a year old, has helped organize tenant councils in close to a dozen buildings across Montreal. Active tenants include over 40 unionists or participants in councils. There is a broader support network of some 100-150 that have signed petitions or come to events.
The two-and-a-half months of organizing in 3605 St-Urbain (the building under renoviction), has been a rewarding challenge for organizers. The remaining tenants are all older than 40. They come from a plethora of backgrounds. The meetings are unconventional. Group discussion is only sustainable for as much as 30 seconds before interruptions lead to impromptu side conversations. Attention and "the floor" are very difficult to hold. Added to this is the fact that, because of this working class crew's disjunctered set of schedules, meetings are held late at night. They can sometimes drag past 11pm.
When the union first heard from a tenant in 3605, they were contacted by a kind and respected leader figure in the building. This person already organized a first meeting between tenants. With only small encouragement from the union these council meetings continued.
When SLAM's organizer first entered the group, tenants were primarily axed on using housing Tribunals to resolve their issues with Cromwell. This was too bad. Without getting too much into the weeds, it's fair to say that a mass and combative movement capable of replacing corporate control with tenant control will not come from starting court cases. Engaging with tribunals is individualization of social problems at its finest. 
In the early meetings of 3605's council, SLAM's organizer brought several samples of collective letters other tenant councils had written to their landlord, discussed the benefits of collective action, and even played videos of direct action and showed news clippings. These videos included SLAM's June march on Cogir's head offices. The march won tenants thousands of dollars in reparations, rent savings, and construction work without tenants opening a single case at the Tribunal. Through continuous discussion, some proposals for above-ground collective action were finally proposed and accepted by 3605's tenants. These resolutions were catered to tenants' specific situation and comfort zones.
Once some actions were decided, SLAM helped call a general assembly of its tenant organizers and supporters. Roughly 16 tenants crammed into the union's usual meeting space, including several older working class tenants. These older tenants had involved themselves in the union out of need, became leaders in their councils, and were now ready for more. At this meeting, two banner paintings were planned, media liaisoning, a social media strategy, and a guided tour of 3605. 
The banners turned out beautifully and several were strung up Saturday in the lobby and on the exterior of 3605. The tour of the rundown building was attended by more than 30 neighbours, union members, and supporters. Some neighbours had been contacted during the door knocking of apartments on the same street showed up. They were absolutely enraged and engaged. They had their own analysis and experiences and wanted to support in any way they could. One woman requested to join SLAM. 
Tenants have been encouraged by these initial actions (the company, on the other hand, had met the plan for a tour with a firm and aggressive response, posting threatening semi-legal notices and showing up at tenants doors in response). As the campaign moves forward past these first steps, the union will countinue to push for further direct action and escalation. Tenants continue to be increasingly open to these tactics as they feel the power of solidarity from tenants outside their building.
Conclusion
The purpose of this short anecdote about organizing the beginnings of this campaign against Cromwell is to emphasize the importance of anarchists creating and inserting within groups where class antagonism is the clearest. We stand to help create councils, meeting places that build everyone's collective power and autonomy. We aim also to push the struggle deeper and strengthen it. Maybe our ideology of non-hierarchy and combative revolutionary spirit does not make sense to everyone, but our tactics when proposed to people's specific situations always should. This syndicalist strategy allows us to build respect and popularity for our methods among non-anarchists and become local "robin hoods" (in the words of one tenant from 3605).
The benefit of this form of syndicalism countinues to prove itself for SLAM. The union is not just the usual crowd of monolithic, ideologically inclined, younger, consciously committed organizers (although this demographic is important, and in majority at biweekly meetings). It has the capacity to organize in the diverse circles that make up the real core of our oppressed classes.
Continued support and activation of anarchist comrades across Montreal remains as important as ever. Solidarity is essential!
Our goal is not just the amelioration of conditions. As Lorenzo Kom-Boa Ervin writes in Anarchism and the Black Revolution, "we should throw out the rich bums and just take over! Of course we will have to fight the cops and security guards for the crooked landlords, but we can do that too! We can… build an independent tenants' movement that will self-manage all the facilities, not for the government… but for themselves!"
Looking to support? Get in touch with the union:
slam.matu@protonmail.com or stay up to date on our instagram @slam.matu.
​​​​​​​Check out the union's Kolektiva account for our documentary and future videos from SLAM.