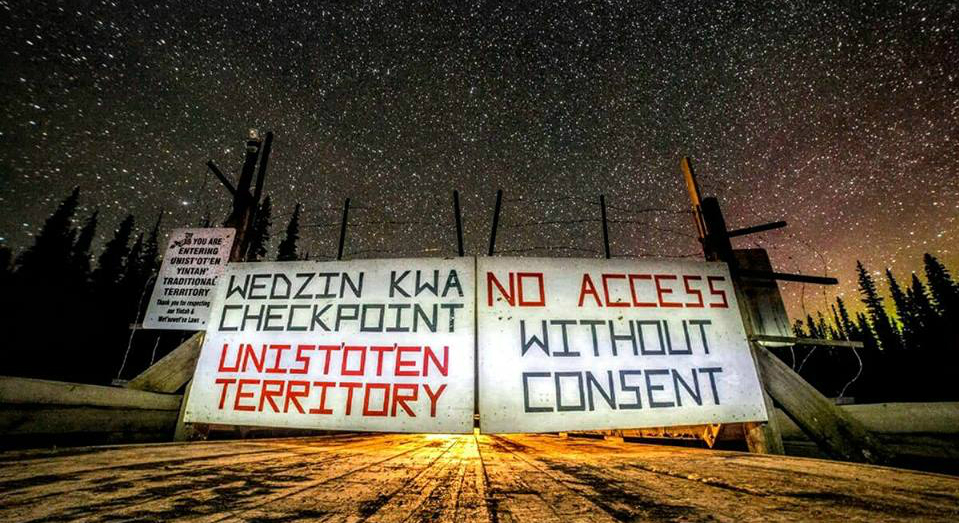 From the Wet'suwet'en Hereditary Chiefs
LAND DEFENDERS NEED YOUR HELP!
Right now, at this very moment, an epic battle is taking place, the outcome of which will determine the fate of the Northwest Coast, the implications of which will be felt throughout the world for generations to come.
As you read this, the RCMP is conducting a massive operation to remove indigenous people, and their allies, from unceded Wet'suwet'en territory, so that giant petroleum companies can build a multi-billion dollar energy corridor to bring fracked gas to global markets.
The Wet'suwet'en and their allies are steadfast in their resolution to never allow that to happen.
On one side, the forces of some of the world's biggest polluters, with the government and the RCMP carrying out their bidding, with billions upon billions of dollars backing the creation of a massive energy corridor to bring fracked gas to Kitimat for export.
On the other, indigenous people asserting their right to protect their ancestral homeland by creating a healing centre dedicated to undoing the intergenerational trauma caused by colonization.
Now, things are coming to a head, and it is time to defend the land once again.
Throughout this, many people have put their bodies on the line. Wet'suwet'en people have shown the world what true determination looks like, in their steadfast and unyielding defiance of some of the world's largest fossil fuel companies. Furthermore, people from across Turtle Island and the world have traveled vast distances to show their solidarity with the Wet'suwet'en Nation struggle, and have put their bodies on the line.
Court documents prove that the RCMP were prepared to use lethal force against land defenders when they raided the Gidimt'en Access Checkpoint on January 7th, 2019. It is no exaggeration to say that land defenders are risking their lives to defend the land and the water, for the benefit of future generations.
Not everyone is in a position in their lives where it makes sense for them to be able to travel to the front lines. We know that many people care deeply about this cause, and are fervently wishing that there was something that they can do to contribute to this inspiring movement. And the truth is that this movement is reliant upon the contributions of many different people using many different means to contribute energy. And one very significant way that people can meaningfully contribute is to donate.
We are asking for your help in creating a fund specifically to support people who are facing criminal charges for their role in direct action related to the defence of Wet'suwet'en territory from industry and the RCMP.
Who would be receiving this support?
This support would be received by grassroots Wet'suwet'en land defenders working under the leadership of their hereditary chiefs. Specifically, it would be received by members of the Likhts'amisyu clan, and administered by them on behalf of all arrestees facing criminal charges.
For more information on the Likhts'amisyu clan, please visit their website: www.likhtsamisyu.com.
Funds with be deposited into a share account that will be administered by members of the Likhts'amisyu clan, including Sun House chief Smogelgem and wing chiefs Dtsa'Hayl and Kloumkun. The treasurer is Angie Gagnon, chief Dtsa'Hayl's daughter.
What would the funds be used for?
This support is needed to support people who are facing criminal charges and people who could possibly be convicted or face consequences such as incarceration, house arrest, restrictive probation conditions, court-mandated community service hours, etc… These funds would be used for such things as:
-Lawyer fees
-Transportation costs to and from court dates
-Research costs (i.e. Freedom of Information requests, analysis of disclosure, etc)
-Costs related to incarceration (phone, commissary, rent, storage locker, etc.)
-Costs related to obtaining housing upon release from jail or prison
-Cost of therapy or counseling for people undergoing psychological duress related to their arrest or experience with the criminal justice system
Funds with be deposited into an account that will be administered through an account administered by three Wet'suwet'en hereditary chiefs and a treasurer. Decisions about the allocation of funds will be made by consensus in accordance with Wet'suwet'en law. To ensure accountability, transfers of funds will require two signatories, and financial records will be made available to other chiefs upon request.
How to donate:
E-transfers can be sent to likhtsamisyu@gmail.com. Please make the answer to the security question SaYikh2020
It is also possible to donate to the Likhts'amisyu GoFundMe page found here: https://www.gofundme.com/f/support-the-wet039suwet039en-hereditary-chiefs
***Please note that because GoFundMe's terms of service do not allow fund-raising on behalf of people accused of a crime, we are not able to use GoFundMe to raise funds specifically for a legal defence fund.***
Cheques can be written out to "Likhts'amisyu" and mailed to the chiefs. Please write likhtsamisyu@gmail.com for a mailing address.
Thank you in advance for your generous support!!!