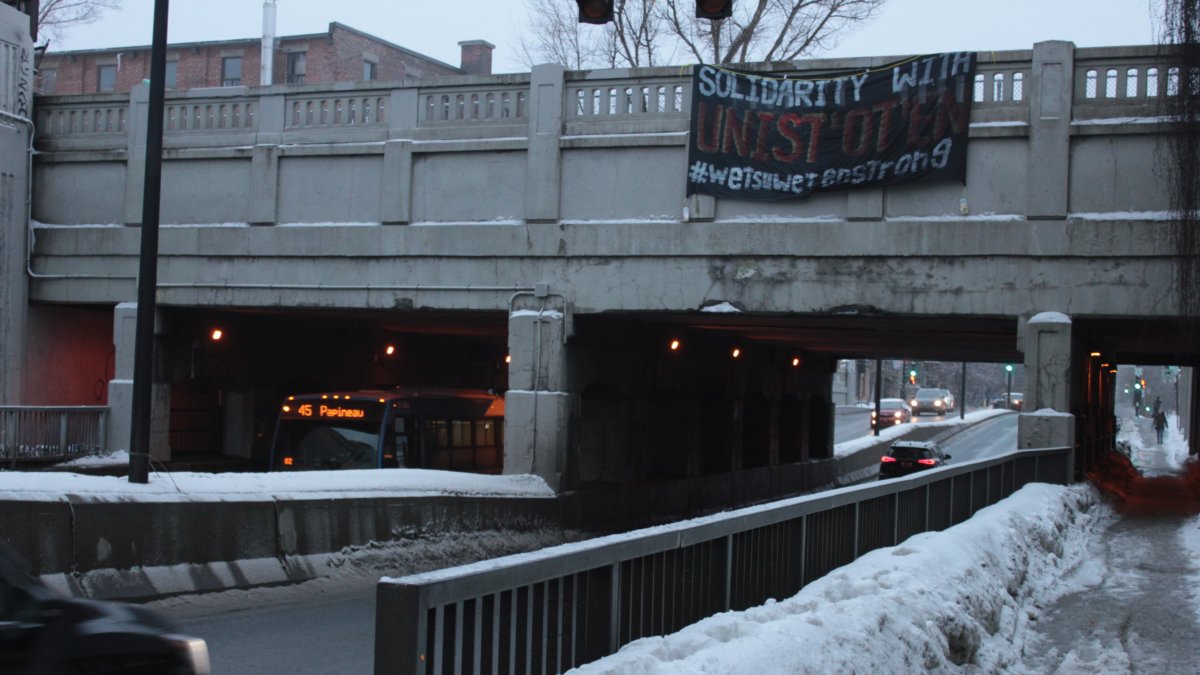 Anonymous submission to MTL Counter-info
14th of March, 2019
Tiohtiá:ke, so-called Montréal
This morning at 7:34 AM at the intersection of Papineau and St-Grégoire streets, a banner with the writtings "Solidarity with Unist'ot'en" was erected on a viaduc.
This action is a symbolic gesture in relationship to the 15th of march, on this day two importants protests are to be held, the student protest in defense of climate and the protest against police brutality.
It is important to remember that day in and day out, native peoples find themselves everyday on the frontlines defending against environmental colonialism defended by the police and state institutions.
On the 7th of January of this year, RCMP agents dismantled by force the access point Gidumt'en of the unsuceeded territory of the Wet'suwet'en nation, where is located the Unist'ot'en camp. The native peoples protecting the access point were brutally removed from their territory by the armed forces of the RCMP in order to allow the start of the construction work of the pipeline (Costal GasLink project) of the TransCanada company.
The Unist'ot'en camp, established on the Wet'suwet'en territory since 2009, is an important living environment, that holds a healing center by reconnection to the environment. One of the camps roles is to assure a presence on the territory in order to protect it from the many high-environmental-risk projects that are planned without the consent of the first-nation peoples. Up until now, the presence of the camp has lead to the abandonnement of many pipeline projects.
This banner drop is also a denouncing the hypocrisy of the Trudeau government. The prime minister feigns reconciliation with the first nations, while remaining silent when faced with the recent events in Unist'ot'en. Moreover, his support for the numerous environmentally damaging projects demonstrate an opportunistic immobilism that defies all logic in the current environmental crisis.
"The invasion of the Wet'suwet'en territory by TransCanada is but one example among many that proves the proximity between climate violence, police brutality and native struggles. This banner is a reminder of the convergence between theses struggles as well as a message of solidarity with the peoples who are currently fighting in Wet'suwet'en territories" cries a participant of this action.