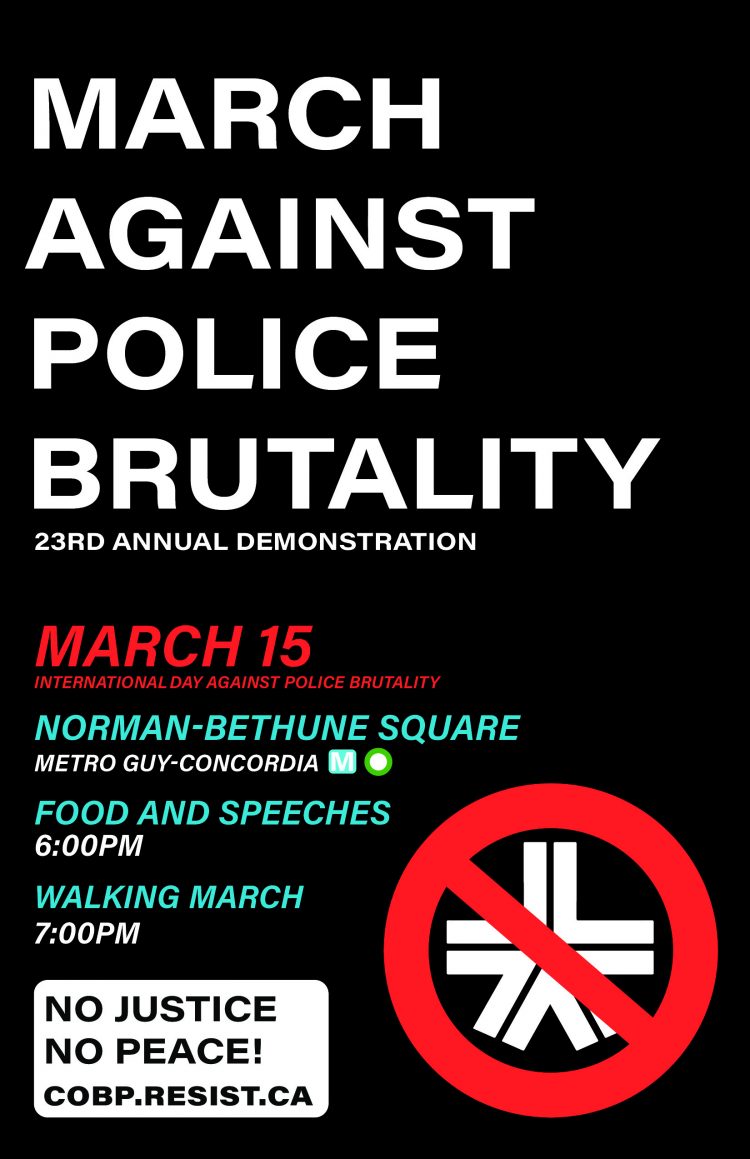 From the Collective Opposed to Police Brutality
As is the case each year, the COBP organizes a week against police brutality which starts on March 8th and ends on March 16th, 2019.
State brutality must be denounced, whether this brutality is coming from police, politicians or judges. Especially considering the massive over reach of the criminal injustice system this year alone.
Was there any justice for Nicholas Gibbs, assassinated in broad daylight? By those so-called "peace officers?"
Is there any justice for the migrants? For which we refuse to give the quality of life that was stolen from them by canadian companies abroad?
Is there any justice for the people of Unist'ot'en and Wet'suwet'en? Taken away yet another time from their ancestral lands?
Is there any justice for environmental activists? Imprisoned for blockading projects leading to our own destruction?
Is there any justice for all minorities, whether racial, religious, queer and/or native, which are constantly profiled and imprisoned by a system trying to erase their very existence?
Because the judiciary system, the political system, and their state agent lapdogs (RCMP, SQ and SPVM, etc.) have nothing to do with protecting minorities. Their role is to answer to the needs of the better off: the rich and privileged. Their role has nothing to do with justice, and all with the defence of the castle of the privileged. A castle which is, every day, less sustainable, and less acceptable.
There cannot be peace in a system who keeps acting unjustly and refuse to admit it. It is a sanpshot of justice built as a system. And an unjust society cannot be peaceful.
This is why we invite you to the activities of the week against police brutality along with the one of March 15th. The March 15th event takes place at Norman-Bethune Square and starts at 6PM with food organized by Food Against Fascism, along with speeches. The annual protest against police brutality will start at 7PM at the same place.
NO JUSTICE? NO PEACE!
* As an organization, we recognize that all the events of the Week against police brutality take place on unceded Kanien'kehá:ka territory of Tio'tia:ke, here on Turtle Island. As an organization, we express our solidarity with local and global native communities in their struggles for their right and we honor the guardians of this territory.
**Sexual abusers are not welcome to the activities*