Le Lapin blanc
A restaurant on Sainte-Catherine street in Hochelega-Maisonneuve, the Lapin blanc, was the target of vandalism on Thursday night, between 26 and 27 January.
A few minutes after the business closed, a surveillance camera captured a masked individual writing some hardly flattering graffiti.
For the owner, Stéphane Allard, there is no doubt that it was a planned, anti-gentrification action.
"You see four individuals pass by with a backpack. Then you see a masked person write hateful graffiti", explains Mr. Allard, who estimates he lost an entire day of work.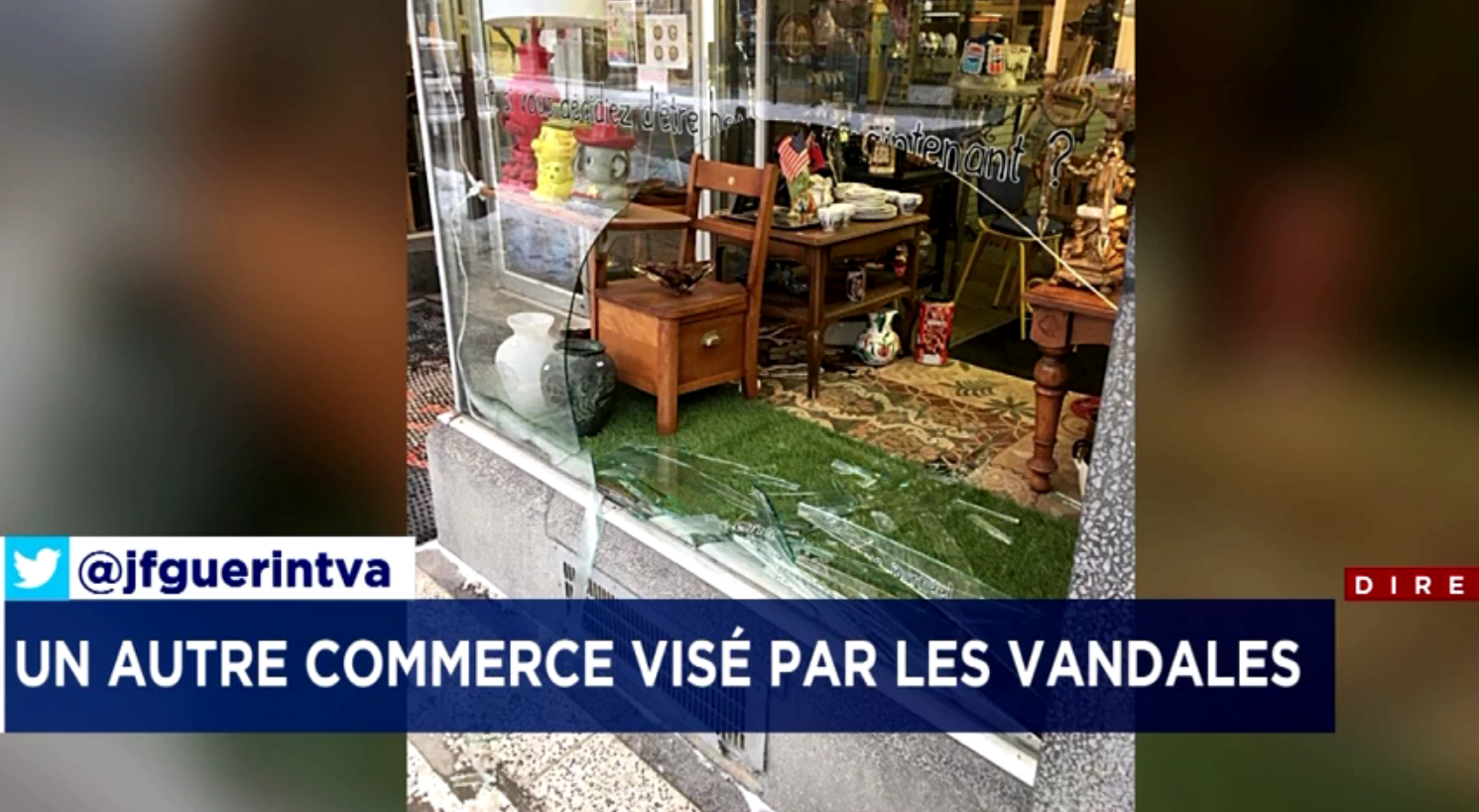 Anticafé
Another business was targeted by vandals in Hochelaga-Maisonneuve who smashed the window of a café during the night of Saturday to Sunday, between 11 and 12 February.
In a video published on the Facebook page of the Anticafé Hochelaga-Maisonneuve, people from the café explain that the damage was discovered around 6 o'clock in the morning.
"These events are hard to control. We don't really understand why. I don't think the Anticafé is a business that can be described as gentrifying", they say.
"We don't know if these events are tied to a kind of anarchist action or if it's simply an accident. Regardless, it costs the businesspeople money", they add in the video.
At least 25 businesses were vandalized in nine months last year in Hochelaga-Maisonneuve by people aiming to denounce the gentrification of the neighborhood.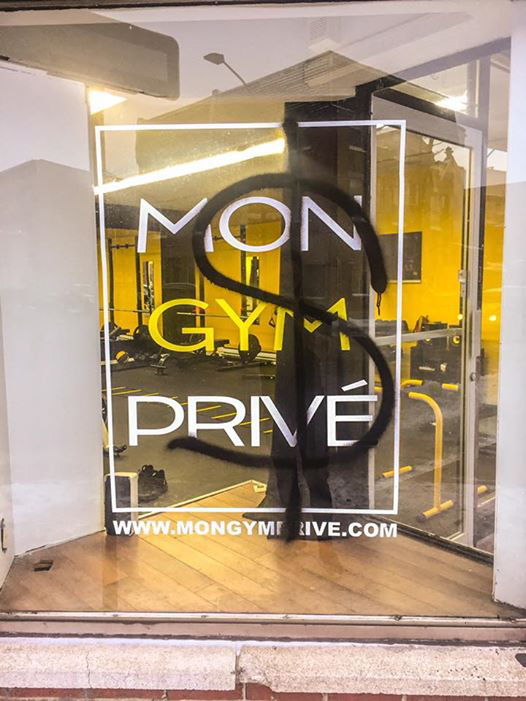 Mon Gym Privé
The owner of a Hochelaga gym refuses to be intimidated after 4 acts of vandalism targeting him in only 5 months.
"They could very well break my window eight times, I won't leave here", says Michaël Couture, owner of the business Mon Gym Privé. "I'll put up a wall of bricks if I need to in place of the window, but I won't leave. It's the neighborhood I chose, I'm staying."
Thursday night, February 23rd around midnight, the police received a call about a broken window, at the corner of Sainte-Catherine and Cuvillier streets. Arriving on site, Mr. Couture realized without much surprise that it was the window of his business. The reality repeats itself for this entrepreneur operating in Hochelaga-Maisonneuve since the summer and who has already experienced 4 acts of vandalism since the fall.
In October, a poster for the "Assembly of struggle against the gentrification of Hochelaga-Maisonneuve" was even glued to his brick wall, beside a tagged window.
On the night of Thursday to Friday (23 February), three businesses were vandalized. The next day, around thirty snow structures at the Winter Carnival were destroyed. By Monday morning, at least four more businesses on Sainte-Catherine Est had been tagged.
A few steps from Elektrik Kids, targeted last week, one could read "Asshole" on Showroom Montréal, "Death to cows" [anti-police slogan] on the front door of the MyRoom Gestion real estate agency, and a symbol of anarchism on the storefront of LavoieLuminaires.