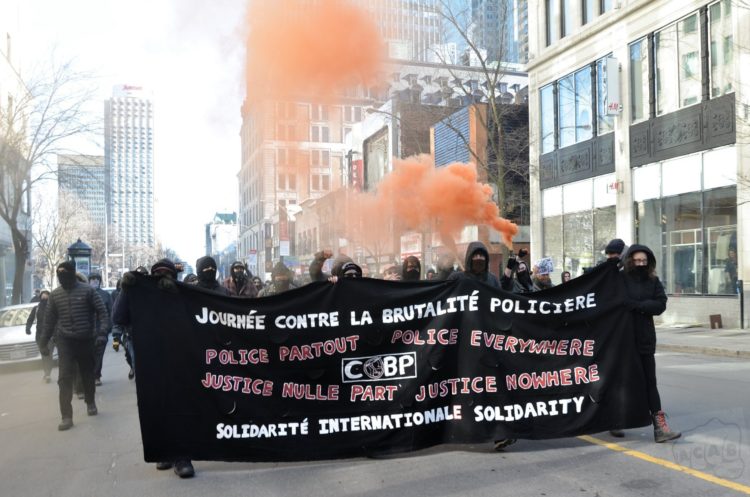 From the Collective Opposed to Police Brutality (COBP)
Approximately 150 people marched today in downtown Montreal as part of the 24th Day Against Police Brutality. In these troubled times, it's easy to retire within oneself and forget about the rest of the world. We may be in quarantine, but the cops are not, anywhere in the world.
Not wanting to reduce the severity of the current health crisis, it must not be used as an excuse to forget and stifle the dissent that is taking place around the world. Whether in Chile, Bolivia, Colombia, France, Hong Kong, or even here in the unceded territories of the Wet'suwet'en, Mohawk or Mi'kmaq.
And this current situation is part of a broader ecological crisis. Obviously, crisis also means repression. Because the States are able to cut all social services but will never cut the police, on the contrary: it is becoming more militarized.
This can be seen everywhere in the world where resistance is multiplying. The more the people refuse the status quo, the more the state pours out fortunes to maintain it. And this resistance will multiply here too. Resistance can only grow when the most vulnerable continue to lose their jobs and the landlords' associations continue to evict them. Resistance can only grow when indigenous and non-indigenous people continue to block the multinationals and the big shareholders continue to spread their hate propaganda. Resistance can only grow here, in South America, Asia, Africa and Europe.
The state can finance this wall of cops between us and the richest, but it will find us in its path. And we will be there: for Pierre Coriolan, for Bony Jean-Pierre, for Fredy Villanueva, for Sandra Bland, for Tamir Rice … and for all the vulnerable people who are always the racist system's first victims.
This cannot go on for much longer. The lie that sustains this colonial system has never been so close to breaking. And its death bring us collective liberation, a space to build a new environment, where we can all live in peace, respect and dignity.
Together, there is nothing we cannot achieve.
Together, united, we will build this new world.
International solidarity.
Finally, we have been informed that 3 people arrested have been released with safety highway code's tickets.
We are making a call out for witnesses; If you have been arrested, brutalized or if you witnessed an arrest or a case of police brutality, please contact the COBP cobp@riseup.net
We also remind you to be careful with what you publish (photos and videos) on social media.
The COBP