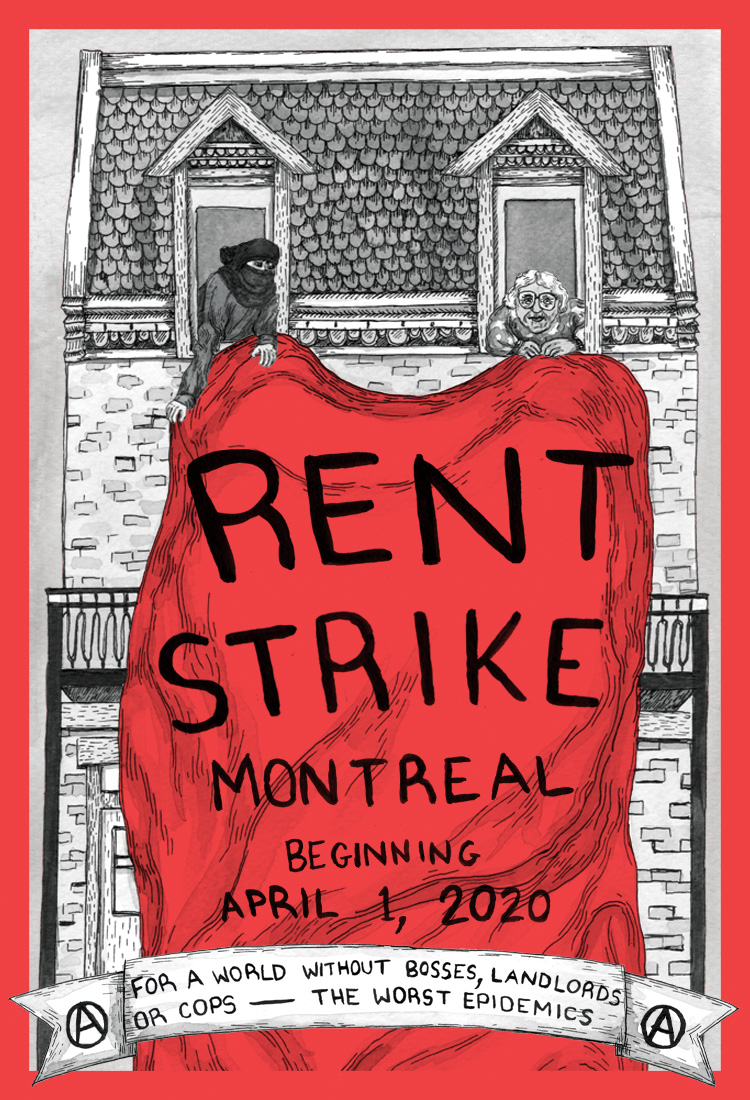 Anonymous submission to MTL Counter-info
8.5″ x 11″ b&w Poster / Bilingual Flyer
See also: Grevedesloyers.info
Poor, unemployed, laid-off, precarious, undocumented, contract and other workers — all of us who live month-to-month — will not be able to pay rent this April 1st. Many of us were struggling to pay rent before this crisis hit, and are likely already behind. In a perspective of direct action and social solidarity, ALL tenants can refuse to pay rent on April 1st.
Even if you are able to pay your rent, please consider joining the strike to support those who aren't. If we all go on rent strike together, we'll make it impossible for the authorities to target everyone who does not pay.
Together, we can:
Stop paying rent;
Block evictions and renovictions;
Open up vacant housing — including Airbnb, empty condos, and hotels — to house homeless people or those who lack safe housing.
The urgency of the moment demands decisive and collective action. Let's protect and care for ourselves and our communities. Now more than ever, we must refuse debt and refuse to be exploited. We will not shoulder this burden for the capitalists. Tenants must not be made to pay the price for a collective health crisis.
The Régie du logement has suspended eviction hearings. For the immediate future, your landlord cannot take you to the Régie to evict you for not paying rent.*
If you nevertheless experience harrassment or intimidation from your landlord, talk with your neighbors about a collective response.
* If the Régie restarts regular operations and you are called to an eviction hearing, you can, as a last resort, avoid an eviction order by paying all outstanding rent on the spot in cash plus fees, as long as you haven't paid late frequently. But if we're enough to go on rent strike, we can support each other and make it impossible for evictions to proceed as normal. Further legal information will follow. [See Legal Considerations]

? FOR A WORLD WITHOUT BOSSES, LANDLORDS, OR COPS — THE WORST EPIDEMICS ?
8.5″ x 11″ b&w Poster / Bilingual Flyer
See also: Grevedesloyers.info