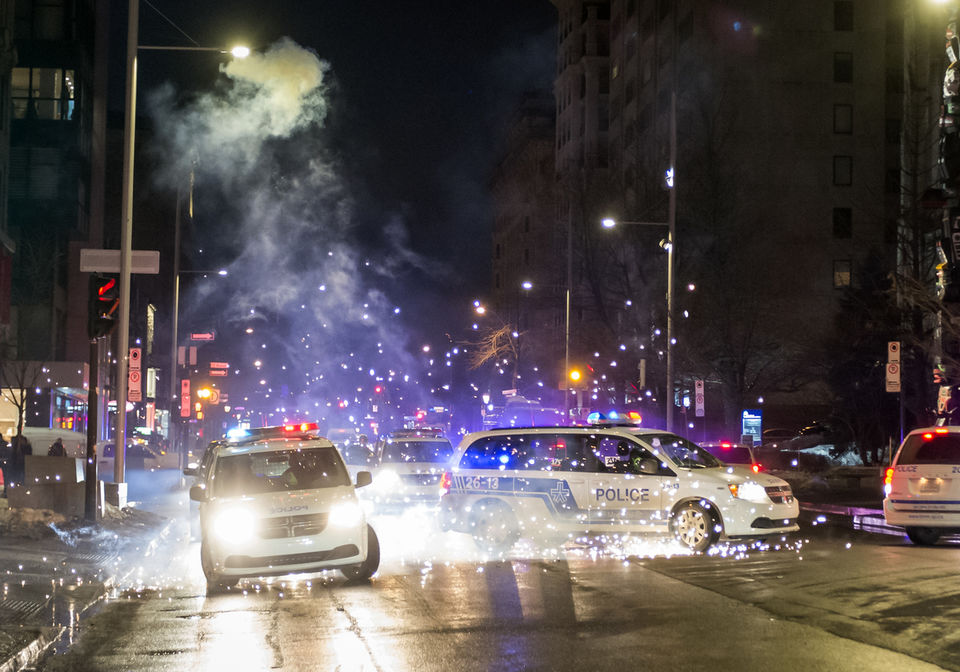 Anonymous submission to MTL Counter-info
I want to remember how it felt to be shook by the beauty of the crowd. Fear and anxiety dissipate as a hundred-strong black bloc takes the street, realizing its collective power that compels police units to maintain a safe distance. It's happening. We can do this.
Attacking luxury cars, hotels, and banks when the police have been made unable to defend them is an attack on the police, which depends on the perception that it can maintain law and order to be respected by good citizens and feared by the excluded. A call-and-response of shattering glass echoes down Peel Street, as projectiles fly at bank windows in quick succession. Not to worry, several rocks, flares, and at least one decent firework are reserved for the SPVM.
Spontaneity works pretty well sometimes, and it's cool when people roll a dumpster out of an alley, someone else drops a flare in it to start a small fire, an "ACAB" gets tagged on the front, and others decide to charge with it at some cops up ahead, all in the span of sixty seconds, as though carefully choreographed. Our time together is limited, yet expansive.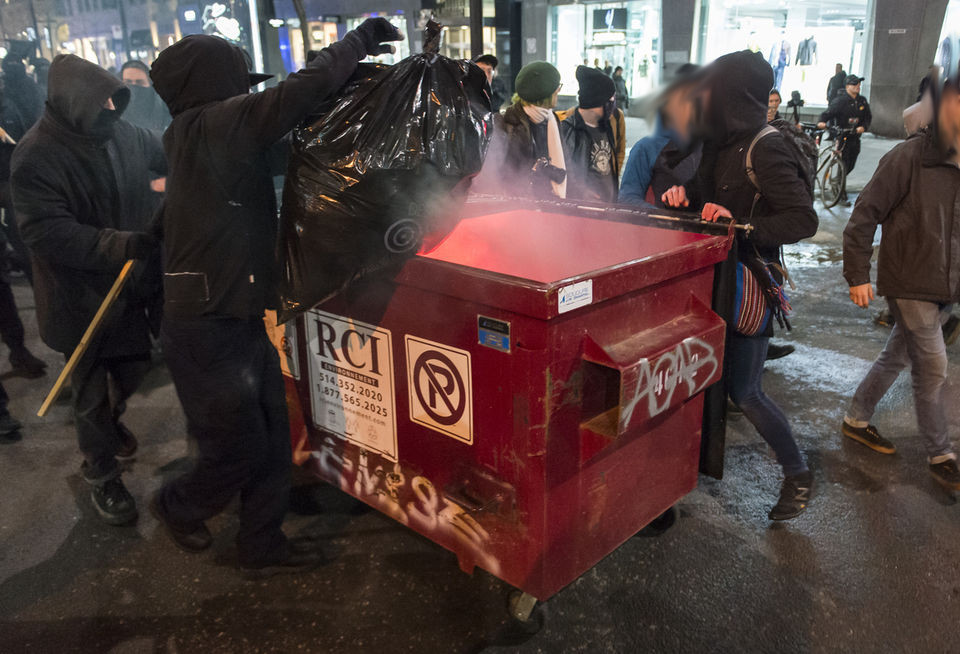 Riot cops arrived from behind on Maisonneuve and quickly shot tear gas, which had its usual effect on such a relatively small demo. Two people were arrested, and some people were hurt. This brings us to the requisite tactical suggestions for next time:
Making dispersal dangerous (for the cops): when a demo splits into multiple directions after the police attack, we could try to keep our composure, check in with our friends and new surroundings, and see if we can regroup with the others who turned the same corner. We may be smaller in number, but the cops' attention is divided, and they are unlikely to be positioned to attack us again right away. We might even come across isolated groups of police that are unprepared for a hostile crowd. The state is using chemical weapons and blunt force to cut short a joyous departure from the devastating routine of a prison society, and it might be injuring our friends: let's respond to the height of their aggression.
Accelerant: let's bring some/use it? The aforementioned dumpster would have made a better battering ram if it was more fully on fire.
Review of Black Bloc Manual 13th Edition, Chapter 12: choosing the right tool for the job. Not everything is a substitute for a good hammer. Secondly, covering your face isn't enough to be anonymous. If your mask or something else about your attire stands out amongst the crowd, it could help the cops track you (via undercovers, livestream, or video footage after the fact), which could put you in greater danger as the demo is ending or afterwards.
The rear of the demo: the dispersal tactics on Friday and in the election night demo last October were identical: riot cops arrive about a block away behind the demo and shoot tear gas. The panic that circulates can allow them to drive vehicles straight into the running crowd, accelerating the dispersal. What could a combative crew of people holding down the rear of the demo accomplish? No specific proposals to make here, but we think this is an area for improvement.
Warm greetings to all the other crews and individuals who came out, and to everyone who was there in spirit. Let's take care of each other and destroy all authority. We would like to hear how you experienced this March 15th.
Sending love to all the rebels behind bars. Fire to the prisons.
We also remember the sacrifice of Anna Campbell, an anarchist who fought with the YPJ in Rojava, who was killed along with four comrades by the fascist Turkish army one year ago, on March 15, 2018.
See you on May Day, or sooner! Fuck the police.