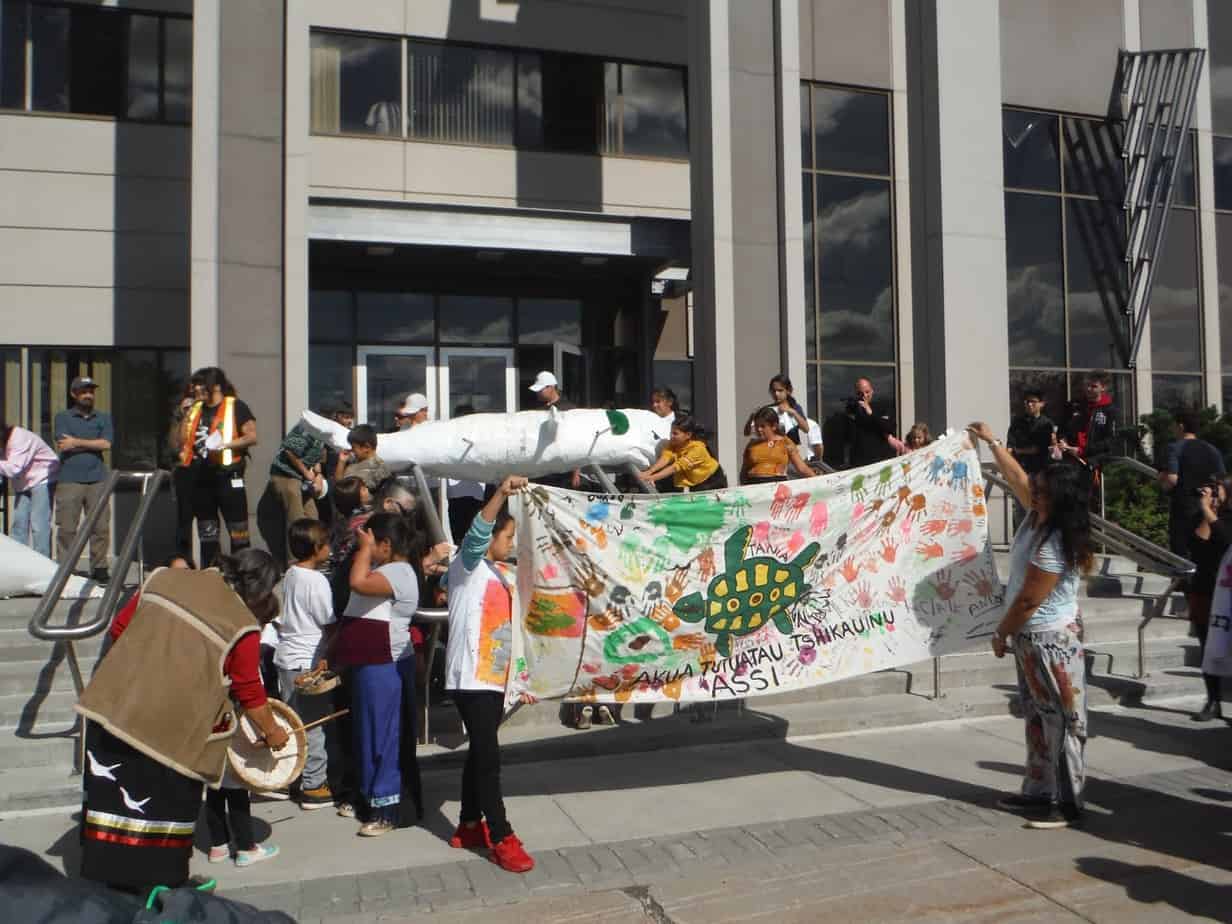 From the Collectif Emma Goldman
On September 27th, we were more than 3000 students, retirees, children, and workers marching in the streets of downtown Chicoutimi to denounce government inaction on the environment and the destructive GNL Québec project (Énergie Saguenay). The latter consists of the construction of a natural gas liquifaction complex in Grande-Anse and a 750km-long gas pipeline (gazoduc). In parallel, in the Saguenay-Lac-Saint-Jean region, 3000 people took part in the demonstration in Alma and hundreds of individuals marched in Saint-Félicien as well as in the Saint-Coeur-de-Marie neighborhood of Alma. In Quebec City, 25,000 people took the streets and in Montreal, a historic mobilization brought together almost half a million people.
Feeling the pressure, the premier of Quebec François Legault thought it wise to reach out to the youth, while his vice-premier made calls for calm, waving strawmen. The environment sinister speaks of a "green" third link, a bridge-tunnel, for Quebec City and of his government's favorable opinion of the gas pipeline and liquifaction plant project. In this file, the business-friendly government of François Legault takes up the promoter's half-truths and willful omissions. He states that hypothetically (with nothing guaranteeing that coal plants would close in China, as Énergie Saguenay claims) the project will reduce greenhouse gas emissions elsewhere in the world… But like the promoters, François Legault neglects to mention that the project will produce greenhouse gases here and elsewhere in Canada. It is necessary to also take into account the fatal risk posed by the completion of this project to the threatened beluga population.
"How dare you?" – Greta Thunberg
Obviously, some opportunist politicians were present at the different demonstrations. In Chicoutimi, Bloc Québécois candidate Mario Simard and municipal councillor Simon-Olivier Côté were smooth talkers, skating around questions related to the GNL project. "I see no contradiction between going to a march and being for or against big projects. I'm not in favor of or opposed to any project. What I have, is that we ensure that environmental norms and evaluations are respected." (link) said the councillor from district 8 and 'king' of the parking lots of downtown Chicoutimi.
In 1970, this kind of comment might have been preferable to the comments of the former Liberal Party of Canada candidate, now a Conservative candidate, and Saguenay city councillor, Marc Pettersen. But we are no longer here. There is a climate emergency.
"If we do not change direction by 2020, we risk[…] disastrous consequences for the people and natural systems that support us," said Antonio Guterres, UN Secretary-General. Our times require, for the good of the greatest number of people, that our society abandon fossil fuels and begin a necessary economic degrowth. Our economy should be based on the satisfaction of real individual and collective needs, oriented towards sustainability and according to existing resources.
Members and friends of the anarchist Emma Goldman Collective took advantage of the occasion to distribute dozens of copies of the journal Cause Commune Express no 31 (link).