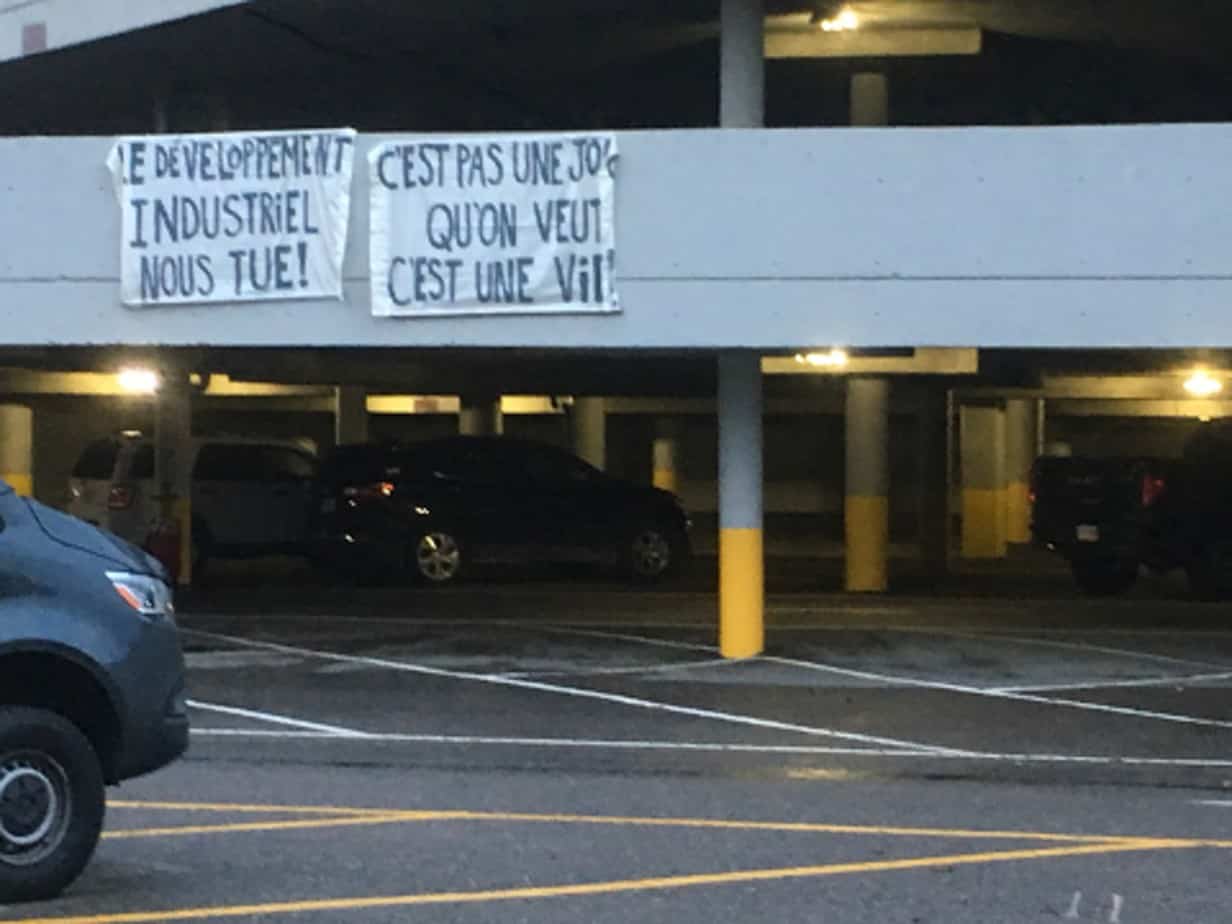 Anonymous submission to MTL Counter-info
Alma, September 26th, 2019. Two banners were dropped this morning in downtown Alma near the offices of Economic Development Canada. They read: "Industrial development is killing us! We don't want a job, we want a life!". The government body that recently gave out $2 million in funding to the metallurgy sector was symbolically targeted. The action, signed by the living waters committee, takes place in the context of the climate strike movement and aims to denounce industrial and extractive projects in the region.
The anonymous committee denounces the Gazoduc (gas pipeline) project which would cross the regions of Abitibi, Mauricie, and Saguenay-Lac-Saint-Jean, the GNL Québec natural gas liquifaction terminal in Saguenay, the Lac-à-Paul mine, and the deep-water port of Ariane Phosphate in Ste-Rose-du-Nord, as well as BlackRock Metals' mine and rail transport between Chibougamau and Saguenay. According to one of the action's instigators, "these projects are a nuisance to the environment and to all the populations of the region. The argument of well-paying jobs is worthless. The price to pay is the destruction of marine life, breathtaking landscapes, fragile ecosystems, and vulnerable species. We need to stop the extraction of 'natural resources' as soon as possible and understand that we're in a relation of interdependence with the ecosystems surrounding us. We need to stop relations of domination over our environment now."
The committee makes a call for action, in a diversity of tactics, to put an end to the environmental massacre as quickly as possible! "We must mobilize immediately against every new industrial development and invest the time, energy, and money necessary to develop sustainable local initiatives that don't come at a cost to other species of flora and fauna."
In conclusion, the living waters committee announces that other targeted actions are in preparation.
– The Harlequin Duck