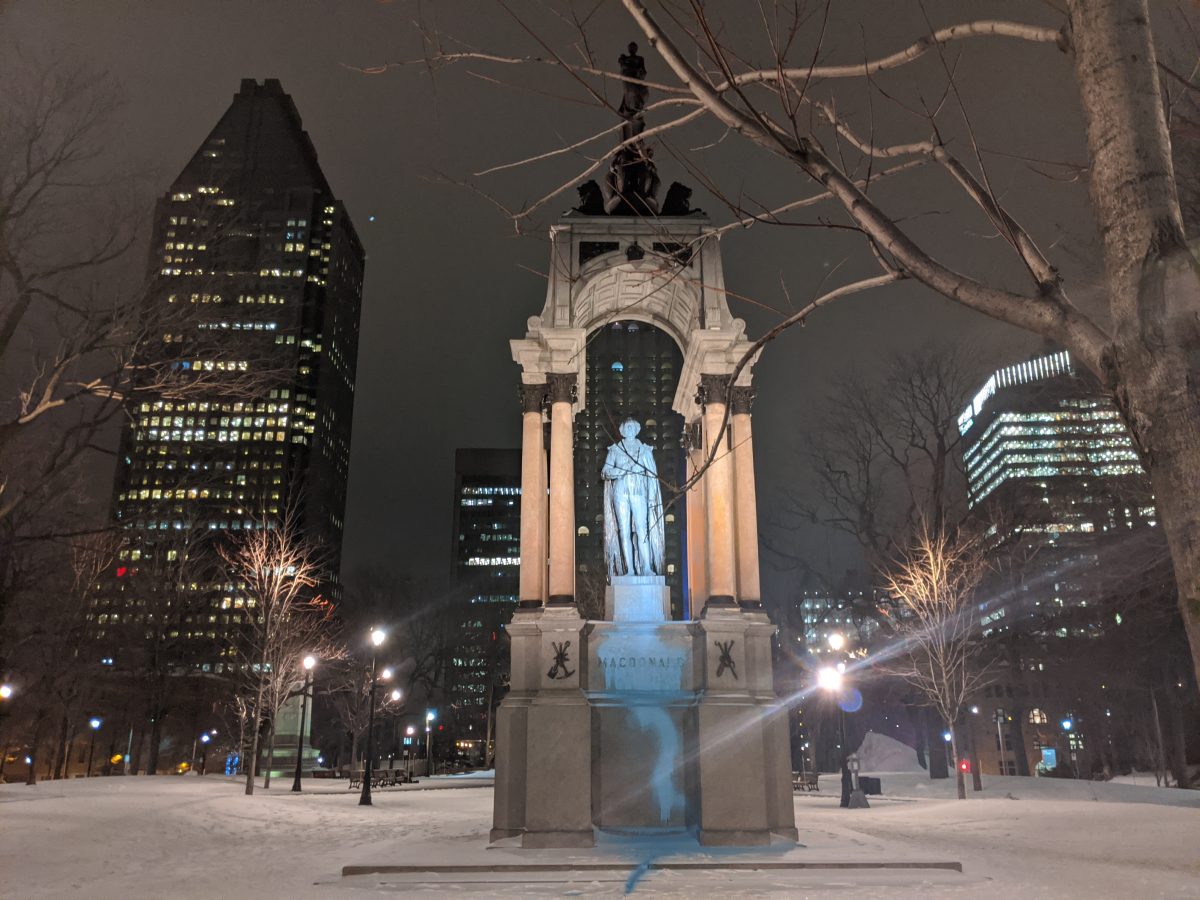 Anonymous submission to MTL Counter-info
-> Photos: https://postimg.cc/gallery/odqgsg22/
January 16, 2020, Tiohtiá:ke/Montreal — Earlier this morning, a small group of anti-colonial artists attacked the Macdonald Monument in Montreal with blue paint, marking at least the 12th time in the past three years that the statue has been attacked in such a fashion, with clear anti-racist, anti-colonial motivations.
We undertook our action in solidarity with frontline Indigenous Land Defenders, who continue to oppose and resist the construction of pipelines on their traditional lands. We are thinking specifically of the Wet'suwet'en and Secwepemc, among others, who for years have maintained on-the-ground opposition to the construction of the Coastal GasLink (CGL) and Trans Mountain projects on their respective territories. They are not involved, directly or indirectly, in our action, but we vandalize the John A. Macdonald statue as a simple message of anti-colonial support from across Turtle Island. We encourage others to do the same.
We hit the Macdonald Monument, but our message is specifically for Justin Trudeau and the federal government (which is directly responsible for Dominion Square and its monuments in downtown Montreal). John A. Macdonald was an open racist who advocated the genocide of Indigenous peoples. While Trudeau pays lip-service to reconciliation, the reality is that the corporate-capitalist imperatives of pipelines and resource extraction trample over any meaningful and respectful engagement with Indigenous nations.
The full force of the Canadian state — militarized police, court injunctions, criminal charges, exclusion zones, police checkpoints, and compliant mainstream media — are currently being deployed against Indigenous Land Defenders (and their accomplices) on the frontlines of anti-pipeline resistance. The least we can do is symbolic gestures of solidarity; what we non-Indigenous residents of Turtle Island NEED to do is engage in meaningful acts of economic disruption. Let's get going!
– Some Montreal anti-colonials.
info: MacdonaldMustFall@riseup.net