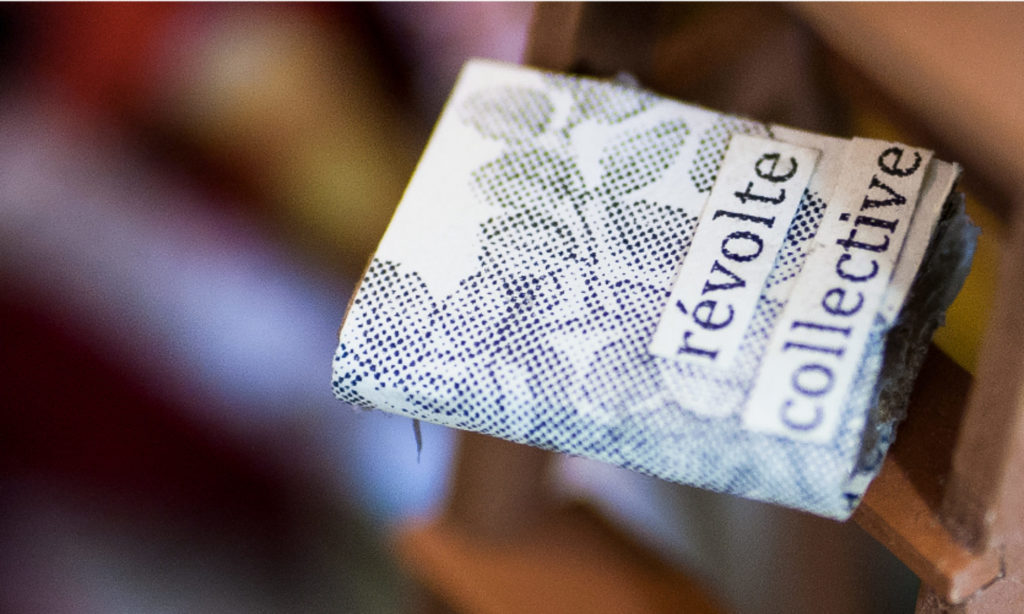 From the Montreal Anarchist Bookfair Collective
Hello everyone,
For a variety of reasons, most of which have to do with COVID-19, the Montreal Anarchist Bookfair collective has made the tough–but in our view, responsible–decision that we are not going to organize the big two-day gathering that has taken place around parc Vinet for most of the past twenty years. Instead, though, we hope to organize a different kind of event on May 17, 2020, to sustain our connections, politics, and solidarity.
As a small collective, our capacities are constrained, and of course, we're facing new pressures in our lives outside the collective. So we'll absolutely need your help, just as we have always needed help in the past.
That being said, this is what we hope to do for May 17.
As we've always done, we want to provide artists, authors, publishers of anarchist literature, and other sorts of crews and organizations an effective space for selling or freely distributing books, zines, posters, stickers, and other items to people who want them. We envision this as a two-pronged approach: online "tables" and in-person deliveries (on Tioh:tiàke, i.e. the island of Montreal). At a time when anarchist infrastructure is having to close up shop, so to speak, we see sales as a form of solidarity, to keep our many projects alive through this latest crisis, which also makes it all that much more important to get anarchist ideas and inspiration out into the world. The collective will, to a large degree, need to rely on tablers and delivery people to make this work, but we're definitely up for offering our resources in terms of setting up telecommunications infrastructure and other forms of technical support.
Beyond continuing to distribute books, art, and other anarchist materials, we'd also like to create a space on May 17 for real-time conversations, similar to past bookfairs. We see this as a mix of a small number of talks (which we hope to make as accessible as possible, including via live broadcast on community radio as well as over the internet), more participatory, connective small-group dialogues, and one-on-one conversations between organizers (matched up ahead of time).
Also on May 17, we would love to see an outpouring of street art and banners around Montreal, in a physically distanced art exhibit of sorts, and would encourage artists and others to not only do this but document it with photos too.
As we get closer to May 1, we'll put out another, longer announcement with more details and probably at least a few more initiatives. By then, for instance, it may be clear whether some sort of physical, social gathering will be possible for the weekend of May 16 and 17, and we're considering the idea of a post-bookfair zine. We also hope to have our poster, designed by Kevin Lo, ready for May 1, and would love to see it put up around Montreal.
Lastly, much thanks to everyone who wrote to us with suggestions and everyone who has already signed up for our volunteer listserv. If you have any interest in postering in or around Montreal, or could contribute to this project with respect to system administration, website design, or translation (from English to French, but also from English to other languages spoken in Montreal), please sign up by following this link:
https://noise.autistici.org/mailman/listinfo/benevoles-volunteer-salonmtl
Take care, give care, with solidarity,
Montreal Anarchist Bookfair Collective