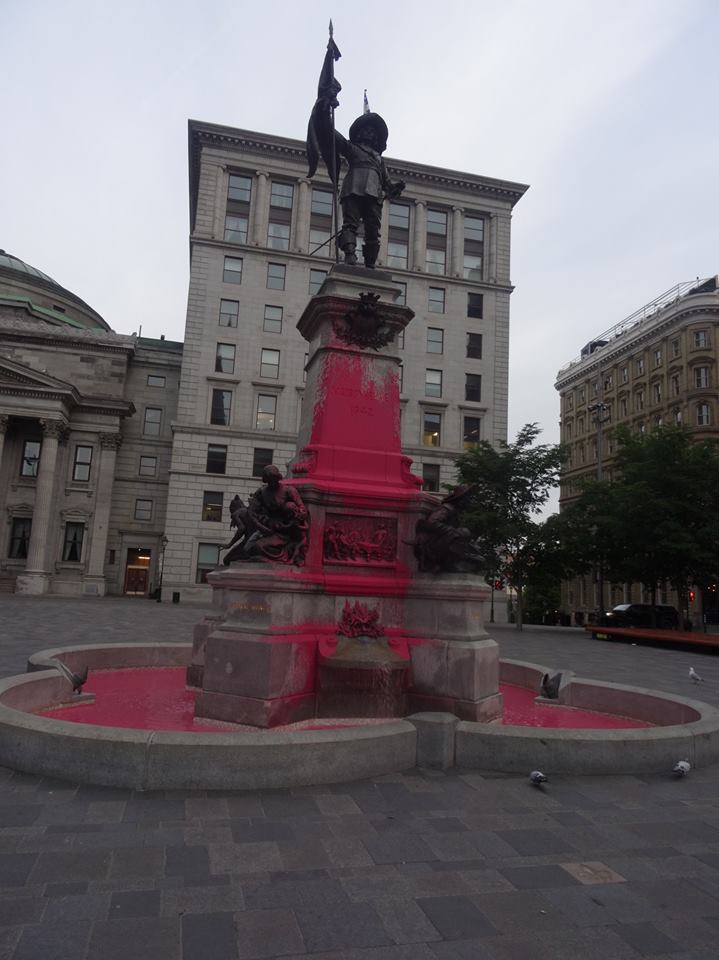 Anonymous submission to MTL Counter-info

Six photos of the vandalized statues are available here:
Montreal, June 26, 2018 — We are anti-colonial activists and artists who vandalized two monuments in Montreal celebrating British and French colonialism. The Maisonneuve Monument at Place d'Armes in Old Montreal, as well as the Macdonald Monument at Place du Canada in Downtown West, were both covered in red paint last night. The monuments are unapologetic public icons to the genocide of the Indigenous nations of Turtle Island, and racism in general.
We chose to deface these monuments between two nationalist holidays – St-Jean-Baptiste and Canada Day – as a rejection of all forms of settler-nationalism . We embrace the street slogan of Montreal's anarchists: Ni patrie, ni état; ni Québec, ni Canada! We also denounce and resist the racist far-right — whether Quebec or Canadian nationalists, whether francophone or anglophone — who are nostalgic about a racist, genocidal, and white supremacist past. Our vandalism is also aimed against them.
The Macdonald Monument, erected in 1895, celebrates a white supremacist. As Prime Minister, John A. Macdonald was directly involved in the genocide of Indigenous peoples through measures like residential schools, meant to destroy and eliminate Indigenous cultures. He was an open racist, hostile towards both Chinese and Indian migrants to Canada at the time, and openly promoted an "Aryan" Canada. Macdonald is also responsible for the hanging of Métis martyr Louis Riel.
The Maisonneuve Monument, also erected in 1895, commemorates the settler 'founder' of Montreal, Paul de Chomedey de Maisonneuve, with an offensive monument celebrating the massacre and forced conversion of Indigenous peoples. One of the quotes on the monument, attributed to Maisonneuve, celebrates colonial aggression against the Haudenosaunee Confederacy: « Il est de mon honneur d'accomplir ma mission; tous les arbres de l'île de Montréal devraient-ils se changer en autant d'Iroquois. »
Both these statues should be constantly vandalized until they are finally removed from public space and instead placed in archives or museums, where they belong as historical artifacts. Public space should celebrate collective struggles for justice and liberation, not white supremacy and genocide.
– Some anti-colonial activists, artists and vandals
Background Information:
– Amherst, Maisonneuve et notre mémoire trouée (septembre 2017): www.lapresse.ca/debats/chroniques/rima-elkouri/201709/17/01-5134211-amherst-maisonneuve-et-notre-memoire-trouee.php
– Monument raciste et colonial à John A. Macdonald défiguré à Montréal (novembre 2017) https://montreal-antifasciste.info/fr/2017/11/12/monument-raciste-et-colonial-a-john-a-macdonald-defigure-a-montreal-avec-video-et-photos/
– Deux statues de la reine Victoria vandalisées à Montréal (mars 2018) www.lapresse.ca/actualites/justice-et-faits-divers/faits-divers/201803/15/01-5157416-deux-statues-de-la-reine-victoria-vandalisees-a-montreal.php
– Deux statues de la reine Victoria sont vandalisées à Montréal (mai 2018) https://sub.media/video/deux-statues-de-la-reine-victoria-sont-vandalisees-a-montreal/
– Montreal's Monuments to Colonialism (September 2017) https://ricochet.media/en/1949/montreals-monuments-to-colonialism
– Colonial and Racist John A. Macdonald Monument Defaced in Montreal (November 2017) https://montreal-antifasciste.info/en/2017/11/12/colonial-racist-john-a-macdonald-monument-defaced-in-montreal-with-video-and-photos/
– Two Queen Victoria Statues Defaced in Downtown Montreal (March 2018) https://thelinknewspaper.ca/article/two-queen-victoria-statues-defaced-in-downtown-montreal
– Queen Victoria Statues Vandalized in Montreal (May 2018) https://sub.media/video/queen-victoria-statues-vandalized-in-montreal/