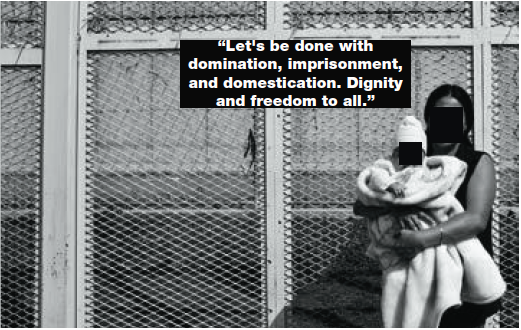 From Fire to the Prisons
A new prisoner arrived in my cell on Wednesday, three days ago now, after spending a month in Ingresso (1). We are four now, in a cell with five beds (One bed is empty). Ingresso is where you go when you first arrive in prison. In the days that follow your arrival, your fingerprints are taken and you have to fill out lots of paperwork. Then, it's meetings with "professionals" who assess your character in order to classify you and finally, you are assigned to a permanent cell with other people who correspond to your profile assessment. You have to meet a psychologist, a criminologist, a social worker, an addiction specialist, a technician, the person in charge of cultural activities and sports, and the person in charge of spiritual and religious activities. All together, their reports make up your profile and classification.
I start to chat with the new arrival and she tells me her story, a story that in her own words denounces the context of the prison in Santa Martha (2). A friend wrote me a letter asking that I write something for FTTP telling what I wanted of my experience here. I wasn't sure what to write, and I didn't want to write another "anarchist propaganda" text filled with concepts. It's at this time that the new arrival started to tell me her story:
B. arrived in Santa Martha on October 18th, imprisoned for passing marijuana into the men's prisons. She arrived here four and a half months pregnant. On October 21st, a Tuesday, she was transported to "Juzgado Oriente" (3). This is a common occurrence at the beginning of a trial; they can send us to court up to three times a week. Going to the Juzgado means that you are told at 2 AM that you need to be ready by 5:30 AM to get stuffed into a barred prison-bus guarded by cops with machine guns at the front. The Juzgado itself is inside the prison for men, where many co-accused are imprisoned.
On this particular morning, B. was transported in one of these buses with 17 other women. In these bus-cages, there are about 40 seats. After spending the whole day at the court, the women were stuffed back in the bus to return to Santa Martha around 7:30 PM, but this time, there were 80 on the bus. The guards decided to fill just one bus with all the women from court, and also from the conviviencia (4). Throughout all this, B. decided to stay standing in the bus and to try to maintain her balance. There was also another pregnant woman on board with her. Together, they told the guards with machine guns: "We are two pregnant women, it seems to us that there are a lot of people on this bus."
And the guards responded: "That's not our problem, it's the administration that makes the decisions." The return trip takes about 40 minutes, and all of the women are hyper-stuffed in this bus that bounces every 15 seconds over bumps and holes in the pavement. Finally B. arrives back at Santa Martha just before the cells get locked for the night, around 8 PM. By pure coincidence, the authorities put B. in a cell by herself – meanwhile, there are cells with up to 20 people for only three beds.
The prison is pretty old and the metal doors of the cell lock with a chain and padlock. In the hallways, there are no cameras. 8 PM comes and goes. The cell door is closed and locked. B. starts to feel ill and notices a reddish liquid coming from between her legs. Around 9:30, she alerts the people in the cell across from her about what's going on. They advise her to lie down and rest while they start to call out for the guards. B. is on the second floor and the guards are all on the first floor in the control booth. One after another, all the other women on the second floor start to yell out. After 20 minutes, a guard finally comes upstairs. B. is losing a lot of fluid. When the guard learns of the situation, he goes back downstairs to call a doctor. He comes back five minutes later only to announce that there is no doctor in the medical centre of the prison; there are only nurses. He tells B. that the only way she can get to the medical centre is by walking there. She goes down two flights of stairs and walks the 400 meters to the medical centre all on her own. All along the route, she is losing fluid. Finally, when she arrives, the nurse performs an ultrasound to check the health of the fetus and decides to send B. to the Bosque de Tlawac (5) hospital.
She arrived at the hospital around midnight. The placenta did not contain any more amniotic fluid and the baby was dead. The doctor induced contractions and the baby was still-born around 6 AM on the October 22nd. The doctor told B. that if she had arrived only a little bit earlier, he would have been able to save the baby. B. did not get to see her family. The body of the baby was given to B.'s husband, the baby's father, later that day and was buried the next day by the family. As for B., the guards returned her to Santa Martha that night, the 22nd, around 7:30.
On her arrival, the director of the prison, panicked by what had happened, asked to meet with B. She said she was unaware B. had been pregnant, despite B. stating so to the prison doctor upon her arrival and that her pregnancy was recorded in all her official documents. The director wanted B. to say that if she had a miscarriage, it was because of what she had been told in court that day, even though she only had to go to court to sign some simple papers. The director added that, given her crime, the miscarriage must be B.'s fault due to drug use, even though B. didn't consume drugs at all during her pregnancy. Next, it was the criminologists' and the psychologists' turn to make the events all her fault. One after another, the authorities disavowed any responsibility for the situation, all the way up to the human rights lawyers of D.F. (6)
This is just one story among many others. Here, they put us in a cage and treat us like CATTLE. One more death is seemingly unimportant. All of this happened 30 days ago now, and my companion is telling me this story, one among all the others that make up our daily existence. This type of story is SILENCED and everything continues like nothing ever happened.
2000 women shut into a hole with cockroaches, bedbugs, and trash. Meanwhile, the prison director and her bosses play sympathetic figures in the media with their leftist discourse, because they organize soccer tournaments and movie screenings "for us."
Let's be done with domination, imprisonment, and domestication. Dignity and freedom to all.
Those responsible for our imprisonment deserve nothing less than a bomb in their well-feathered nests.
Amélie Trudeau
1. Ingresso – From Spanish: "Entrance"
2. Centro Femenil de Reinsercion Social Santa Martha, D.F. Mexico.
3. Juzgado Oriente – From Spanish: "Western Court"
4. Once a week, women from Santa Martha can go visit their husband, partner, or members of their family in the men's prisons. They leave around 8 AM and return around 7 PM.
5. Bosque de Tlawac (sic) – Bosque de Tlahuac
6. D.F. – Districto Federal – Capital city region of Mexico/Mexico City
ON THE 5E3
Solidarity with Carlos,
Amélie, and Fallon /
Solidarity with the 5E3
The following is an excerpt from the 5E3 support publication that can be viewed in entirely here
On the night of January 5th, 2014 Carlos, a comrade from Mexico, and Amélie and Fallon – two comrades from Canada, were arrested in relation to a Molotov attack on the Ministry of Communication and Transportation and a Nissan dealership in Mexico City. They were arrested at a time of intense crackdown by the Mexican state on anarchists; from attacks on demonstrations, torture of arrested comrades – including the torture and deportation of Gustavo Rodriguez, and barring the entry of Alfredo Bonanno. The state is now attempting to spin a narrative of foreigners coming in and causing disruption, thus ignoring and even erasing the rich history of anarchist struggle against the state in Mexico. Over the past few years in Mexico City, an insurrectionary anarchist struggle has intensified.
Bombings of banks and churches, among other institutions of domination, have taken place frequently, and solidarity with insurrectionary anarchists in Mexico and worldwide has been central to these actions. We must recognize that the repression and penalization that comrades are facing now occurs in this context. Regardless of the guilt or innocence of these specific comrades, we want to express solidarity, complicity, and a strong desire to see attacks on the state and capital continue and spread. In reality, the Canadians causing disruption in Mexico are the mining companies and military technologies; the same ones that exploit unceded Indigenous land in Canada and elsewhere around the world. Given that capitalist exploitation and misery knows no borders, the struggle against capitalism and the state apparatus must not stop at national borders. Our strength lies in our capacity to recognize the commonalities of our struggles so that they may spread, and to act in solidarity so that the struggles of our incarcerated comrades may continue.
We write this statement to express our deep solidarity with and love for our friends and comrades – Carlos, Amélie and Fallon. Although we are writing from a different context, it is critical that our solidarity is also with the struggle in which this action occurred. Our friends and comrades facing these charges are experiencing the intensity of repression. Our solidarity must meet that intensity with respect for where they stand, admiration for their strength, and a continuation of the struggle in Canada, Mexico, and globally.
Love and freedom to the 5e three,
For freedom and anarchy,
Friends in struggle
Write to the 5E3
Carlos López Marín
Reclusorio Preventivo Oriente
Calle Reforma #50, Col.
San Lorenzo Tezonco
Delegación Iztapalapa, C.P. 09800, Ciudad de México, D.F.
México
Fallon Rouiller
Centro Femenil de Reinserción Social Santa Martha Acatitla Calzada Ermita,
Iztapalapa No 4037, Colonia Santa Martha Acatitla Delegación Iztapalapa, C.P. 09560,
Ciudad de México, D.F.
México
Amélie Trudeau
Centro Femenil de Reinserción Social Santa Martha Acatitla Calzada Ermita,
Iztapalapa No 4037, Colonia Santa Martha Acatitla Delegación Iztapalapa, C.P. 09560,
Ciudad de México, D.F.México
The 5E3 are Amélie Trudeau Pelletier, Fallon Poisson Rouiller and Carlos López. They are called the 5e3 because they were arrested on January (Enero) 5th and they are 3 individuals. After being indefinitely held without charge under "anti-terrorism" laws by the Mexican state for many months they were finally sentenced based on two separate charges, two separate times. First, on October 31st, 2014, they were given a sentence of 7 years and 6 months. Shortly after they were sentenced to an additional 2 years, 7 months, and 15 days, as well as a 108 thousand pesos in restitution. The sentences will run parallel with each other.
Carlos, Amélie, and Fallon have taken a completely uncooperative response to the state assaulting their lives. They continue to remain active inside prison, and their beautiful hearts have inspired actions in their name that have reached far beyond their prison walls. In recognition of their courage and strength, we have listed a few solidarity actions with the 3 below. Their fighting spirits are contagious, and impossible to fully contain amidst our borderless solidarity.
SOLIDARITY ACTIONS WITH THE 5E3
January 17th, 2014, USA
Police cars were attacked in Bloomington, IN in solidarity with the 5E3.
January 31st ,2014, USA
Locks are glued at a yuppie supermarket in Bloomington, IN in solidarity with the 5E3 and Indiana state prisoners protesting prison conditions on hunger strike.
February 11th, 2014, USA
Anarchists march on the Mexican consulate in Seattle, WA.
April 12th, 2014, USA
ATMs were destroyed in Seattle, WA in solidarity with the 5E3 and prisoners on hunger strike across WA.
May 22nd, 2014, Quebec, CA
In a small suburb of Montreal, over 60 school buses were attacked in solidarity with the 5E3 and against the educational system that looks to condition us all into accepting capital and the state.
July 18th, 2014, USA
Twenty-three vehicles were attacked at a Nissan dealership in Olympia, WA, in solidarity with the 5E3. The solidarity action resulted in $100,000 in damage.
Mid-August 2014, USA
Equipment on a construction site for a new McDonalds in Portland, OR was sabotaged by pouring bleach in all the fuel tanks on the site. The action was claimed in solidarity with the 5E3.
October 1st, 2014, Quebec, CA
A railroad telecom was burned and three residential development panels vandalized in response to an eviction of Native resisters in Gatineau and in solidarity with the 5E3, somewhere in southern Quebec, Canada.
November 10th, 2014, USA
The Mexican consulate in Tucson, AZ was attacked with paint bombs. Graffiti outside the consulate claimed the action in solidarity with the 5E3 via the message: "VENGEANCE FOR LOS NORMALISTAS AND THE 5E3."