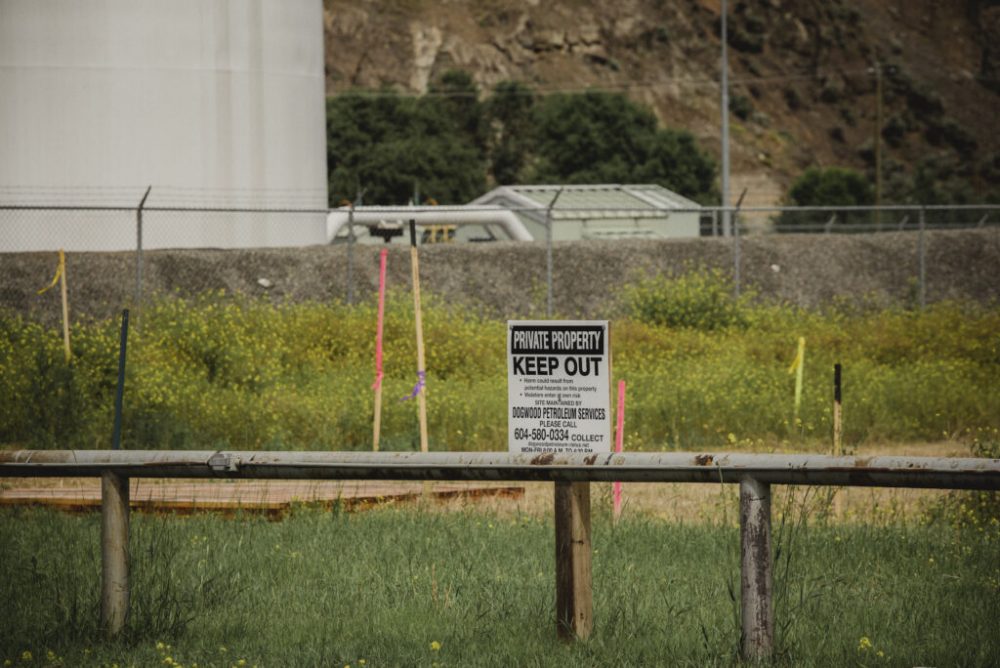 From Tiny House Warriors & Gidimt'en Checkpoint
October 16, 2020
Pipeline companies threaten violence to communities, salmon and wildlife with drilling under sacred headwaters.
(Unceded Yintah / Secwepemcúĺecw Territories): Coastal Gaslink pipeline in Wet'suwet'en territory and Trans Mountain Pipeline in Secwepemc territory are both currently preparing to drill under our clear rivers, from which we have drawn sustenance since time immemorial.
In the past few days we have seen Indigenous women interrupted during ceremonies in both territories, and arrests and incarcerations in Secwepemc territories, for enacting their sacred responsibilities. The Trans Mountain Pipeline weaves through over 900 rivers and creeks, threatening both Secwepemcetkwe (Thompson) and Fraser River systems. The North Thompson is connected to the Adams River, a vital spawning habitat for chinook, coho, and pink salmon, and home to one of the most important sockeye runs in the world. Any leakage would immediately threaten the pacific salmon who spawn in the Secwepemcetkwe (Thompson) and Fraser River basins.
In an open letter to the Prime Minister dated November 26, 2016, our late Secwepemc leader Arthur Manuel wrote to Trudeau:
"The salmon and the rivers they inhabit have taken care of our people for centuries and we are obligated as Secwepemc people to protect the Thompson River system for future generations."
In this the Secwepemc stand in solidarity with the Wet'suwet'en people, who have been fighting to protect Wedzin Kwa (Morice River) from pipeline incursions for over a decade. Wet'suwet'en means "People of the lower drainage" and Wet'suwet'en people's lives are inseparable from the life of the Wedzin Kwa river, which we have protected for thousands of years, and which has in turn fed us and governed us through our hereditary leaders and knowledge-keepers.
Sleydo' Molly Wickham, spokesperson of the Gidimt'en Checkpoint, states:
At this time our rivers, the lifeblood of our nations, are facing drills, toxins and invaders. Indigenous people are standing up to state violence, big industry and corporate greed for the future of all of humanity–of all life on our yintah. We stand with our Secwepemc relatives in their struggle and ask all Indigenous peoples and our allies to stand up for the salmon, the clean drinking water, the animals and our future generations. We will not let them kill us. We will always be here.
Over the last two decades we have witnessed the dramatic decline of our salmon as a result of toxic extractive and urban development on our territory, as well as fish farms, invasive species, and climate change. These pipeline expansions pose the most direct risk yet.
The drilling alone threatens not only salmon spawning habitat but the balance of the entire ecosystem and food chain they rely upon. The sockeye are tenacious, fighting their way thousands of kilometres upstream from the Pacific Ocean to reach their spawning beds in Secwepemc territory. Wedzin Kwa joins the Skeena and runs through the canyons out to the Pacific Ocean. We cannot risk putting any more obstacles in the salmons' way.
Our traditional land users and stewards—those who exercise our right to hunt, fish, gather, and practice our culture—are the ones who truly understand the potential impacts of the pipeline. It is these members of our nations who will feel the effects of the pipeline on our rights and our food sovereignty most acutely. It is these members who have authority over our lands the government of Canada has failed most.
When we protect our rivers from invading industries, and insist on our rights to fish and hunt on our territories, we are criminalized, harassed and jailed. In Secwepemc territory, there were 5 arrests yesterday and 3 indigenous land defenders were sentenced to 28 days in Canadian jail.
By refusing to seek the free prior and informed consent of our people, and instead opting to sign deals and agreements with a few of our federal Indian bands, the government of Canada has undermined the authority of the proper rights and title holders of Secwepemcúl'ecw and the Wet'suwet'en yintah.