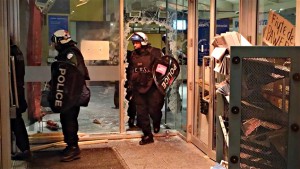 International call for solidarity actions – 13th-17th April 2015
Against repression at the University of Quebec (UQAM) and everywhere
On March 21st 2015, students from Quebec (Canada) launched a political strike against austerity measures and hydrocarbon extraction. Our social movement takes place in the context of generalised repression, where demonstrations are forbidden and brutally clamped down upon through various municipal by-laws. Thousands of people have thus been arrested in the last three years, receiving $640 of fines for the luckiest and criminal charges for the rest.
For weeks now we have been confronted with even greater repression, inside the walls of our university. The movement as a whole has shown great courage, responding blow for blow to this repression, but now we need your help.
These last days a sequence of events has weighed us down:
– At the end of March, nine students were summoned from UQAM's executive counsel. Without the possibility of any appeal, and bypassing normal procedures, these students are threatened with the university's most severe sanction: their definitive expulsion. In some cases, they are accused of acts that go back to winter 2013.
– UQAM has ordered a court injunction forbidding us to prevent courses from being held, as well as ANY activity related to the strike.
– On April 8th, after students had interrupted courses, UQAM's administration called the police, who arrested 21 people inside the university. They are now forbidden from approaching the university and also face criminal charges.
In reaction to all this, since April 8th, general assemblies from various departments have decided to continue the general strike, adding these demands:
To cancel the court injunction and of the judicial repression of the social movement.
To forbid police on campus
To abandon prosecution against the nine political expulsions
We need your help!
This is a call for an international week of solidarity actions from April 13th-17th 2015. Our university, UQAM, cares a lot for its public image, so we invite you to take action, to the extent of your means and possibilities.
Whatever you plan to do, don't hesitate to recount your events, by writing to us at the following address: solidariteactionuqam[at]gmail.com

Against repression, by all means necessary!

Signed: Students and student employees from UQAM