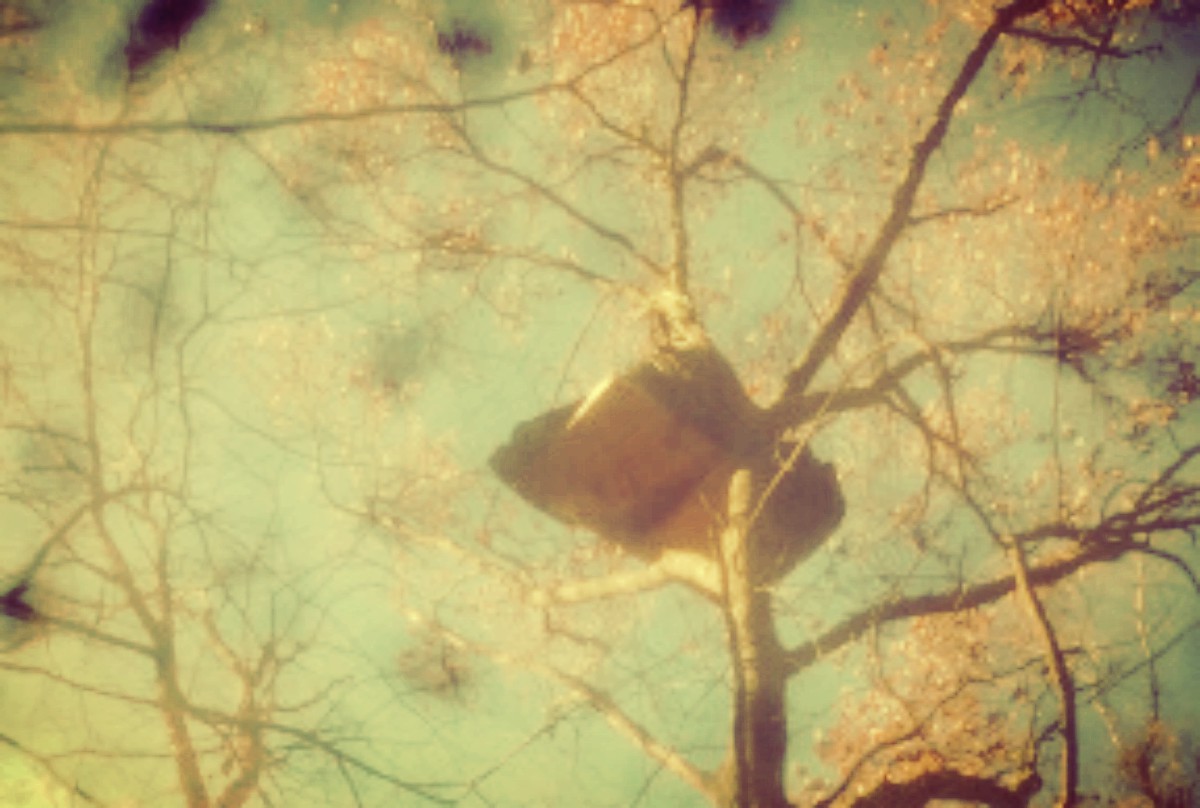 From Hudson Valley Earth First! You can read previous updates from the tree sit and learn about the context of the struggle here.
Hudson Valley Earth First! has decided to end the tree sit against the Valley Lateral Pipeline. The tree sit lasted a full 23 days, and was effective in causing the pipeline company to reroute their project around the protest.
Due to these circumstances and others, the brave individual(s) who occupied it have left for the time being. No one was arrested. Too often these types of protests have no time line other than when the forces of repression decide to intervene. By keeping our comrades warm and free, we can ensure that they might be (a)effective in the continued fight to defend the wild.
Our goal has not been to fight an arrest in court as if this is a civil rights or civil disobedience issue. We already know the law and the court system does not side with the health of every day people, the wild, or this planet. Millennium pipeline, the FERC agency, and New York State have already proven this. This project has a 6 month time line, there is still forest and other habitats to be defended, and things are heating up (metaphorically) here in the North as this fight continues. Email us if you would like to attend our upcoming action camp and climb training or plug in more generally.
We do not rely upon a series of court dates and permit grantings to dictate when we should or should not put up a fight. A granted permit does not mean the fight is over. Even the eagles abandoning their nest does not mean an end to this fight. Eagles nests and other fragile habitats are still being threatened because of this project, and because of the many other projects coming to the North East such as the Cricket Valley Power Plant and the Pilgrim Pipeline, just to name a few.
Our goal is to network and connect with inspired folks in this region to build a culture of resistance against this project and the many others. We believe in a diversity of tactics. A lot of work has been done by various groups on the ground for years against this project, ranging from direct actions with folks from Protect Orange County locking themselves together to block the entrance to the CPV Power Plant, to petitions and court hearings, to pressuring the DEC to do their job, to the most recent tree sit. All of these tactics combined have caused a lot of trouble for Millennium and CPV. We can continue to build strength through this fight, and network to create a strong basis for future fights.
Repression of Activists: Millennium Pipeline's Restraining Order Against Earth First!
Protect Orange County made a call for folks to show up as court support for one of their members. Millennium pipeline attempted to place a restraining order on this person for their actions of recording Millennium's work on the pipeline right of way and staging grounds. Luckily, this restraining order was dropped. Unfortunately a restraining order was in fact placed that day against "John and Jane Doe" of the tree sit, and our media spokesperson, Rudy Tacos. This was clearly a move to intimidate.
The restraining order was read to the tree, and left at its base where it proceeded to decompose under snowfall until a cop walked away with it. The restraining order against Rudy Tacos of course had no basis, as our media spokesperson did not even know the location of the sit, nor had ever set foot on the public street near by. While this action taken by Millennium seems harmless, the truth is that there is a serious problem when a corporation can take legal actions against people whose identity they don't even know.
When a corporation can take legal action against unknown people – then they can pick and choose whoever they want to take action against whether or not that person has done anything or not. When corporations can pick people off the street and lock them into court battles, and even saddle them with charges and eventual punishment, no one is safe. This is a tactic of repression aimed to cause fear and self policing among activist communities. Many news stations refused to interview us because we would not reveal our real names. This is exactly why. We would rather keep ourselves safe from repression such as this, than land an interview that plasters our names in a newspaper when really, our names our not important.
Upcoming Action Camp in the Hudson Valley from January 19-22!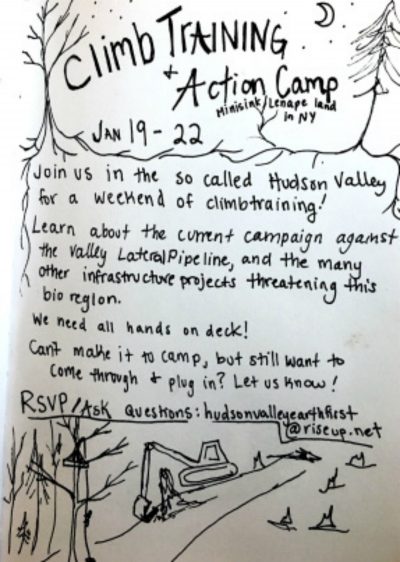 We need all hands on deck in the so called "Hudson Valley." Come join Hudson Valley Earth First! for a climb/action camp as we continue the fight against the Valley Lateral Pipeline and the Corporate Power Ventures Power Plant in Orange County, New York. We are looking for folks to come join us for this campaign in order to help build capacity for this fight, and for the fight against future infrastructure projects in this region. Feel free to join us at any time- just email us to let us know when you can come through. Otherwise, we'll see you at camp from January 19- 22.
When: January 19- 22
Where: Location TBA
What: Climb training, campaign updates, direct action training. Come learn about the fight against the Valley Lateral Pipeline, and future projects like the Cricket Valley Power Plant, the Pilgrim Pipeline, Spectra's Pipeline, etc.
Why: For the wild!
RSVP and ask questions by emailing hudsonvalleyearthfirst@riseup.net