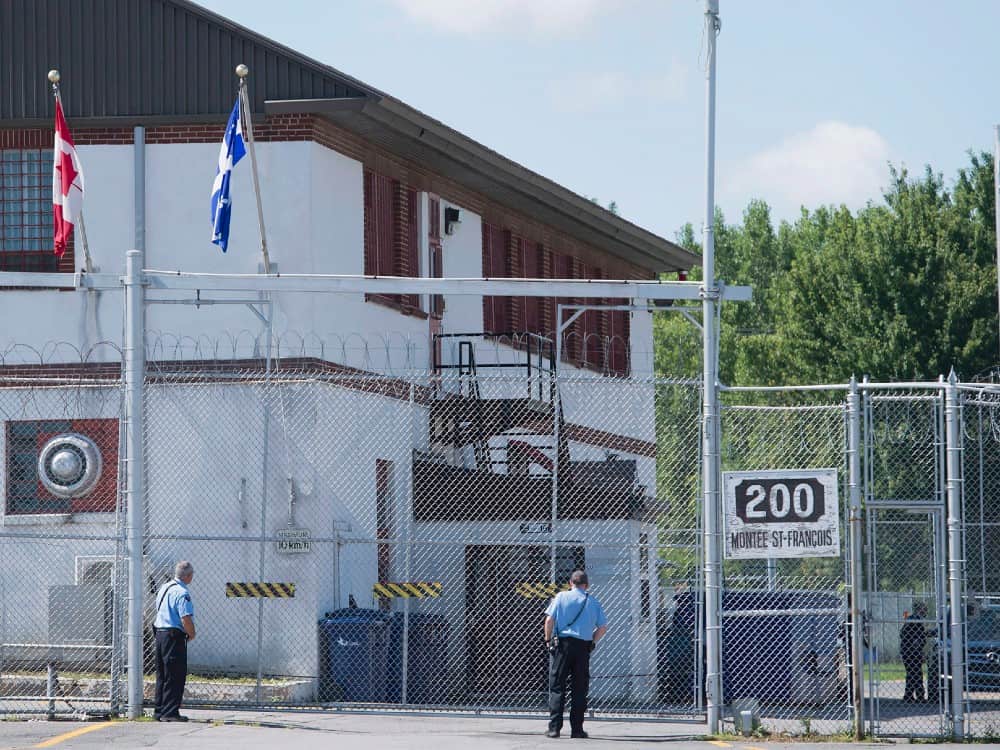 Anonymous submission to MTL Counter-info
Construction has begun on a new prison for migrants and refugees in Laval, QC, a suburb just outside of Montreal. As the project has advanced, the struggle to stop it has ramped up as well, with a wide variety of actions being taken to stop its construction. The prison is part of a $138 million plan called the National Immigration Detention Framework (NIDF), announced in 2016 by the governnment of Canada following a period of resistance against the imprisonment of migrants. The NIDF expands and strengthens the government's capacity to surveil, imprison, and deport migrants, creating two new migrant prisons as well as new forms of surveillance & control such as mandatory ankle bracelets, voice biometric scans, and halfway houses for migrants.
In the midst of this it can be hard to figure out how to intervene in what's happening, either as an individual or group. In the spirit of spreading all forms of resistance to Canada's border and prison regimes we've brainstormed a list of (just some of) the ways people might contribute to this fight.
Border and detention infrastructure can be found in most cities in Canada. Read on for some ways to identify it in your context (and a few ideas for what to do with that info).
IDENTIFYING BORDER INFRASTRUCTURE IN YOUR AREA
In the US, an extended and fierce struggle againt ICE has been ongoing, with most major cities in the country showing up to shut down ICE offices, hold noise demos outside of detention centers, and take other creative measures to counter the US detention and deportation regime. The government has been feeling the heat, and, while there's still quite a ways to go, we think it's both possible and necessary to bring resistance to the border in so-called Canada to this level!
Check if any of the following organizations have locations in your area:
Government:
Canada Border Services Agency (CBSA) – The main enforcement for the detention, surveillance and deportation of migrants in Canada. Offices, staff, and infrastructure located all over Canada.
Did you know that in 2017, an access to information request resulted in the release of the names and positions of hundreds of CBSA employees? You can read those documents at this link and figure out if there's anyone in your area whose responsibility for the deportation and detention of migrants should be revealed. https://mtlcounterinfo.org/doxxing-the-canadian-border-services-agency/
CBSA migrant detention centres – there are currently three federal migrant prisons – one in Toronto, one in Laval, and one inside the Vancouver airport. Construction on a new one in Surrey, BC, was recently completed, and a new one is being built in Laval, QC.
Provincial jails – The CBSA pays millions of dollars to provincial governments each year, as part of deals that allow the agency to imprison migrants in provincial jails. In Ontario, most migrants detained by the CBSA are held in provincial jails.
NGOs profiting from and enforcing the "Alternatives to detention" portion of the NIDF: https://communemag.com/the-same-prison-with-a-nicer-facade/
John Howard Society – a non-profit which was awarded almost $5 million to implement the new "Community Case Management and Supervision" program, essentially a regime of programming and halfway houses for migrants that mirrors the existing parole system in Canada. Locations in all provinces across Canada, no location in Yukon or Nunavut. http://johnhoward.ca/services-across-canada/
Toronto Bail Program – A recipient of approximtely $7 million to implement the "Community Case Management and Supervision" program, located in Toronto.
The Salvation Army – A recipient of over $1 million to implement the "Community Case Management and Supervision" program, locations in most Canadian cities.
Profiteers from the construction of the new migrant prison in Laval
Miscellaneous:
GardaWorld – This private security company, contracted as prison guards at the current migrant prison in Laval, and as security at the construction site for the new one, has locations all over Canada. There is no shortage of heinous projects they're connected to. Check their website to see if they have a location in your area.
G4S – Contracted as prison guards at the migrant prison in Toronto.
Once you know the organizations and companies in your area that are profiting from border enforcement, consider trying to find out the names and locations of individuals involved. Try finding out where the executives of the company live, and put up posters in their neighbourhood, or hold a surprise demo outside of their home. You can also send them emails, faxes, and letters from an anonymous computer.
With a trusted friend or friends, take action against the companies or implicated agencies directly!
You can find a collection of communiques from actions that have taken place against the construction of the new migrant prison at this link: https://www.stopponslaprison.info/en/news-and-analysis/
If you're considering taking direct action against border infrastructure in your area, take a look at this "Recipe for nocturnal direct actions", which covers a lot of useful information for planning and executing effective direct actions while keeping eachother as safe as possible in the process! https://mtlcounterinfo.org/a-recipe-for-nocturnal-direct-actions/
Still not sure whether there is border infrastructure in your area? Reach out to a nearby No-One Is Illegal chapter or other migrant justice organization and see if they can point you in the right direction. Or, get together with friends for a research night!
There are of course still things you can do even if you live in a small community without any border infrastructure:
1. Share materials and information
Check out the materials page of stopponslaprison.info. You can share and print zines, posters, flyers and stickers with those in your network.
Get a group of friends together, and put up some posters in your neighbourhood, or near a bus stop. You can find instructions on how to make wheatpaste, which makes posters hard to remove, at this link. https://mtlcounterinfo.org/how-to-wheatpaste/
Spend a couple hours putting up stickers in the transit system, in your school, workplace, or in your neighbourhood.
Do a banner drop in a visible location in your area that shares a message against borders and prisons! Here is some information on how to do a banner drop: http://destructables.org/node/56
Plan an information picket or flyering day. Print out some flyers, or make your own! Get a few friends together and hang out at the subway/metro/skytrain or bus station for a few hours, giving people information about the project.
2. Spam the companies
Send spam faxes or flood the phone lines, email accounts, and social media accounts of the companies and their employees.
It's easy to make temporary email accounts with protonmail or guerrilamail.
You can send faxes for free online at https://www.gotfreefax.com/ or https://faxzero.com/. Sending faxes with a lot of black ink can waste all of the ink on their machine or jam up the machine, making it less possible for them to recieve real faxes.
If you're thinking of spamming the companies online, keep in mind that you may not want to do so from your own social media account, or IP address. Take a look at the EFF guide to safer online communications, and check out tools such as Tor and TAILS to use to create your temporary anonymous email account and for sending faxes.
https://ssd.eff.org/
https://www.torproject.org/
https://tails.boum.org/
3. Share this call with friends and family, and meet with them to talk about how you might organize something in your area!