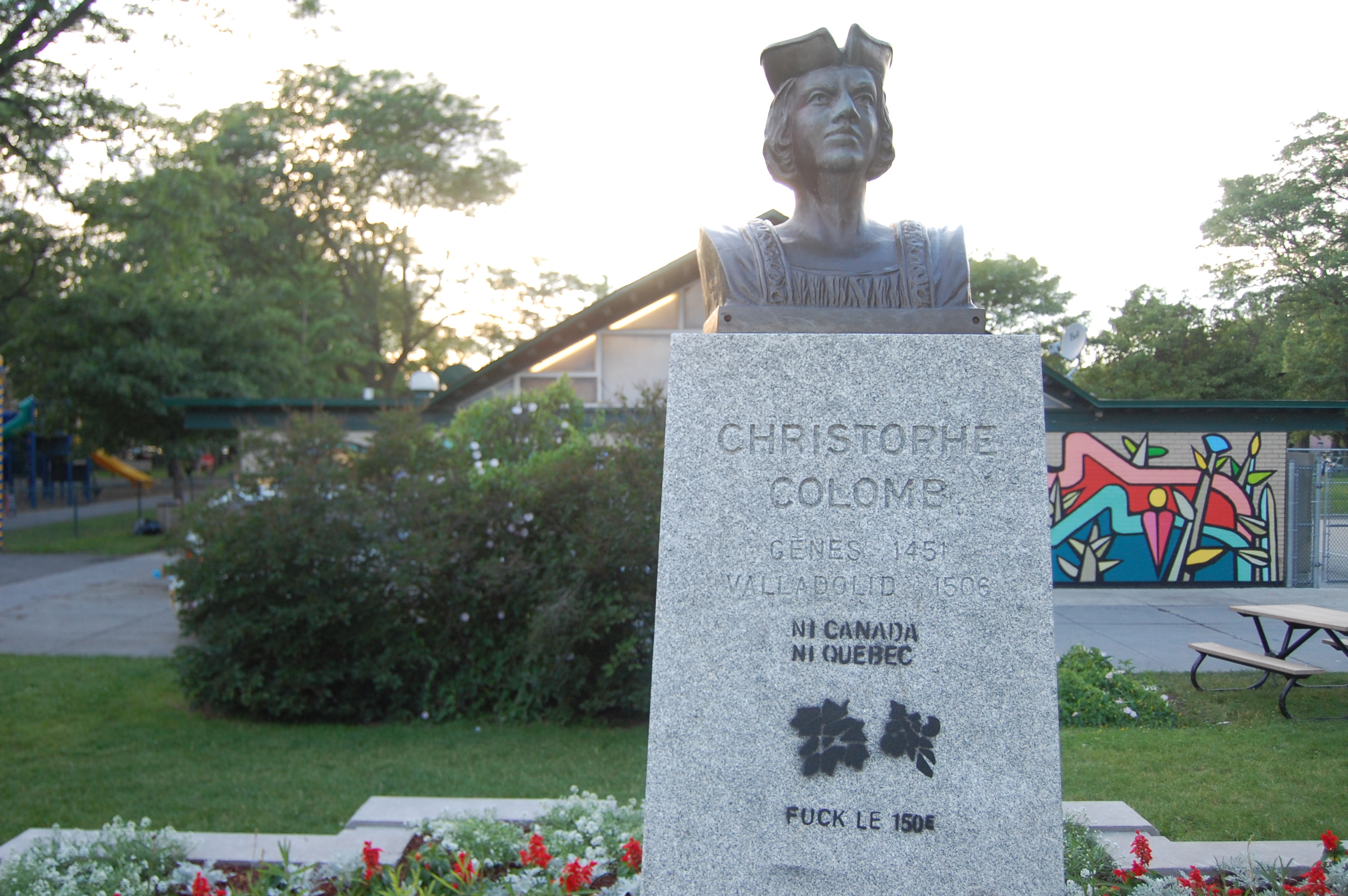 Montreal streets covered with anti-colonial, anti-nationalist, migrant justice stencils,
images and graffiti
This week, between the nationalistic displays of June 24 (Quebec holiday) and July 1st (Canada holiday), a group called Le Collectif No Borders in Montreal has covered various areas of the city with anti-colonial, anti-nationalist and migrant justice stencils and images.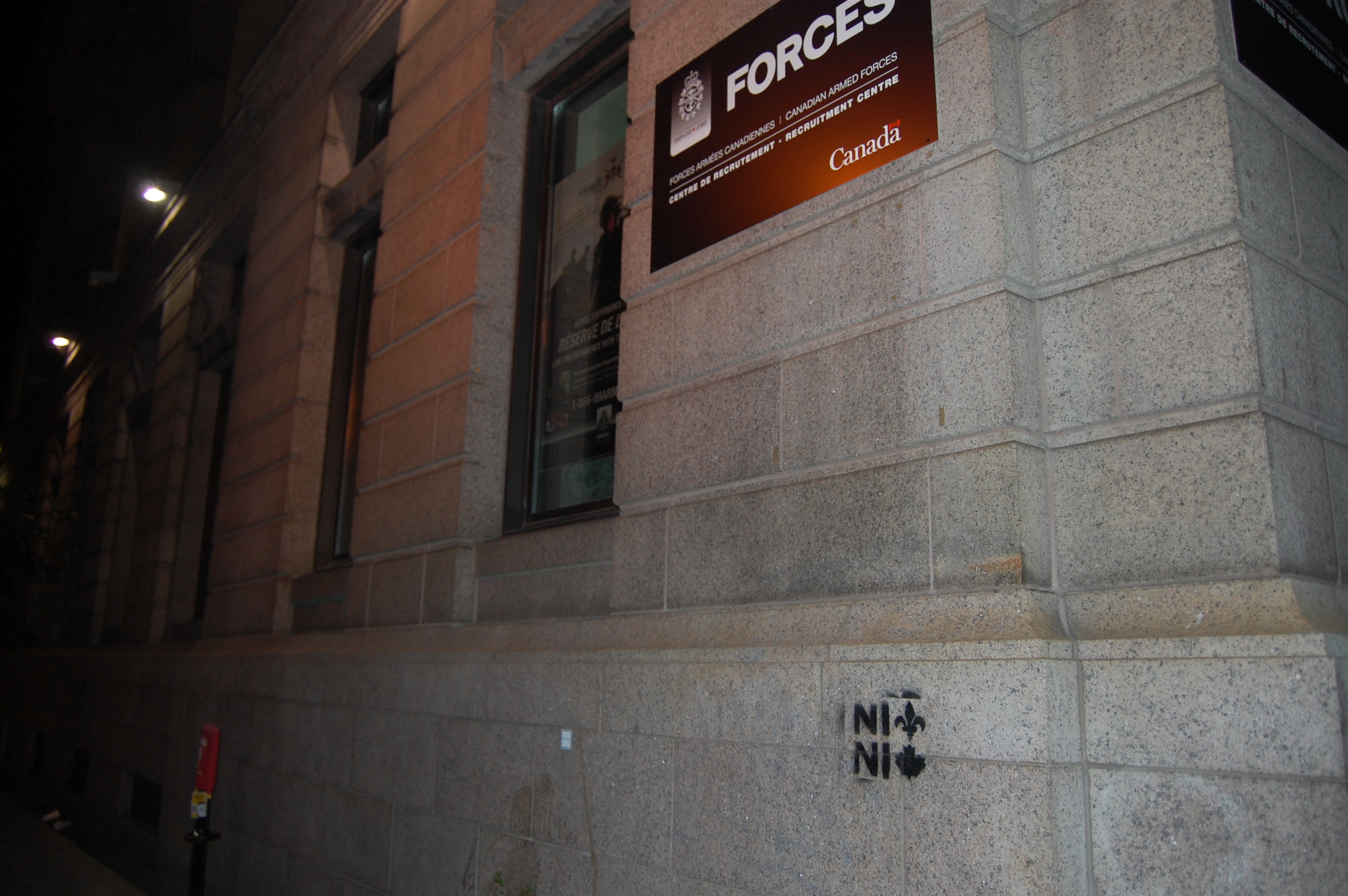 Among the messages shared on the stencils, images and graffiti:
375+150 = Bullshit
Construisons une ville sans frontières
Arrêtez les déportations
Open The Borders
Refugees Welcome
Réfugié-e-s bienvenu-e-s
Ils construisent des murs, nous bâtissons des ponts
Ni Canada, Ni Québec. Fuck le 150e
Ni Québec, ni Canada.
Quebec, Canada … same shit, different piles.
Canada 150: Fake News
The images also include a burning Canadian flag.
The action this week is undertaken in opposition to Montreal's 375 anniversary celebration, and Canada's 150 celebrations, both public relations displays that mask the colonial and genocidal origins of the City of Montreal and the Canadian state. The action is undertaken in the spirit of anti-colonial resistance, support for anti-racist and anti-fascist struggles, as well as solidarity with migrant justice and a genuine Solidarity and Sanctuary City in Montreal. Le Collectif No Borders also undertakes to reclaim public spaces from corporate, colonial and nationalistic propaganda.
The various stencils and images appeared at various locations in Montreal, including (but not limited to), the neighborhoods of Cote-des-neiges, Parc Extension, Marché Jean-Talon, Villerary, St-Michel, Rosemont, Petite-Patrie, Hochelaga, Mile End, Plateau, St-Henri, Point-St-Charles and downtown Montreal.
We have included below various weblinks that provide more information and context to anti-colonial, anti-racist, anti-fascist and migrant justice struggles, but none of the groups affiliated with the links below are directly or indirectly involved with this action.
The photo links also include original stencil images, to encourage others in Montreal and beyond to redecorate their communities, on the streets. We encourage your redecoration efforts and urge you to share your photos with us.
See you on the streets!
— Le Collectif No Borders (lecollectifnoborders@gmail.com)
NoCanada.Info / NonAuCanada.Info
Canada 150 banners destroyed on Mercier Bridge
Canada150 Installation Defaced in Montreal, and a Proposal
Fascism & Anti-Fascism: A Decolonial Perspective
Solidarity City Declaration / Déclaration pour une Cité sans frontières
Community Alert: Montreal is NOT a Sanctuary City