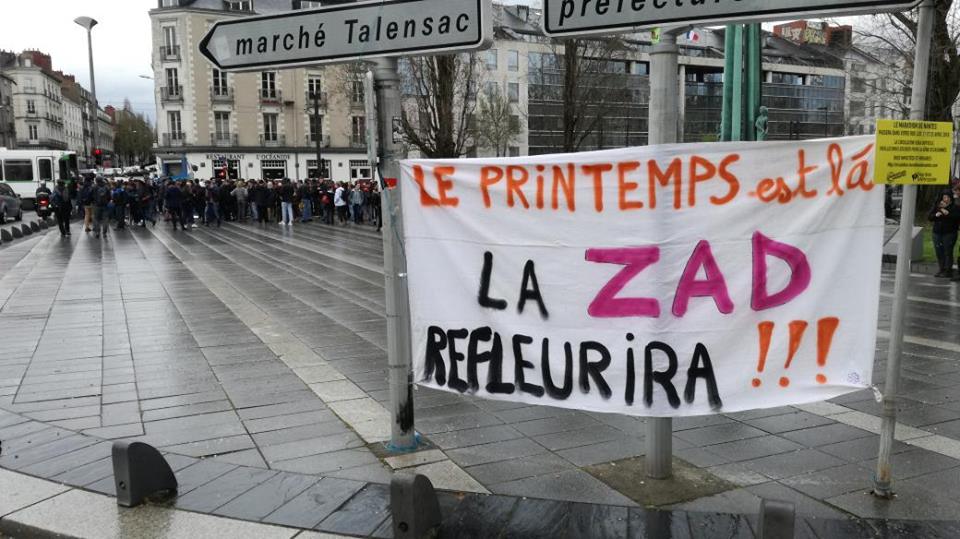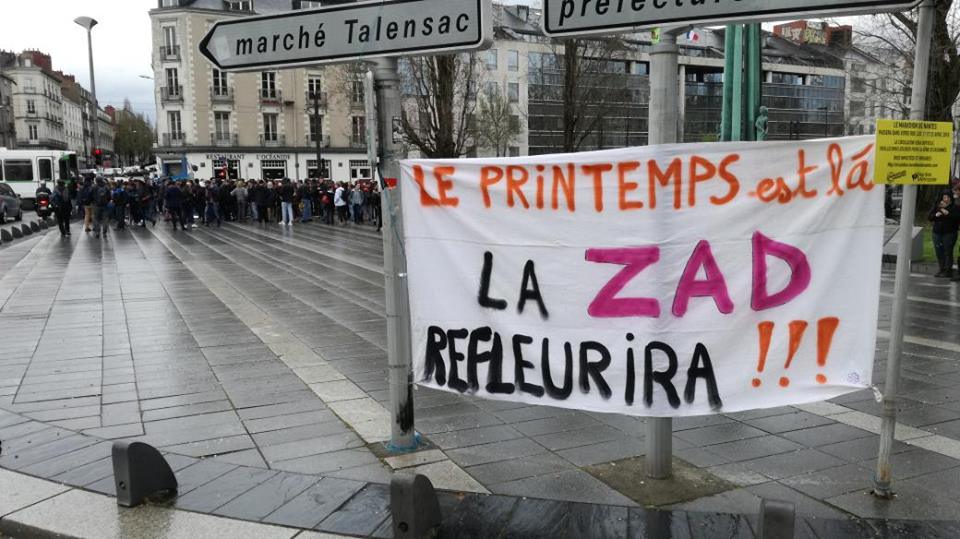 From the Comités de défense et de décolonisation des territoires (CDDT) [Facebook event]
[Crimethinc recently published an excellent historical overview of the struggle on the ZAD, including a critical look at events of the past few months that should be the subject of discussions within our struggles.]
In response to the call made by the zadists to mobilize where we are against the ongoing expulsions.
See you on Friday, April 13th at 7 pm, Mont-Royal metro station.
The ZAD is everywhere. The territories that we inhabit, love and live from are threatened by the movement of colonial modernity, by its logics of control and commodification that make life impossible. The creation of autonomous zones in response to the attempt by the state and companies to impose development projects is an answer that threatens the unity of sovereignty and shows how it is mythical. They also make it possible to rethink our ways of relating ourselves to the territories and to the different forms of life that inhabit them. The practice of blocking extractive projects, and the assertion of autonomy, in this context of indigenous resurgence, is bound to multiply. The calls will have to be heard.
What is ZAD?
For developers a ZAD is a Deferred Development Zone (Zone d'Aménagement différé); for us an Area to Defend (Zone à Défendre): a piece of countryside a few kilometers from Nantes (Bretagne) which should, for decision-makers, leave room for an international airport.
Their project is to build a "Grand Ouest" economic platform of international scale going from Nantes to Saint-Nazaire, which would form only one big metropolis. The realization of this platform requires mastering both the sky, the sea, and the earth through the replacement of the current airport of Nantes with a new one in Notre-Dame-des-Landes, but also the enlargement of the port of Saint-Nazaire, the construction of new roads and highways …
Our desires, coming to live on the planned site of the airport, are multiple: to live on a territory in fight, which makes it possible to be close to people who oppose it for 40 years and to be able to act in time of works ; take advantage of abandoned spaces to learn to live together, to cultivate the land, to be more autonomous with respect to the capitalist system.