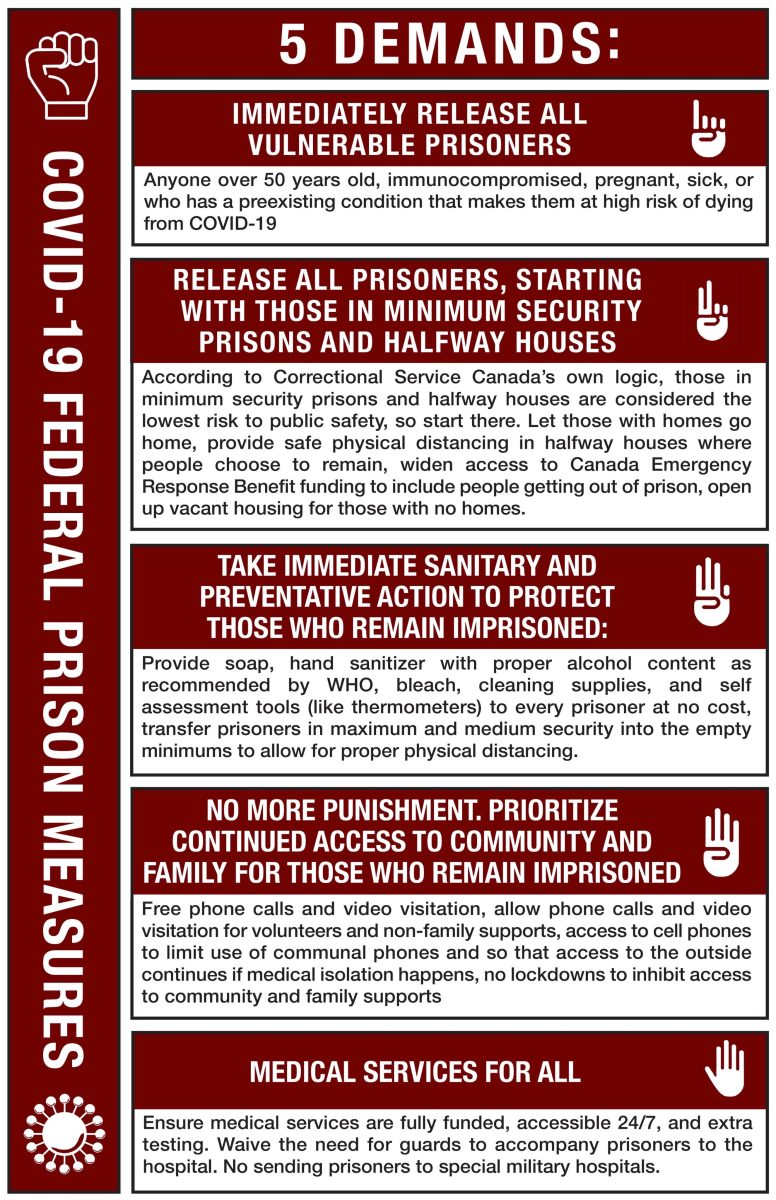 Anonymous submission to MTL Counter-info
SUPPORT ALL PRISONERS NOW! NO ONE SHOULD SPEND A PANDEMIC IN PRISON!
The situation facing prisoners during the COVID19 pandemic is terrifying. It is widely understood that prisoners are in a dangerous position during this pandemic due to the close living quarters, lack of health care, and lack of access to sanitary supplies. Correctional Services Canada has done little to address the risks inside, aside from cancelling all visits, temporary work releases, and trailer visits. Predictably, COVID19 has already started to spread in the federal prison system with prisoners and staff testing positive in more and more institutions.
Calls for the release of prisoners have come from many different people and groups around the world and many mainstream news publications in Canada have published articles detailing the reasoning behind releasing prisoners now. We would like to add our thoughts to this conversation.
At the federal level, there are many tools that Correctional Services Canada and the Parole Board of Canada can use to release prisoners. These include: the extension of unaccompanied temporary absences, the use of Section 81 and 84 of the Corrections and Conditional Release Act (CCRA), expedited hearings for suspension and revocation cases, and using section 121)1.b) of the CCRA, which states that 'parole may be granted at any time to an offender […] whose physical or mental health is likely to suffer serious damage if the offender continues to be held in confinement.'
The use of existing provisions to release prisoners to protect their health is not unprecedented. Indeed, as Jane Philpott and Kim Pate explain in an article in Policy Options, "sections 29, 81, 84, 116, and 121 of the Corrections and Conditional Release Act were specifically created to move people out of prisons to address health issues, for other personal development, for compassionate reasons or for work. Sections 81 and 84 provide for the transfer of Indigenous prisoners to Indigenous communities but could be applied to others as well" (emphasis added).
In this context, we demand immediate action to protect the health and safety of federal prisoners. Specifically, we demand the following:
1. IMMEDIATELY RELEASE ALL VULNERABLE PRISONERS: Anyone who is over 50 years old, immunocompromised, pregnant, sick, or who has a preexisting condition that makes them at high risk of dying from COVID-19.
2. RELEASE ALL OTHER PRISONERS, STARTING WITH THOSE IN MINIMUM SECURITY PRISONS AND HALFWAY HOUSES: According to Correctional Service Canada's own logic, those in minimum security prisons and halfway houses are considered the lowest risk to public safety, so start there. Let those with homes go home, provide safe physical distancing in halfway houses where people choose to remain, widen access to Canada Emergency Response Benefit funding to include people getting out of prison, and open up vacant housing for those with no homes.
3. TAKE IMMEDIATE SANITARY AND PREVENTATIVE ACTION TO PROTECT THOSE WHO REMAIN IMPRISONED: Provide soap, hand sanitizer with proper alcohol content as recommended by the World Health Organization (WHO), water, bleach, cleaning supplies, and self assessment tools (like thermometers) to every prisoner at no cost, and transfer prisoners in maximum and medium security into the empty minimums to allow for proper physical distancing.
4. NO MORE PUNISHMENT. PRIORITIZE CONTINUED ACCESS TO COMMUNITY AND FAMILY FOR THOSE WHO REMAIN IMPRISONED: Provide free phone calls and video visitation, allow phone calls and video visitation for volunteers and non-family supports, access to cell phones to limit use of communal phones and so that access to the outside continues if medical isolation happens, and stop using lockdowns to inhibit access to community and family supports. The World Health Organizing, stressing the importance of communication with the outside, has said that "decisions to limit or restrict visits need to consider the particular impact on the mental well-being of prisoners … The psychological impact of these measures needs to be considered and mitigated as much as possible and basic emotional and practical support for affected people in prison should be available."
5. MEDICAL SERVICES FOR ALL: Ensure medical services are fully funded, accessible 24/7, and extra health care practitioners are hired. Provide training, PPE, and regular testing. Waive the need for guards to accompany prisoners to the hospital. No sending prisoners to special military hospitals.
Who should you contact?
At this point you could call or email:
1. Anne Kelly – Commissioner of the Correctional Service of Canada: anne.kelly@csc-scc.gc.ca, 613-995-5781
2. Angela Connidis – Deputy Commissioner for Women, Correctional Service Canada: angela.connidis@csc-scc.gc.ca, 613-991-2952
3. Jennifer Oades – Parole Board of Canada, Chairperson: jennifer.oades@pbc-clcc.gc.ca, 613-954-1154
4. Bill Blair – Minister of Public Safety: Bill.Blair@parl.gc.ca
5. Kim Pate – Senator pushing for decarceration: Kim.Pate@sen.parl.gc.ca
6. Marilou McPhedran – Senator pushing for decarceration: Marilou.McPhedran@sen.parl.gc.ca
7. Jack Harris – NDP Public Safety Critic: jack.harris@parl.gc.ca, 709-772-7171
You can use the graphics at this link (demandprisonschange.wordpress.com) on social media! Tweet at @csc_scc_en AND @csc_scc_fr with the hashtags #FreeThemAll AND #FreeThemNow.
in solidarity,
the Termite Collective