A particularly disgusting piece of "fake news" was being shared on social media following to two far-right rallies that occurred in Montreal on July 1st.
While La Meute and Storm Alliance were immobilized by antifascists, a smaller march called by the Front Patriotique du Québec marched from Carré St-Louis to the Jacques Cartier Bridge.
Within hours of the FPQ march ending, a story began to be shared in their networks – and also by members of La Meute, Storm Alliance, and other such groups – about a brutal attack on three Indigenous people who had been trying to join the FPQ march. According to this story, antifascists spotted these would-be Patriots at an unnamed metro station and beat them so badly they had to be hospitalized: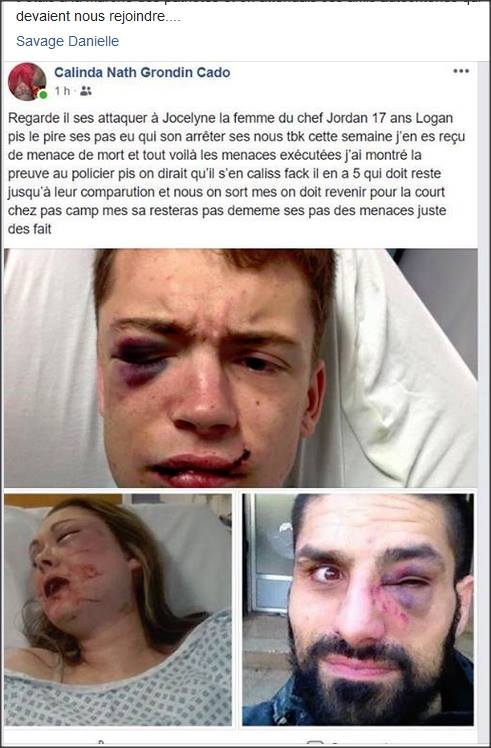 In another post, this same "Calinda Nath Grondin Cado" claimed specifically that it was Jaggi Singh who led this violent attack: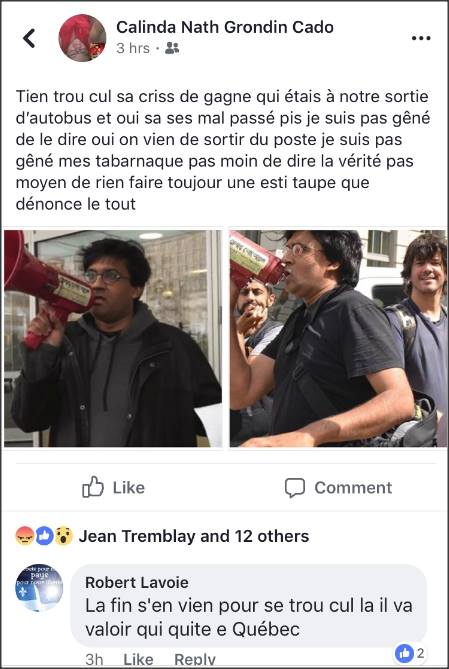 As the story was repeated on twitter by La Meute member Sébastien Chabot (alias World Truth), it became a matter of "the troops of Eve Tores" (sic) who had sent three people to hospital: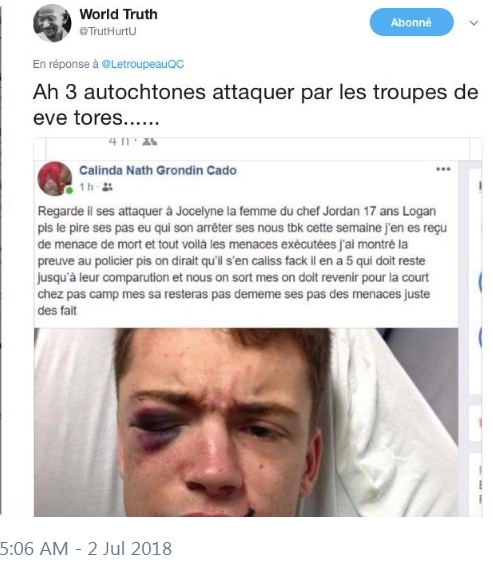 The spin people were giving this on social media was that "antifa" had attacked Indigenous people hoping to attend the FPQ march. This plays into the increasingly prominent narrative within the national-populist right, that Québécois were never colonizers but were the historic allies of Indigenous people, who are now called upon to stand with Quebec against the "invasion" of "illegal immigrants" and a corrupt (English) Canadian federal government.
The problem with the story of this attack, of course, is that it is not true. Not even a little bit. As became clear quickly enough.
Thanks to work by comrades at LetroupeauQC, it quickly became clear that the people shown in the photos were in fact victims of violence … just not in Montreal, not in 2018, and not from antifascists.
Mathieu Grégoire was the victim of a homophobic assault in Beauce in 2016: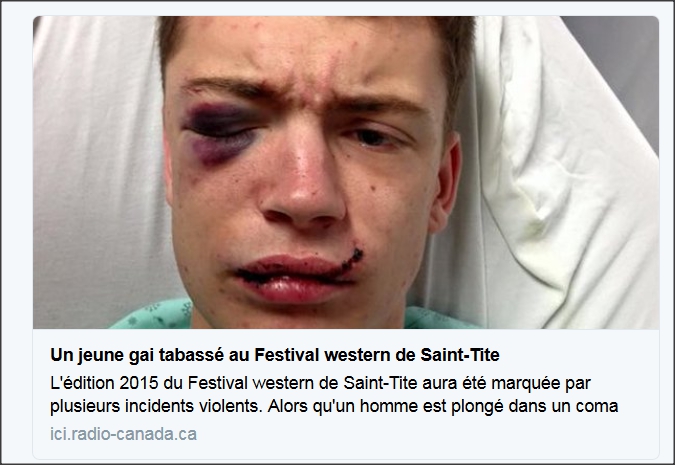 Stephanie Littlewood was the victim of a brutal assault from her ex-partner in Leeds, England, 2016: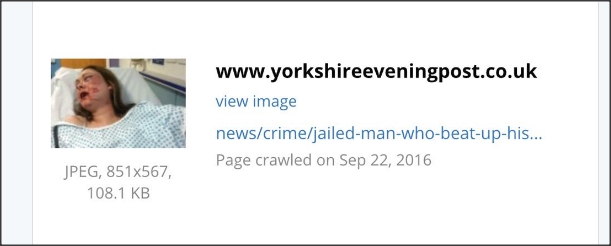 Nagieb Khaja is a journalist who was beaten by border guards at the Turkey/Syria border in 2015: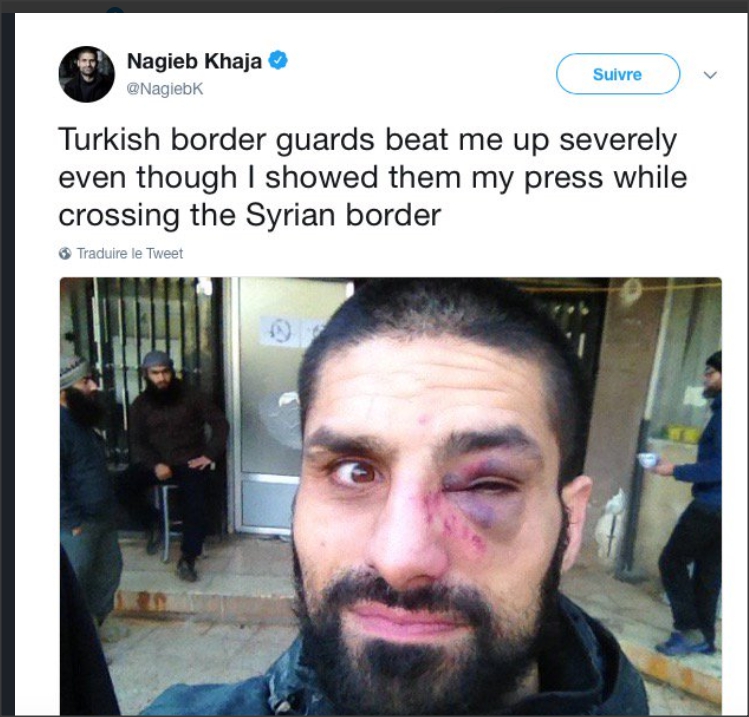 Yet again, the far right has been caught peddling lies. What makes this case special is how brazen the lie was and how quickly it was debunked by people on our side. Indeed, within 24 hours, members of La Meute were being warned not to share the story, that doing so would simply discredit their side: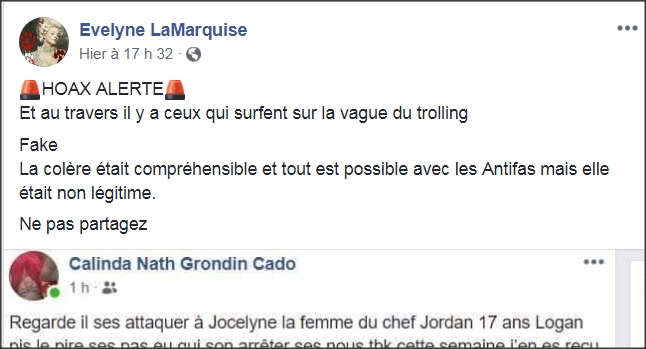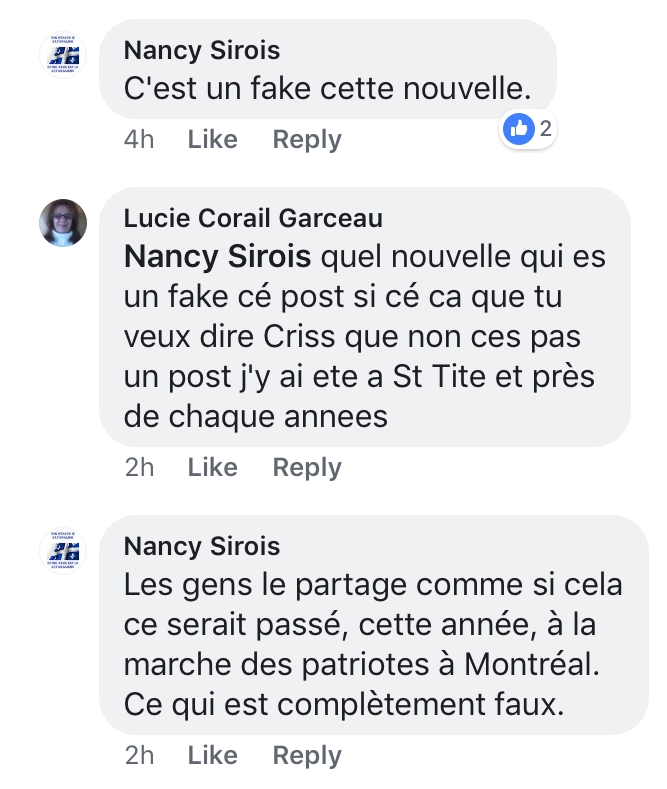 While it is good to see that even our opponents have now conceded that this story is untrue, it would be a mistake for us to simply move on without highlighting some important dynamics in play.
First, we must note that two people were accused publicly on social media of being behind a violent assault. Eve Torres is a candidate for Québec Solidaire in the Outremont-Mont Royal riding, who has garnered media attention due to the fact that she wears a hijab. Jaggi Singh is a Montreal-based anarchist and antifascist who both the far right and "mainstream" political and media figures have tried to paint as the "leader of the antifas". Both Torres and Singh spent the day at the anti-La Meute demonstration and so couldn't have been involved in any assault some place else, even if it had occurred, but this didn't stop members of the far right from accusing them. This was both slander, and incitement to violence – more than one person commented on social media how there would be reprisals for this non-attack. It is no coincidence that these two were singled out in this way: hijab-wearing and racialized activists in Quebec are prime targets of the far right here, and always end up topping their "enemies" list. A situation which the mainstream media and political figures are complicit in creating and maintaining, due to its own racism, sexism, and Islamophobia.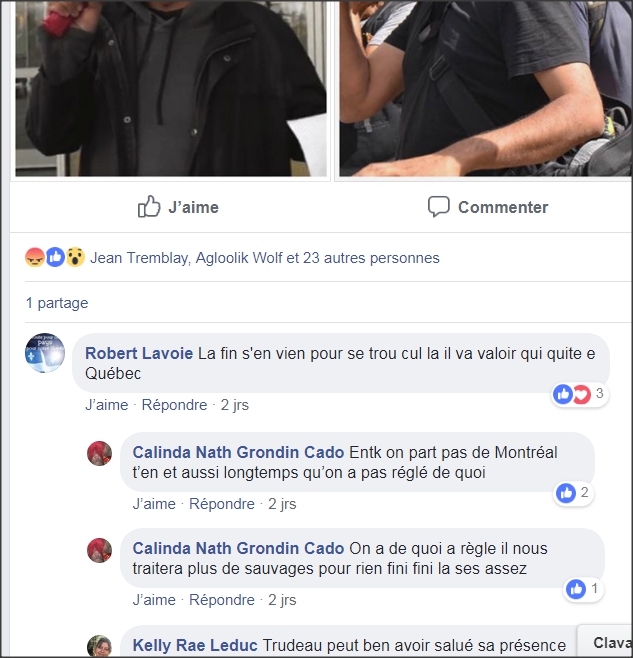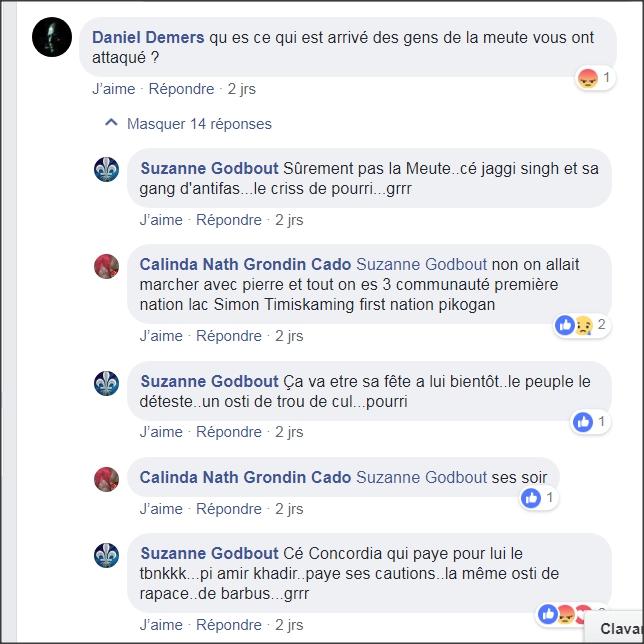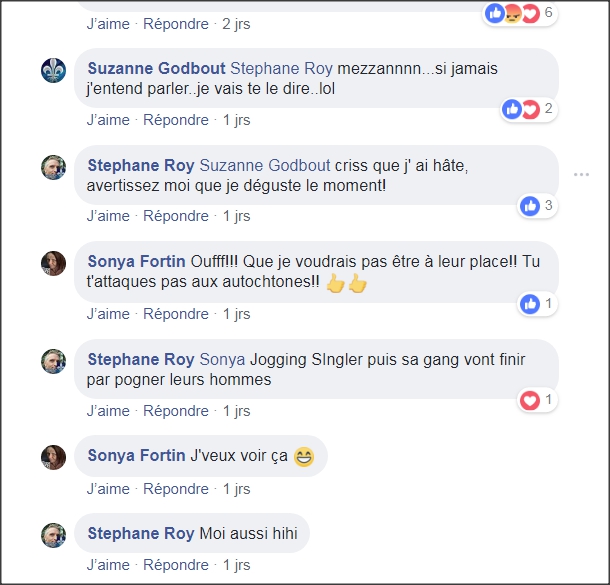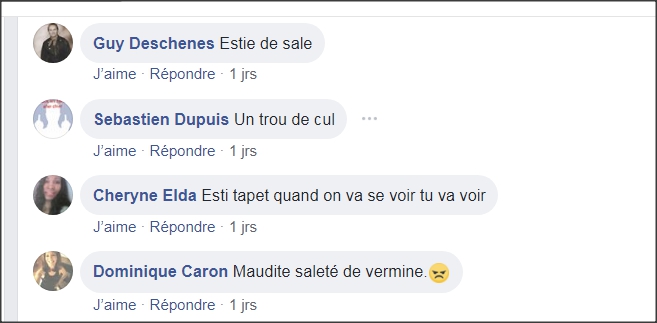 Second, this serves as a reminder that the far right is built on lies and misconceptions about the world. Not a surprise, something we all know. Nonetheless, we assume that most of our opponents are at least sincere – i.e. they may be repeating lies, but we assume they believe them. Yet it is important to keep in mind that there are operators who understand the situation, who realize how credulous their fellow far-rightists are, and who take advantage by consciously fabricating lies in order to advance their agenda. (We saw this in December in the case of "fake news" targeting mosques in Cote-des-Neiges, and more recently when a far-right troll tried to fabricate evidence of sexual assault by a medic at the G7 protests.) Whether these people are police operatives attempting to manipulate the overall political situation, pathological individuals seeking attention, or unscrupulous political agents who don't mind lying to their own side is often difficult to tell.
Dirty politics of this sort are referred to by police and military as "psychological operations." Progressive movements need to understand that we are now operating in a situation where such psychological operations are increasingly common, and we need to take precautions to reduce their impact. This is not a problem that will go away, and we are horribly mistaken (and naive) if we believe that all cases will be this easy to spot. We have to be careful.