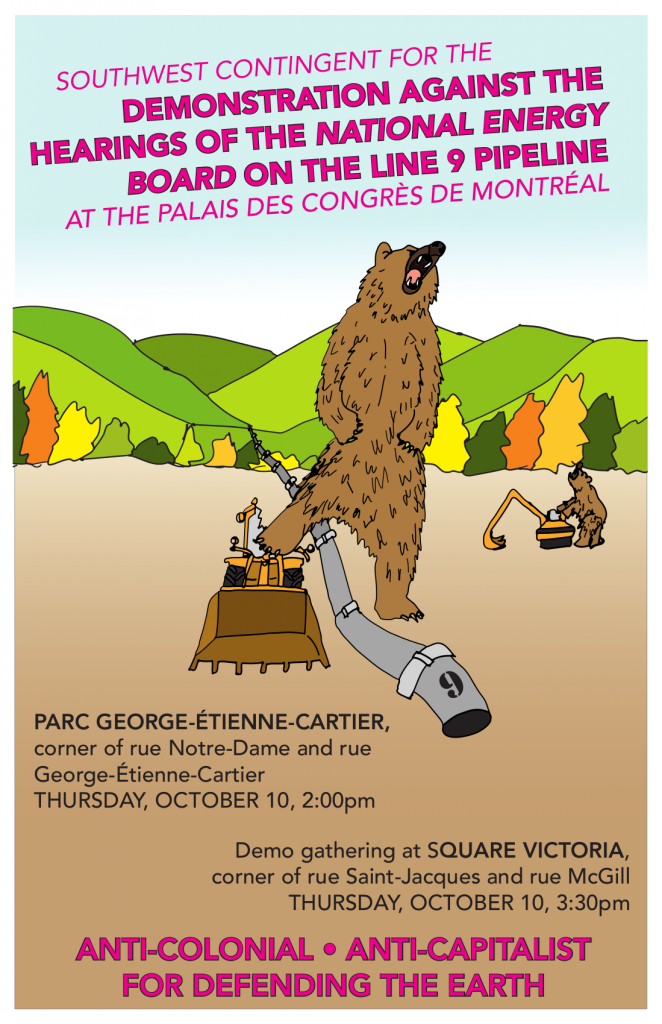 ***Neighborhood contingents***
East: Préfontaine metro, 2:00pm
Southwest: Parc George-Étienne-Cartier, 2:00pm
DEMONSTRATION AGAINST THE HEARINGS OF THE NATIONAL ENERGY BOARD
at the Palais des congrès de Montréal
gathering at SQUARE VICTORIA, corner of Saint-Jacques and McGill
Thursday, OCTOBER 10, starting at 3:30pm
ANTI-COLONIAL – ANTI-CAPITALIST – FOR DEFENDING THE EARTH
From October 8 to 11, the National Energy Board will be holding hearings at the Palais des congrès in downtown Montréal so that it can "listen" to the concerns of the public about the reversal Line 9, a 38-year-old pipeline that Enbridge, a major pipeline transport company based out of Calgary, wants to use to pump oil from the Athabasca tar sands to the refineries in Montréal-Est.
From Sarnia, Ontario, to its eastern terminus on the Island, Line 9 passes within 50 km of an estimated 9.1 million people. The aging pipeline currently pumps oil from other continents inland, but Enbridge plans to move oil in the opposite direction, transporting Athabasca heavy crude eastward to New England and markets overseas. The total volume of oil moved through the pipeline each day will increase, too. Line 9 wasn't built to handle such a quantity of heavy crude. It's not a matter of if it will rupture, but when. We intend to fight the reversal of Line 9, to protect the land we live on and the water we drink.
In the context of Canada's ongoing genocide of indigenous people in Alberta, as well as catastrophic climate change that will see millions of people starve, settler Québécois need to go further than narrow self-interest and proactively contribute to the struggle to shut down the Athabasca tar sands megaproject.
The National Energy Board hearings at the Palais des congrès will serve to legitimate the decision that political elites have, in fact, already made. These hearings should be confronted and disrupted!