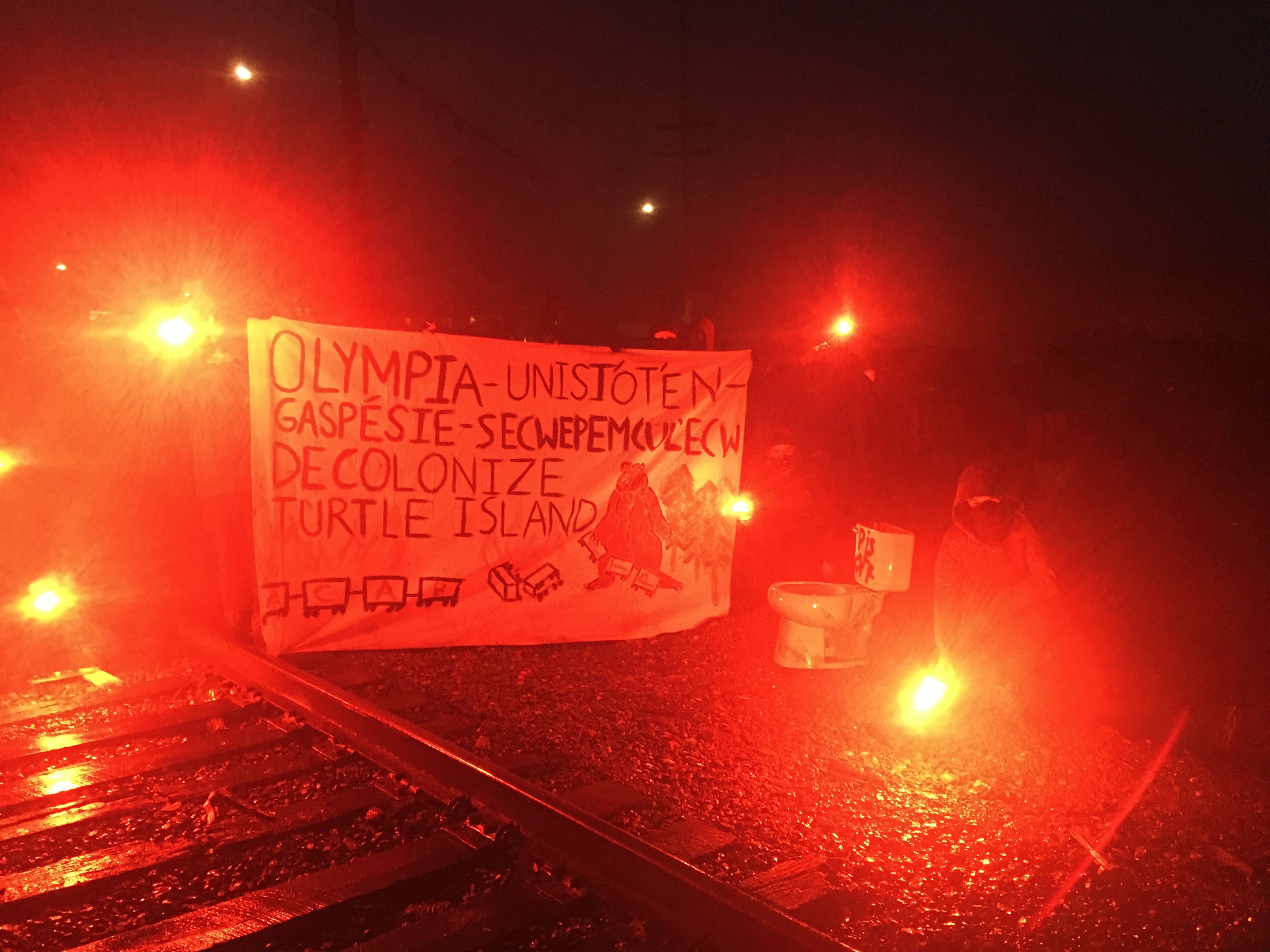 Anonymous submission to MTL Counter-info
OLYMPIA-UNIST'OT'EN-GASPESIE-SECWEPEMCUL'ECW
DECOLONIZE TURTLE ISLAND
For the last 10 days, an encampment has been blocking the train tracks that lead out of the Port of Olympia, preventing fracking proppants from being sent to North Dakota and Wyoming. In addition to standing in the way of capitalism and environmental destruction, the blockade has created an opening in which we can interact in new, liberated ways. We have made many new friends, deepened existing relationships, and experienced the joy in sharing our lives without regard for profit.
We wish to send greetings and express solidarity with Indigenous resistance to capitalist expansion across Turtle Island. From the lands of the Nisqually and Squaxin tribes, to the shores of the Wedzin Kwah on Unist'ot'en Territory, to the walls of the Tiny House Warriors of Secwepemc Territory, to the Mi'kmaq struggle on the Gaspesie Peninsula, we wish to acknowledge and honor those whose land we currently fight on and those who fight against the industrial mega-machine alongside us, near and far. Our fight against fracking proppants is also a fight against LNG pipelines, Keystone Oil, and many more; but more broadly the struggle against extractivist industry is a struggle against colonization.
A Freedom of Information Act request revealed that last year's week-long rail blockade cost oil giant Halliburton two fracking operations, and in turn Halliburton severed ties with the Port of Olympia. While we do not wish to see the Port of Olympia transition to some sort of greenwashed "progressive" capitalism – merely polishing that giant turd of colonization – we celebrate the sheer level of chaos and impact on Halliburton. Sometimes it feels as though no attack on capitalism or the state will ever be enough to cause any real damage, but it's moments like these that remind us that the death machine is more vulnerable than we might think.
Warm greetings to everyone searching for the cracks in leviathan's armor-
For total freedom,
-some guests on the southern tip of the Salish Sea