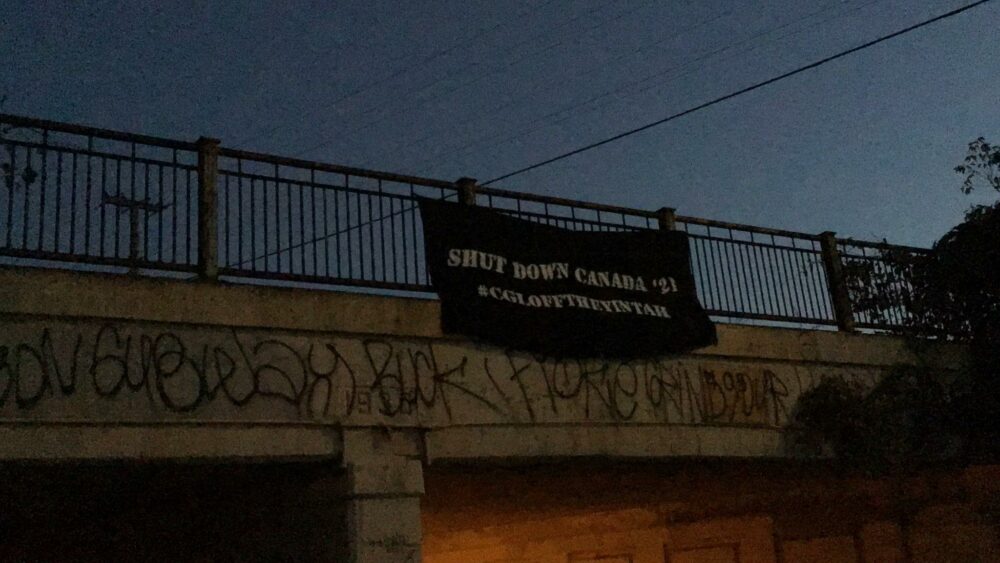 Anonymous submission to MTL Counter-info
In the early morning of September 30th, the first ever National Day for Truth and Reconciliation, we dropped a banner in solidarity with the Gidimt'en Camp. Our banner read "Shut Down Canada '21 #CGLOffTheYintah".
Wet'suwet'en and their supporters have been defending the Yintah from Coastal GasLink and RCMP incursion for many years. They continue to defend their land as Canada gestures emptily towards reconciliation. On September 25th, The Gidimt'en Access Point erected new blockades to stop CGL from drilling under the Wedzin Kwa, the river running through their territory. Since then, at least two arrests have occurred.
They've called for supporters to come help defend the camp, but also for everyone to organize in solidarity from where they are. We hope to see more actions, in our city and beyond, as those on the frontline continue to face cops and CGL workers.
As the sun set, our banner was still in place on the bridge. We hope it will be in it for the long haul, just like our solidarity!