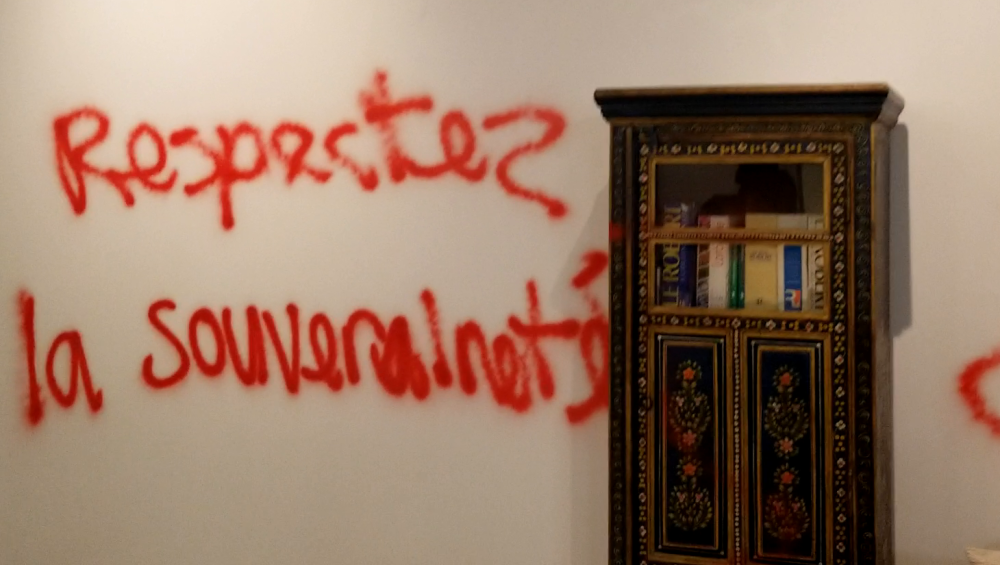 Anonymous submission to MTL Counter-info
Important Update: Monday, October 17, 2022
It has come to our attention that certain phrasing of our previous communique requires immediate correction and clarification. We deeply respect and honour the hard work the kahnistensera have done, so in an effort to address certain concerns we would like to communicate the following.
Since the colonial institutions involved in supporting McGill's New Vic project have apparently attempted to use this action against Arkéos to threaten the kahnistensera and their ongoing court case, the organizers of the action want to add the following update to our statement below: we planned and carried out this action completely independently of the kahnistensera and did not communicate with them about it in any way. Our use of the word "accomplices" in the original communique was influenced by broader anti-colonial anarchist discussions around the use of that word in other contexts, with our working definition being that "the work of an accomplice in anti-colonial struggle is to attack colonial structures & ideas." (See here.) We also wish to redirect you to this engaging text about similar issues, titled "On the question of allies", which can be found here. Our point isn't to squabble about term usage, but rather, to give context as to why we chose this term. In retrospect, we realize the use of this term was not appropriate given the ongoing, separate and independent legal battle the kahnistensera are involved in.
Again, let us reiterate, under no circumstances are we working for or on behalf of the kahnistensera. As settler anarchists, we decided to take our own initiative to attack Arkéos, without any involvement from the kahnistensera. This is an autonomous action, we alone claim it. We see Arkéos as another obstacle McGill has put in the way of the kahnistensera to prevent them from conducting a proper non-instrusive forensic investigation. Arkéos will be proceeeding with an intrusive dig, which is against the public demands of the kahnistensera.
In the realm of the legal fight that is set to reconvene in court on October 26th, McGill, and to some extent, Arkéos, are using this action to strategically try to undermine as well as cast doubt upon the goodwill and honourable way the kahnistensera have fought this legal battle. There is ample evidence throughout history that shows the state, the police and/or corporate entities working together with the media to create narratives of doubt, conspiracies, and mistrust between all parties acting in solidarity with an Indigenous-led campaign. This is often referred to as a tactic of counterinsurgency.
Let us once again redirect the attention to the real culprits: McGill and Arkéos who are collaborating in acts of colonial violence for profit. With such a short timeline to stop Arkéos, it is imperative for independent groups to use a diversity of tactics while respecting the Kaianereh'kowa (the Great Law of Peace). Such autonomous organizing is not new, this is how anarchists have worked in other anti-colonial struggles. 
---
Friday October 14, 2022
Since the eviction of the camp from the Royal Vic site on Tuesday morning by police, McGill's contractors have begun their excavation of the site, putting up fences and hiring a security guard who himself doesn­'t seem to know who he is working for. They have already stripped the asphalt and broken ground, and reports say that the archeological firm Arkéos is planning to start the digging of sensitive material on Monday.
The Kanienkeha Kahnistensera (known in English as the Mohawk Mothers) have opposed the New Vic Project multiple times over the past several months. They initiated a court case against McGill and the SQI (Société québécoise des infrastructures), who are behind the renovation project in April of this year. The Kahnistensera are presently awaiting their next date in court against McGill, which will come on October 26, long after Arkéos has stripped the earth around their historical village.
We as settler anarchists and accomplices decided to attack Arkéos today, because we want them to know that they must be accountable for working on this colonial project for McGill. This university, founded with profits from selling the products of the slave trade and from stolen Haudenausaunee Trust Fund money, has yet again acted in total disregard of Indigenous sovereignty by ignoring the legitimate demands made by the Kahnistensera, the guardians of the land under the Great Law of Peace.
We demand that Arkéos takes responsibility for the work they are doing for McGill. After McGill cancelled consultations with the Mohawk Mothers, Arkéos has still not met with the Mothers to address their concerns over the excavation. Despite a flurry of calls and emails to Arkéos to cancel their involvement in the project, Arkéos has continued their participation in this excavation without any consultation with the Kahnistensera. Arkéos is not an apolitical actor in this struggle, as they prepare to work behind fences and guards while they desecrate a historical Indigenous cultural site.
Maybe it shouldn't come as a surprise, considering the past of that very company. Indeed, Arkéos has been founded by engineers who needed archeologists and anthropologists to legitimize construction projects. It's definitely not the first time that Arkéos stands hand in hand with the Quebec Settler colonial state, as they have been involved in Hydro-Québec projects on Eeyou Istchee, mining projects on unceded Nitassinan, pipeline projects in the south of so called Québec as well as various gentrification projects in the so called cities of Montréal and Québec.
To Arkéos, we would like to say this: next time, if you don't wanna cry over a couple of spilled boxes and some dirt on your luxurious couches, maybe dont get involved in fucking colonial contracts.
Sincerely, a couple of anarchists.