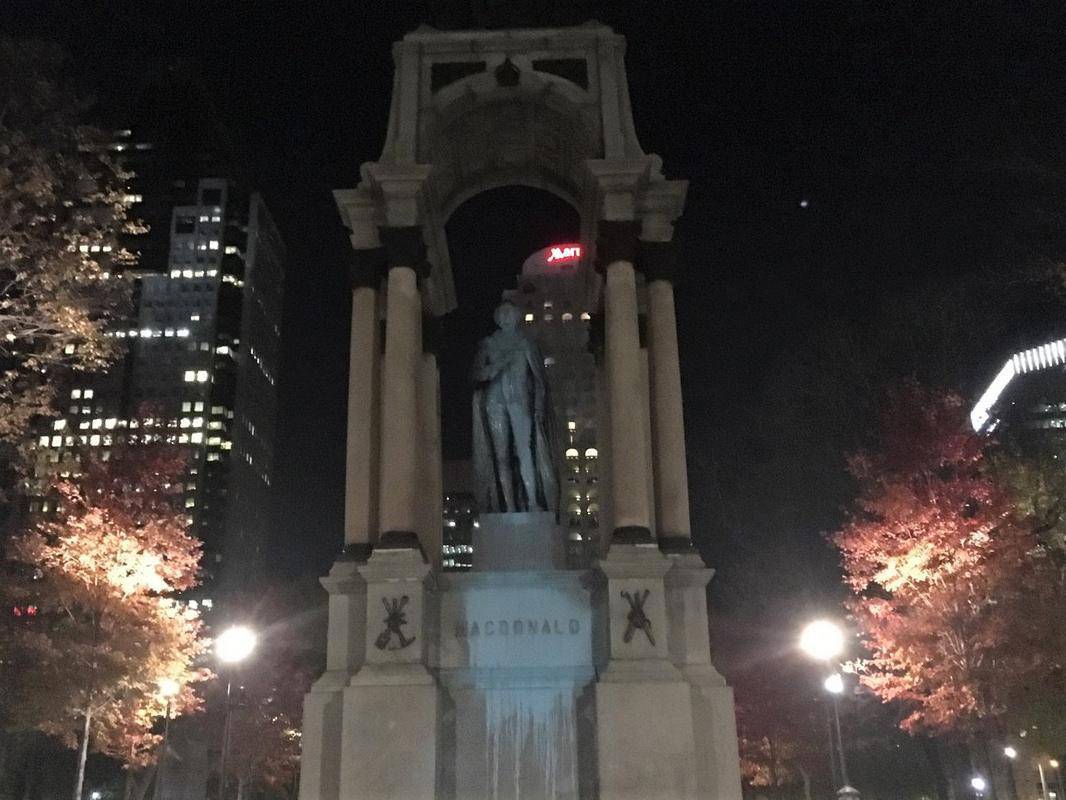 Anonymous submission to MTL Counter-info
A few anti-colonial anarchists in Montreal decided to "vote" a few days before Canada's federal election, using paint. Once again, for what is perhaps the 10th time in three years, the John A. Macdonald Monument was attacked, this time with blue paint. The Queen Victoria statue on Sherbrooke Street West was also targeted.
-> Photos: https://postimg.cc/gallery/285o60j9e/
According to Jagandrew Trumaychet of the #MacdonaldMustFall group in Montreal: "We decided this time to use blue paint, to show our opposition to Conservative blue Andrew Scheer's offensive idea that more should be done to honour John A. Macdonald." (background: https://globalnews.ca/news/6001074/andrew-scheer-political-correctness/)
As in previous communiqués, the #MacdonaldMustFall group in Montreal reminds the media and public: John A. Macdonald was a white supremacist. He directly contributed to the genocide of Indigenous peoples with the creation of the brutal residential schools system, as well as other measures meant to destroy native cultures and traditions. He was racist and hostile towards non-white minority groups in Canada, openly promoting the preservation of a so-called "Aryan" Canada. He passed laws to exclude people of Chinese origin. He was responsible for the hanging of Métis martyr Louis Riel.
Concerning the Queen Victoria statue, the Delhi-Dublin Anti-Colonial Solidarity Brigade wrote on St. Patrick's Day 2019: "The presence of Queen Victoria statues in Montreal are an insult to the self-determination and resistance struggles of oppressed peoples worldwide, including Indigenous nations in North America (Turtle Island) and Oceania, as well as the peoples of Africa, the Middle East, the Caribbean, the Indian subcontinent, and everywhere the British Empire committed its atrocities. Queen Victoria's reign, which continues to be whitewashed in history books and in popular media, represented a massive expansion of the barbaric British Empire. Collectively her reign represents a criminal legacy of genocide, mass murder, torture, massacres, terror, forced famines, concentration camps, theft, cultural denigration, racism, and white supremacy. That legacy should be denounced and attacked."
The Macdonald Monument and the Queen Victoria statue should be removed from public space and instead placed in archives or museums, where they belong as historical artifacts. Public space should celebrate collective struggles for justice and liberation, not white supremacy and genocide.