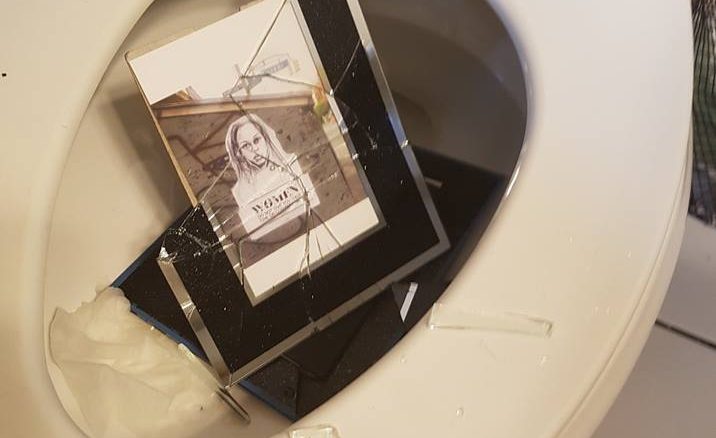 Statement from The Tower, Hamilton's anarchist social centre
Early Friday morning, Hamilton police raided a home associated with some of those involved with organizing The Hamilton Anarchist Bookfair. The door was kicked in, a flash grenade was thrown into the house, and a full swat team entered. With their assault rifles drawn, the swat team proceeded to pull everyone out of bed some of whom were naked, and with one exception, put everyone in handcuffs. Three people were detained and one person arrested. Cedar, a member of The Tower Collective and our cherished friend, was arrested, taken away, and currently remains in custody.
Those who weren't arrested were forced to wait outside for close to five hours, while cops "searched" the home. Similar to the fascists who attacked The Tower last month, the police thoroughly trashed the space and even messed with the bookshelves. All three floors of the house were ripped apart and many things were damaged, including a collection of framed feminist postcards that were broken into several pieces and thrown into the bathroom toilet. Police are misogynist pigs, plain and simple, without exception. A long list of items were seized, including all electronics (phones, computers, cameras, external hard-drives etc.), books, posters, zines, and a pretty random assortment of documents (academic journal articles, translated texts from a book project, hand written notes, event programs, pamphlets etc.).
In terms of the arrest, Cedar is facing conspiracy charges in relation to the so-called "Locke St. Riot". We have no desire to engage with the politics of innocence. The concept of innocence and its flipside criminality obscure more than illuminate – no one is innocent and the most "criminal" amongst us run the economy and government. Beyond that, these notions perpetuate the logic of a colonial legal system rooted in white supremacy. That said, it is worth noting that conspiracy charges are notoriously dubious and flimsy, and have a legacy of being used as a tool of political persecution. They are an act of desperation intended to cast a wide net and scare people. Such charges are *not* a matter of engaging in a particular activity, but rather a matter of possibly encouraging a particular activity.
The Tower is an openly anarchist project that from its inception has promoted ideals of mutual aid and solidarity, equality, and community autonomy, as well as direct action, class war, and fighting back. Our politics have always included *both* gardens and riots. We want to see people building beautiful alternatives of liberation, just as much as we want to see people attacking structures of domination. Nothing about this is going to change, and despite recent challenges, our project will continue to push these ideas. We still have no tears for Locke St. and we remain unapologetically supportive of the activities that took place last month. It's actions like these that can impel conversations that no one wants to have (in this case, intensifying gentrification throughout the city), and we see this as positive.
As things continue to unfold, it is important for people to remember that it is never okay to cooperate with the police – do not talk to them and do not share any information (however big or small) with them. This isn't a question of agreeing or disagreeing with particular tactics, but of refusing to take actions that help facilitate state violence and repression. Aside from discussions about Locke St., local media has been dominated by stories of police corruption, misconduct, brutality, and most recently murder. Less than a week ago, the Hamilton police shot and killed Quinn MacDougall, an unarmed nineteen-year-old who had called 911 in distress looking for help. Cops are not and will never be our allies. We gain safety and strength by sticking together and staying silent.